Volunteers
VITAS Volunteer Leslie Miller Honored as 2019 Central Florida Humanitarian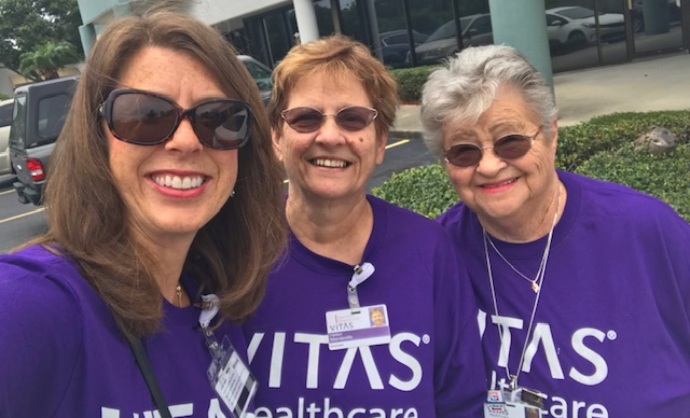 Among her fellow Brevard County volunteers, Leslie Miller is diligent, caring, hard-working, dedicated and inspiring, a special colleague who has logged more than 500 hours in less than two years as a VITAS Healthcare hospice volunteer serving our patients and their families.
To the readers of Florida's Space Coast Daily, Miller is a 2019 Central Florida Humanitarian, a community recognition that was bestowed on November 7 at a gala at the Hilton Melbourne Rialto Place in Melbourne, Florida.
Sharing her Energy and Enjoyment of Life
Miller was nominated for the award by Jenna Cooke, volunteer services manager for VITAS in Brevard County.
"I want to be the person to offer a warm smile, a friendly visit."

VITAS volunteer Leslie Miller
Cooke describes Miller as exhibiting "a strong sense of commitment to hospice, their families and patients.
"She is a diligent, caring, bubbly, uplifting, and hard-working individual, always spreading her energy and enjoyment of life with other volunteers and her patients. She always goes above and beyond the call of duty … and she has no plans on stopping."
Miller spent most of her life in Pennsylvania and moved to Brevard County two years ago. She spent most of her professional career in customer service and sales, and says her love of older people stems from the many weekends she spent visiting her aging and widowed grandmothers.
"I was with them every step of the way as they moved from independent living to skilled care, and I was there as they moved onto to the next life," she says. "Knowing how lonely people can be, I felt drawn to the older generation and the process of moving to the next life."
'Totally Found my Niche'
After Miller's father passed away suddenly at 62, "I recognize the loneliness that my Mom has experienced since his passing," she says.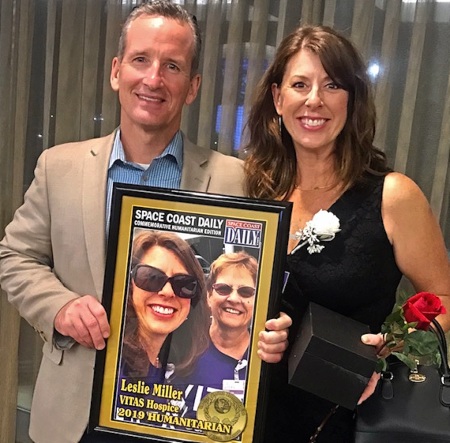 "Now that I'm at that time in my life where I don't have to punch a clock, I want to give back … and I have totally found my niche at VITAS. I want to be the person to offer a warm smile, a friendly visit, a listening ear to those people in need. Visiting with VITAS hospice patients has given me the ability to be that person for those people."
She also volunteers every Thursday at the Coastline Community Church food pantry in Indian Harbor Beach.
In addition to serving as a patient and family volunteer, Miller mentors and trains new VITAS volunteers by allowing them to shadow her and by explaining VITAS processes and protocols.
"Every person who has ever been with Leslie has always said what a dedicated and inspiring person she is," says Cooke.
Created in 2009, the Central Florida Humanitarian award recognizes "outstanding individuals and organizations that dedicate their time, talent or treasure to help people in need locally—and around the world." Recognition is given to members of the Space Coast community's medical, business, education and governmental organizations.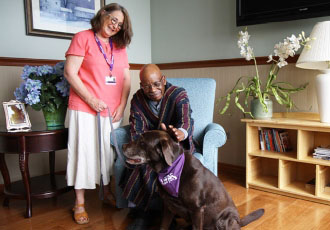 Volunteer with VITAS
Because hospice patients have unique end-of-life needs, VITAS seeks volunteers from all backgrounds, experiences and cultures.
Apply To Volunteer Today