Nurses, Working at VITAS, Job Seekers
Hospice Nurses Make Decisions That Make a Difference
"I can't do this."
"I don't want to be here."
"I love you, Dad."
Faith Palmer Smith, LPN, feels a sense of duty when she hears these words from a hospice patient's caregiver.
When a loved one is dying, some caregivers get used to their new responsibilities quickly, but others may be paralyzed by grief, anxiety, and uncertainty.
These caregivers need support without judgment or pressure. Faith provides it.
"Sometimes they really want to do the hands-on care, but they're not coping," Faith explains. "They'll come in and look, but either break down or start crying."
With a gentle voice and listening ear, Faith eases the family member into learning how to care for their loved one. Her compassion inspires action.
Building Deeper Relationships with One-on-One Care
Faith has been an LPN at VITAS Healthcare in Orlando for more than three years. Her previous job in memory care gave her valuable experience, but she longed for more individual time with her patients and their families.
When the family sees how you're caring for them, they trust you to make things better and give them hope.
"My favorite thing about working with VITAS is that you get one-on-one time with a patient and family," she says. "I love to care for people."
As an LPN for Intensive Comfort Care® (around-the-clock hospice care at home), Faith spends each shift caring for one patient instead of splitting her time among a dozen or more. This schedule allows her to build deep relationships in the households she visits.
"It's putting aside myself and giving them my all," she says. "You give the patient a bath, you touch them, you hold them. The little things go a long way. And when the family sees how you're caring for them, they trust you to make things better and give them hope."
Demonstrating Compassion, Building Confidence
For family members who are hesitant to assume the daily responsibilities of caregiving, Faith provides assurance, education, and patience.
"If I'm doing oral care, I demonstrate what I'm doing and ask, 'Do you want to swab Dad's mouth? Do you want to put on some lip balm?'" she says.
When the patient responds positively, the caregiver will, too. "Demonstrating and doing it with them, getting them involved, helps the caregivers and gives them the confidence they need to keep going," she says.
Maintaining Momentum with Merit
Confidence keeps Faith going, too. At VITAS, the autonomy of her position gives her the freedom to make decisions based on what's best for the patient and the patient's family. She knows her team has her back.
"If the family is going to need extra support, I know I can make those calls to the team for equipment, a social worker, a chaplain, help with funeral arrangements, or anything they need," she says. "There's always someone to reach out to."
Faith also knows she has the support she needs to do her job well every day. Just as crucially, others see her hard work. She was recently awarded a VITAS BEST recognition for Building Excellence, Satisfaction, and Teamwork.
"It feels great being recognized. It makes me want to do more," she beams, but adds: "Whether I'm being recognized or not, this is just me doing it for the patient and for the family. And at the end of the day, I can say I did my best."
'I'm Giving Hope'
A career in hospice was not originally in Faith's plans, but when a colleague recommended VITAS, she soon learned of its many benefits. In addition to a rewarding career in nursing, Faith discovered the development, support, continuing education, and job security she had been seeking.
"I've never thought about leaving," she says. "I'm staying at VITAS."
It's challenging work. Not everyone can do it.
But it's a calling for Faith.
"I've had people look at me and say, 'I don't know how you do this,'" says Faith. "But I tell them, 'This is me. This is what I want to do.' At the end of the day, I can say I'm giving hope."
View all current nursing job opportunities with VITAS.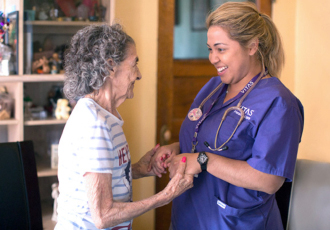 Choose a Career with VITAS
We offer a variety of full-time, part-time and per-diem employment opportunities. Employees earn competitive salaries and have the flexibility to choose a benefits package suitable to their own needs and lifestyle.
See Current Opportunities