Nurses, Working at VITAS
'Every Day You Have Energy to Be Able to Help Someone,' Says VITAS RN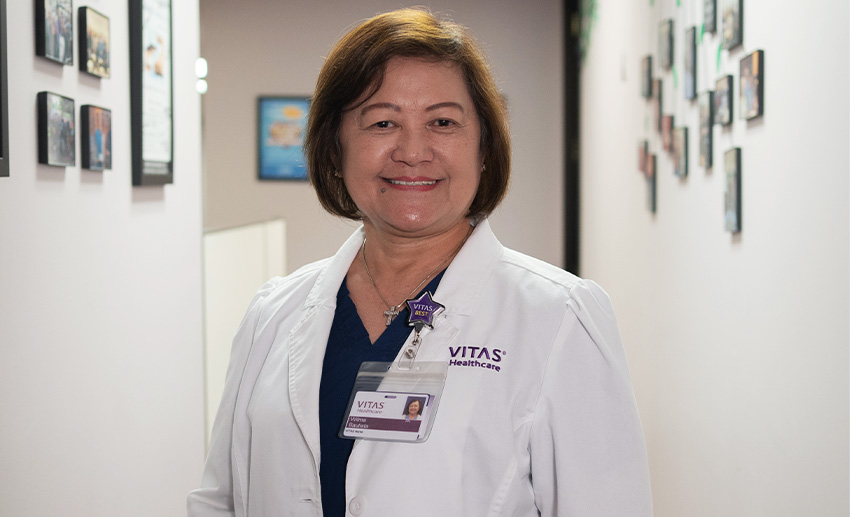 Clinical care is the foundation of every nurse's job, but San Fernando-based RN Wilma Bautista finds the most fulfillment in quiet, emotional bedside moments with her patients and their loved ones. Listening, comforting, and showing care empower her to truly make a difference.
Before she joined VITAS five years ago, Wilma worked in a hospital cardiac unit and a hospice agency. The challenge of helping people near the end of life drew her to VITAS.
"There's a continuity of care," she says about the patients assigned to her. She manages them throughout their journeys.
Listening, Comforting, and Showing Care
While Wilma makes sure her patients are receiving the pain medications they need, she engages them in conversation, asks how they are doing and hears their responses.
"I get the most joy in my day when I have listened and spent time with them," she says. "You show care and sincerity just by listening to what your patients and families are going through. You help them and answer their concerns. You feel happiness and fulfillment that you've made a difference in somebody's life."
The hospice setting allows Wilma to get to know patients' loved ones, too. She realized this was a special part of the job when she entered end-of-life care.
"We have more interaction with family members compared to other settings," says Wilma. "Most of the time, you interact with families. You listen to them and help them through this journey."
Providing Peace for the Tough Decisions
The path to hospice is not an easy one for families, and offering assurance is one way Wilma can comfort them.
"Sometimes when you begin to see a patient, [family members] don't see the decline yet. I've had patients with end-stage cancer, but they're still alert, oriented, and able to walk," she says. "The families are in denial that their loved one is really going to die. They question: Are the doctors right with their diagnosis that she has only a week or two to live?
"And that's when we explain to them what we do and how we are going to support them through this process. After you have made it clear to them that they have made the right choice, you feel joy."
I'm part of a great team, and you have the support of the managers, doctors, your co-workers, and peers.
Wilma's role in validating their experience is an important one. When the end is near, her soothing encouragement helps the patients' loved ones when they feel most vulnerable.
"I tell them it's okay to cry. You can tell your mom [or] your dad that you love them, but it's okay to go. You are at peace and praying for them," says Wilma. Let them know "you're going to be taking care of each other. Sometimes the moms and dads worry about the children who will be left."
Leaning on the Team for Support
Care delivery, interacting with emotional family members, and losing patients might be harder to handle if Wilma didn't feel the full support of her VITAS team.
"I love working with a team of caring, sincere, and compassionate professionals," she says. "That's one of the things I love [about] VITAS. I'm part of a great team, and you have the support of the managers, doctors, your co-workers, and peers. We all work together to deliver the best care we can give to end-of-life patients."
If Wilma wants to move forward in another role, she believes she could find her next prospect right where she's at. "There are a lot of opportunities here; a lot of education and room to grow," she says.
This RN has found that making a difference means helping improve the quality of life for those facing their final months, weeks, and days.
"It's not hard. It's not easy," she says. "But if you love your job, it's like you're not working. And I do love my job. I love to do this. You know, every day you wake up and you have that energy to be able to help someone."
View all current nursing job opportunities with VITAS.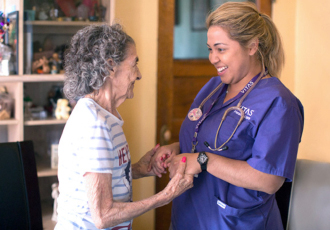 Choose a Career with VITAS
We offer a variety of full-time, part-time and per-diem employment opportunities. Employees earn competitive salaries and have the flexibility to choose a benefits package suitable to their own needs and lifestyle.
See Current Opportunities