Nurses, Working at VITAS
Hospice LPN: 'I Have the Best Job in the World'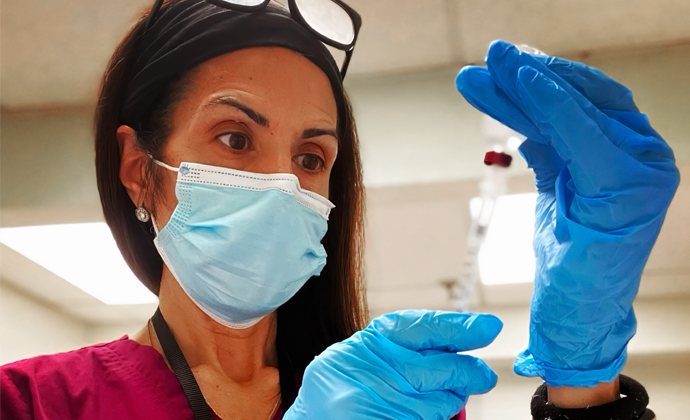 Denise Papagoda's VITAS coworkers are among her closest friends. She doesn't hesitate to say it.
"We're a team in a true sense of the word," she adds. "We are so in sync with each other. My greatest asset is my team."
From the moment she joined the VITAS family — not as a nurse but as one of her sister's end-of-life caregivers — she's been inspired by the love and encouragement of teammates who uplift patients, families, and each other.
Now, almost 20 years into her hospice career, she knows she's spent that time exactly where she belongs: "I have the best job in the world."
Turning Grief Into Purpose
Denise began her nursing career out of necessity: She had a bachelor's in history, a master's in psychology—and four children to support. So, she went back to school to become a licensed practical nurse and found a job at an inpatient psychiatric unit, followed by a correctional facility.
My manager is very good about accommodating my schedule, and she tells me, 'Yes, definitely pursue your goals.'
VITAS entered Denise's life when her younger sister, also a nurse, was diagnosed with terminal breast cancer. She became one of the first VITAS patients in the state of Connecticut.
"She was very particular about who she would let take care of her," Denise recalls. During that time, Denise met VITAS team members who made a life-changing impression.
"I thought, 'I love these nurses,'" she says. "I decided that I wanted to try to be a hospice nurse. I tried it, and I've never looked back."
In 2005, she took a job as an inpatient nurse for VITAS and has flourished.
"It was a beautiful thing that led me on this beautiful path," she says. "I am so fortunate. This is what I was meant to do."
Synergy in Teamwork Benefits Everyone
Denise now works at the VITAS inpatient unit in Connecticut. She and an RN take care of everything from bathing, feeding, and medication for a dozen or so patients, as well as providing emotional support for the families.
"We help each other," she says. "We're a good team."
This support and teamwork make it possible for Denise and her fellow nurses to provide their patients and their patients' families with the compassionate care they deserve.
A Team That Makes Work Feel Like Home
Hospice nursing requires paying attention to a patient's physical health and emotional needs while keeping a keen eye on family dynamics.
"We're really good at that," Denise says of her team. "We work in conjunction with each other. We're all invested in our unit, making it run smoothly, making it comfortable, and making it feel like home. They're my best friends. They are my sisters."
She feels supported from above, too. Denise is considering further education so she can take on a new role with patients.
"I'm looking into being a death doula," she says. It's a job that's similar to midwifery, guiding families and patients through the dying process. "The goal is to go back to school and get my RN degree and go from there."
[My coworkers] are my best friends. They are my sisters.
With tuition reimbursement and a supportive manager, Denise has all the tools she needs to pursue the next step in her career at VITAS.
"My coworkers are very supportive," she says. "We lean on each other, and we have a great team manager. My manager is very good about accommodating my schedule, and she tells me, 'Yes, definitely pursue your goals.'"
The Best Reward Comes From the Heart
No matter where Denise's career at VITAS takes her, her patients will be in her memories and in her heart. She often discovers that patients' families keep her in theirs, too.
"Today I had lunch with one of my patient's daughters from five years ago," she says. "I keep in touch with a lot of the families."
This summer, she will be attending a wedding for the widow of a former patient who is getting remarried.
"One thing I love about this job is the families," she says. "I've become like family friends to so many of them. I will never forget their stories and their lives. Like I said, it's the greatest job ever."
View all current nursing job opportunities with VITAS.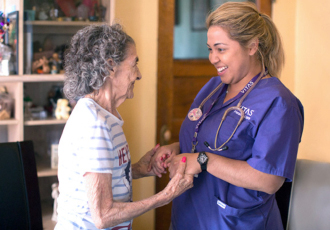 Choose a Career with VITAS
We offer a variety of full-time, part-time and per-diem employment opportunities. Employees earn competitive salaries and have the flexibility to choose a benefits package suitable to their own needs and lifestyle.
See Current Opportunities