VITAS Values
VITAS Values Inspire Our Employees to Provide the Best Care

When it comes to providing the best end-of-life care, VITAS Healthcare focuses on four motivating cores values. We believe that our core values make the VITAS difference–both for our patients and for our employees!
Patients and families come first.
We take care of each other.
I'll do my best today and do even better tomorrow.
I am proud to make a difference.
Each of our four values impacts every employee at VITAS, no matter what career path they choose. Members of the VITAS team find that helping others is an immeasurably rewarding experience and value their ability to make a difference in the lives of patients and families.
From sales representatives to hospice aides, being a part of the VITAS team means being a part of an organization that truly cares. Our core values help drive employees to do their best every day and, in turn, help VITAS provide the best in quality end-of-life care.
Patients and Families Come First
"I have been in the home care setting for almost 19 years, which is as long as I've been a nurse. I knew that I didn't want to be in the hospital setting or in the doctor's office, because I wanted to be a nurse in the home and have that one on one time, that personal time with the patient, where I can actually listen to their needs, address their needs, educate them, and it was more on a personal level. To me, that's what nursing was about.
—Erika Avila, RN, VITAS Hospice Nurse
"I give my patients everything I have. I feel I'm doing something to help people and to make them more comfortable at the end of their life."
—Angela Suratt, VITAS Hospice Aide
We Take Care of Each Other
"Everyone is in this together, and they're like family. There's a plaque in my house that says 'friends are the family you choose.' I think VITAS is the family I've chosen to devote my life and career to. I think the climate that we present here is just one that is real and genuine, maybe because of the work we do. It's such valuable work, and we're in it together.
—Larry Robert, VITAS Veterans Liaison
"VITAS Healthcare has provided me with so many tools to help develop my career. The sales and operational leadership within VITAS is world class, and the care our patients receive is reflective in that dedication."
—Eric Stewart, VITAS Regional Director of Market Development
I'll Do My Best Today and Do Even Better Tomorrow
"What I enjoy most about working for VITAS is that every day is different. You never get bored, and you're presented with opportunities to continue to increase your skillset, apply your experience, ultimately making an impact with customers. But at the end of the day, it's the patients and families that we have the opportunity to serve that really drives me in my career."
—Erika Gaudio, VITAS Vice President of Sales
I Am Proud to Make a Difference
"As a person, it feels really good to know you're making a difference in people's lives."
—Jena Ruehl, RN, VITAS Hospice Nurse
"The best part of my job is knowing that I did the best I could and that I made a difference."
—Johanna Marquez, VITAS Social Worker
Caring is a calling and VITAS' four core values emphasize this for our employees. A career in hospice means a career that makes a difference. VITAS puts quality care first, for patients, for families and for employees.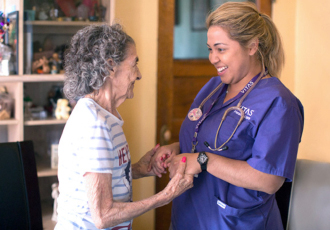 Choose a Career with VITAS
We offer a variety of full-time, part-time and per-diem employment opportunities. Employees earn competitive salaries and have the flexibility to choose a benefits package suitable to their own needs and lifestyle.
See Current Opportunities