Nurses, Working at VITAS
Patient Care Administrator: Making Sure Team Members Are in Sync
As a patient care administrator (PCA) in San Diego, Angelina Winslett compares her role to that of an orchestra conductor.
"I'm conducting and directing my staff, making sure there's enough team members and coordination to take care of our patients; that we have harmony and are in sync," says Angelina.
What powers this symphony is the compassion to care. "You have to have a deep sense in your heart, in your soul, that you're going to do as much as you can for that person and make sure they're comfortable," she says.
Hitting All the Right Notes as a PCA
Angelina leads interdisciplinary teams, which include home health aides, social workers, chaplains, physicians, and team managers.
"As a PCA, I do audits of staff. I'll sit in the team meeting, observe, and listen to how they discuss the patient and review the documentation," says Angelina. "I coach the team manager and make sure I provide kudos to all team members."
There's always an opportunity to grow with VITAS, to move up one step or even laterally.
While PCAs maintain the clinical and fiscal integrity of patient care, they also participate in performance improvement. The CAHPS (Consumer Assessment of Healthcare Providers and Systems) survey provides feedback on how caregivers perceive the services their loved ones received.
"When we get the CAHPS survey [results] after a patient has passed, I make a phone call to the caregiver. I appreciate their feedback. I tell them: 'I'm going to bring that up for our next skills fair so we can educate the staff,'" she says.
Banding Together as a Team
As the "conductor," Angelina focuses on ensuring her teams are providing quality, patient-centered care. If a clinician is not available, she steps in. "If I don't have that person, then I go out. I expect the same for my team managers," she says.
Like each player in an orchestra, every team member offers unique insights.
"The home health aide tells us information about the patient because they're the ones giving personal care. Chaplains help the family with anticipatory grief and the patient by doing life reviews, providing readings, prayer, and music. My team managers are amazing. They provide guidance and support. We all work together and cover for each other," says Angelina.
Listening to the Call of Hospice
Angelina is also a nurse practitioner who started her healthcare career in 1992. For 11 years, she worked as a licensed vocational nurse (LVN), then became a registered nurse (RN). She worked in emergency room settings while continuing her education, earning her bachelor's degree, then a master's degree.
I love what I do, and I don't see it as work.
As a VITAS employee of five years, Angelina learned about hospice opportunities with VITAS when recruiters came to her school. She was drawn to the possibility of serving those nearing the end of life.
"I think being a hospice caregiver is rewarding. You're affecting the families, caregivers, and the facilities. It's a calling to be a nurse and to be a hospice nurse," she says.
The Sweet Sounds of Success With VITAS
With her depth of education, leadership skills, and strong clinical experience, Angelina has continued to take on new roles within VITAS.
"There's always an opportunity to grow with VITAS, to move up one step or even laterally," she says. "We've had home health aides become LVNs and an RN case manager who transferred to San Diego and became team manager. As an RN case manager, I have moved all the way up to a PCA. Maybe one day I'll go higher. VITAS has such a big organization that you can go anywhere."
Angelina also credits the company's investment in education as a helpful step forward. The Pathways to Excellence program allows registered nurses and nurse team managers to earn free continuing education credits and receive financial incentives.
"Every quarter they can complete modules and get an incentive the next quarter," says Angelina. "We're providing resources and tools to put in their toolbox so they can better care for the patients and grow as a person."
Getting Positive Reviews
Ultimately what inspires Angelina's performance every day are the patients and families she and her team serve. She sees the impact of their compassionate care when she hears back from the patients' loved ones.
"I have cards in my office from family members that I share with the team. It's overwhelming," she says. "It's a good sense of pride. I send a copy of the letter to the nurse or home health aide they mentioned. I'll say, 'Thank you for doing such a great job, keep it up.'"
Encouraging her team is one of her favorite parts of being a PCA. "I love what I do, and I don't see it as work," says Angelina.
Would you like to join our Hospice Interdisciplinary Care Team?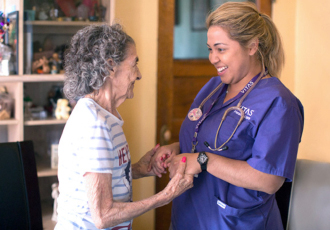 Choose a Career with VITAS
We offer a variety of full-time, part-time and per-diem employment opportunities. Employees earn competitive salaries and have the flexibility to choose a benefits package suitable to their own needs and lifestyle.
See Current Opportunities