Hospice Aides, Working at VITAS
HHA Finds Meaning Caring for Hospice Patients
Laughing with patients may not be the first thing you think of when picturing the job of a hospice home health aide.
But for Terry Nehring, a VITAS home health aide (HHA) in Milwaukee, talking, laughing, and connecting with her patients is critical to doing her job well.
"They're people, and people want to laugh," she says. "[My patient] Loretta, for example, knows me but can't remember my name. I started coming up to her and saying, 'woo-hoo!' She loves that, so now everything is 'woo-hoo' back and forth. All we do is laugh. She's the sweetest, and I get so excited to go see her."
This genuine, empathetic approach to care benefits VITAS patients—but it's also exceptionally rewarding for our team members.
"It makes me happy to make other people happy, especially when they're toward the end of their life," Terry says.
The Home Health Aide Role at VITAS
At VITAS, home health aides tend to patients' personal hygiene, including bathing and dressing. They perform light housekeeping duties, such as making a patient's bed, and communicate closely with the rest of the care team.
I wasn't sure I'd like working only with hospice, but I love it.
But it's more than that. "I play a lot of different roles as an aide," Terry says. "I provide both physical and emotional care. I do a lot of educating families. I do a lot of listening."
Terry leads with empathy with her patients, many of whom suffer from dementia and may not remember her from day to day.
"It's so important to make patients feel comfortable," she says. "I can't imagine a stranger coming into my home and suddenly I have to disrobe so they can give me a shower. There's such an intimacy between an aide and patient. It's really important to become friends."
Terry's Road to VITAS
Terry has spent her career as a health aide, working with hospice and skilled nursing patients in Maine for 25 years. She came to VITAS three years ago, after moving back to her home state of Wisconsin.
Coming to VITAS was a change, as she moved into a hospice-only role.
"I wasn't sure I'd like working only with hospice, but I love it," Terry says. "It's so wonderful to be able to help people. They've given so much of themselves their whole lives, and they deserve to have somebody come into their life and let them know that they're cared for and loved."
'VITAS Values All of Us': The Power of Communication
Working as part of an interdisciplinary team that meets and communicates regularly about all patients has been impactful for Terry.
"I love the fact that VITAS values all of us and that we are able to come them together as a team, because we each have such different roles in our patients' lives," she says. "I think it's the best way to provide the best care for our patients."
The open-door policy at VITAS helps Terry feel comfortable communicating all of her feelings. "I feel like I can talk to anybody here, regardless of their status," she says. "This line of work can be stressful, and we need to be able to talk about what's going on."
Going Above and Beyond to Make a Difference
Caring for patients with empathy, compassion, and a desire to do her very best helps Terry excel at her job.
Simple acts like brushing or cutting hair, or even just holding up a mirror for a patient can make all the difference.
"It makes you feel human to be able to look at yourself," Terry says. "This is a way of life. I couldn't imagine doing anything different. Making a difference in our patients' lives makes all the difference for me."
View all current openings for home health aides.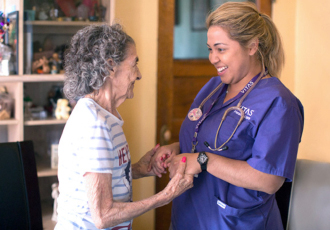 Choose a Career with VITAS
We offer a variety of full-time, part-time and per-diem employment opportunities. Employees earn competitive salaries and have the flexibility to choose a benefits package suitable to their own needs and lifestyle.
See Current Opportunities