VITAS Values, Working at VITAS
How a Caring Manager Helps Everyone Excel
The right leader can build confidence in a team and foster growth for everyone they mentor. At VITAS, team managers go above and beyond to nurture their teams.
Barry Cooke, a team manager in Miramar, Florida, recommits himself every day to the success of the nurses, home health aides, and social workers who look to him for direction and support.
Whether he's gathering patient information, communicating with care facilities, or making sure prescriptions are filled, Barry helps clear the way for his teammates to focus on what's most important: patients and families.
"I back my team 100% with what they need," he says. "I give them the autonomy to do what they need to do, and I support them when they need the support."
A Journey of Compassion
Barry has been with VITAS for nearly 12 years. Like many of his coworkers, he was drawn to end-of-life care after a firsthand experience with hospice.
"My father-in-law had been on hospice in North Florida," he says. "This was before I even became a nurse, and it was how I found out about hospice. After I became a nurse, I said, 'Let me give it a try.'"
With his background in customer care and nursing, he brought a wealth of experience and empathy to his role.
I back my team 100% with what they need.
"I use what I learned previously and build on it," he says.
Uplifting Support
Barry believes in empowering his team members and providing them with the autonomy they need to excel. His open-door policy ensures that his team feels comfortable approaching him with any concerns or questions.
"The attitude I show toward my team rolls from me to them," he says. "And they take that same attitude and they go forward with it."
The trust Barry instills in his team members inspires them to do their best every day and deliver exceptional care to patients and families.
Others are taking notice. The Miramar team was named the "VITAS BEST Team of 2022," a testament to the outstanding teamwork, dedication, and compassionate care they provide.
Barry takes pride in his team's accomplishments and emphasizes that the success of the team is a result of their collective efforts and commitment to excellence. It's not an award they earned in one day. It's countless hours spent connecting with patients, uplifting one another, and putting compassionate end-of-life care first among their priorities.
"How did we get to be the VITAS BEST?" he says. "By doing what we do best. I give my staff and my team the autonomy and the support to be their best. I look for the best in them."
Recognizing Excellence
Barry takes every opportunity to show appreciation for his team members publicly, acknowledging their hard work and dedication. By fostering a culture of recognition, he makes his teammates feel valued and motivated to continue providing exceptional care.
He encourages them to do the same for each other, too, through the VITAS Difference recognition program.
"When you have your team members giving you the recognition and you're getting awarded for that recognition, you tend to work better with your team members," he says. "And you're going to support them knowing they are supporting you as well."
A Purpose-Driven Career
For Barry, working in hospice care is more than just a job; it is a calling. He finds immense fulfillment in making a positive impact on patients' lives and supporting their families during challenging times. His care and respect for everyone touched by his work—patients, families, and team members—exemplify the heart and soul of VITAS.
"I have found my purpose here with VITAS, doing what I do," he says. "With the support I get from my team and the way that they approach me and support me, I don't want to go anywhere else."
Join a team where your commitment to caring is recognized and celebrated.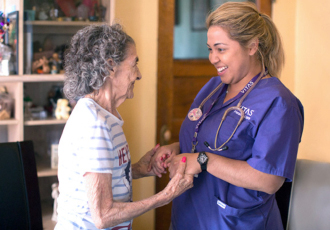 Choose a Career with VITAS
We offer a variety of full-time, part-time and per-diem employment opportunities. Employees earn competitive salaries and have the flexibility to choose a benefits package suitable to their own needs and lifestyle.
See Current Opportunities