Nurses, Working at VITAS
Endless Possibilities at VITAS: LPN to GM
"It all goes back to my first experience caring for a patient who died. The family was grieving, and they turned around and gave me a hug and said, 'thank you.' I was just doing my job, and I didn't realize how much that meant to the family."
Etian Vizoso was a new licensed practical nurse (LPN) at VITAS in 2009, and that experience—and so many similar experiences since—stuck with him.
"It was the defining moment early in my career," he says. "It was one of the most professionally and personally gratifying experiences of my life."
How One LPN Grew His Career at VITAS
Hospice was not where Etian expected to end up after serving in the military and going to nursing school.
"I always thought I'd end up in an emergency room or trauma center-type environment, but I fell in love with hospice because of the human interaction," he says. "VITAS gave me my first nursing job, and I've never looked back. I grew up in this company."
As opportunities arose, and with the support of his managers and team members, Etian advanced in his career, becoming an LPN runner, admissions RN, service recovery nurse, patient care administrator, and associate general manager.
Today, he is general manager of the VITAS office in Miami-Dade County, Florida.
'I Am Not Unique'
For as impressive as Etian's story is, it didn't happen overnight. It took years of hard work, dedication, and saying "yes" to opportunities when they presented themselves.
At VITAS, these opportunities are afforded to everyone who has the desire and commitment.

-VITAS General Manager Etian Vizoso
"Every single one of those employment transitions was an opportunity," he says. "Every time I transitioned into a new role, it was a whole new world of information."
Still, he is not the only one. "Not to minimize the hard work it took, but I am not unique," he says. "At VITAS, these opportunities are afforded to everyone who has the desire and commitment."
At the Miami-Dade location alone, he can quickly list more than half a dozen team members who started as LPNs, RNs, and representatives and are now in senior management roles.
Resources That Support Career Growth
A culture of support and promoting from within has been key to these successes.
"It brings a smile to my face that we work in an organization that really, really encourages, helps, and supports," Etian says.
For Etian, flexible scheduling was key in his journey. To earn an associate RN degree, Etian would finish work at 8 a.m., begin class at 9 or 10 a.m., get a few hours of sleep, and return to his night shift at VITAS. When he became a VITAS LPN runner, he juggled his daytime class schedule around a new 4 p.m. to midnight work shift, providing on-call, bedside nursing care to hospice patients.
"My manager was flexible. There was always a way," he says.
The VITAS tuition reimbursement benefit combined with the GI Bill helped Etian pay for his schooling.
"I am here today because of all the opportunities that I've received, because of the leadership that I had the benefit of working under," Etian says. "They were all different people in all different roles, but they all gave me the support, and they encouraged me to continue to move forward."
Committed to LPNs: Partnership With Miami Dade College
"LPNs and LVNs are crucial in our line of work because they allow us to provide that higher level of care that a lot of our patients need," says Natalia Hernandez, vice president of operations for VITAS.
Now, VITAS is supporting LPNs even earlier in their careers in the form of scholarships for LPN students at Miami Dade College.
Learn more: Nursing roles at VITAS
"This is a very valued partnership," says Tommie Norris, dean of nursing for the Benjamín León School of Nursing at Miami Dade College. "We wanted to reach out to our students and provide opportunities as new nurses entering the healthcare field to become more knowledgeable about what hospice is."
Betty Bel, vice president of operations at VITAS, is an alumna of Miami Dade College herself. "VITAS is committed to the future of nursing, and we are honored to provide opportunities to those in the Miami-Dade community who have a passion for hospice care."
To those nursing school students, Etian says, "Your degree is going to open up every single door you imagined. Be choosy about where you go. Make sure it's an establishment that's going to build on and support your future and ambitions. Look for people who have the same core values and virtues as you do."
Work Somewhere That Shares Your Values
Etian grew up at VITAS surrounded by leaders who made decisions with patients in mind. Now, as general manager, he models those same values.
"I continue to live and teach the values. That's part of the culture. I think it's part of the reason why our culture is so strong, because [our leaders have] grown up with it."
Etian doesn't know what's next for him at VITAS, but he remains committed to patients. "I look forward to continuing in a leadership role within the company. I look forward to working with great people and guiding the program. I look forward to continuing to invest my professional life within the company because it's as rewarding as it was day one."
Are you looking for a career as a Hospice Nurse?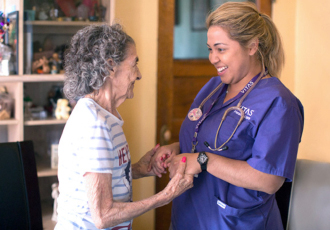 Choose a Career with VITAS
We offer a variety of full-time, part-time and per-diem employment opportunities. Employees earn competitive salaries and have the flexibility to choose a benefits package suitable to their own needs and lifestyle.
See Current Opportunities