Nurses
What Does a Hospice Admissions Nurse Do?
At VITAS, there are many ways to apply your nursing degree, find purpose, and make a difference. Whether you are looking for a role that involves direct patient care or you are interested in a more specialized position, there is likely a hospice role that fits your expertise and passion.
The role of an admissions nurse is one such specialized position. Admissions nurses serve as the first point of contact in the journey into hospice.
Some responsibilities of an admissions nurse include:
visiting patients and families who are thinking about or have been referred to hospice
evaluating them to ensure hospice is the right fit
explaining VITAS' philosophy and services
Ryan Yeung has worked as a VITAS admissions nurse in California for more than two years.
"As an admissions nurse, I am one of the first faces the family and patient sees," Ryan says. "I explain everything about the process and set up everything to get them started for hospice, whether that's medication needs or equipment or whatever other needs the patient or family has."
How to Become an Admissions Nurse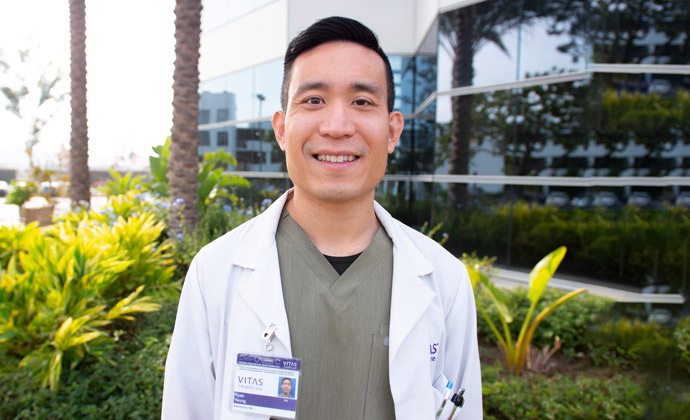 To become an admissions nurse, you should have experience as an RN in acute or sub-acute care and knowledge of clinical manifestations of diseases. Previous experience in oncology and/or sales is preferred.
Ryan came to VITAS after working as a triage nurse, directing patients to the appropriate place for care.
"I wasn't too sure what hospice was, but I wanted to try something new," he says. "It sounded interesting and was completely different from what I'd done before. I feel lucky to have come upon this opportunity. I feel like hospice really fits me."
Passionate about Educating Patients
As an admissions nurse, you can find purpose in teaching patients and families about how hospice can help them, including dispelling misconceptions around what choosing hospice means.
"My favorite part about talking to families and patients is explaining what hospice is," Ryan says. "I explain that we're focused on the comfort someone could have at the end of life, not necessarily for just a couple of days or a couple of weeks.
"Everyone deserves to be comfortable. Patients realize there's so much help that could be provided to them."
'Always Something Different'
For Ryan, the variety that comes with being an admissions nurse is part of the appeal.
My managers are available any time to answer my questions. It feels great to know I have their support.
"In my previous job, I was stationary," says Ryan. "I like being out and about in the community."
For his work, he travels between care settings—including hospitals, nursing homes, and patient homes—in Los Angeles County.
"Here, there's always something different. I have to adapt to each situation, and I get to see how families and patients are doing."
VITAS admissions nurses typically cover a region, so reliable transportation and the ability to be flexible in scheduling is important.
The Power of Teamwork and Present Leaders
Admissions nurses are part of the VITAS interdisciplinary teams that work together with a shared passion for helping patients.
"I love working in this team environment because everyone's helping each other out," Ryan says. "There's so much behind the scenes that happens, and everyone is committed to helping things run smoothly."
The door-is-always-open approach that VITAS leaders take to stay present and accessible is also important for fostering that team atmosphere. That's something Ryan has found with his leadership team.
"My managers are available any time to answer my questions," he says. "It feels great to know I have their support. Sometimes there might be barriers to care that they can help remove. That makes it a lot easier. I couldn't do it myself."
Inspired by Patients
A focus on one patient at a time helps VITAS admissions nurses ensure a personal, tailored approach that fits each patient.
"I learn something new every day and then I can pass it along to the next family or patient to make their experience even better," Ryan says. "It's a dire time for families. I always want to do better to provide better care for patients.
"The most rewarding part of my work is helping all the patients and families, providing that care that makes the patient's life and the family's life a lot better."