Working at VITAS, VITAS Values
VITAS 'Vibe' Team Helps Coworkers Battle Pandemic-Related Fatigue
When the COVID-19 pandemic hit, no one knew what to expect or what kind of impact it would have.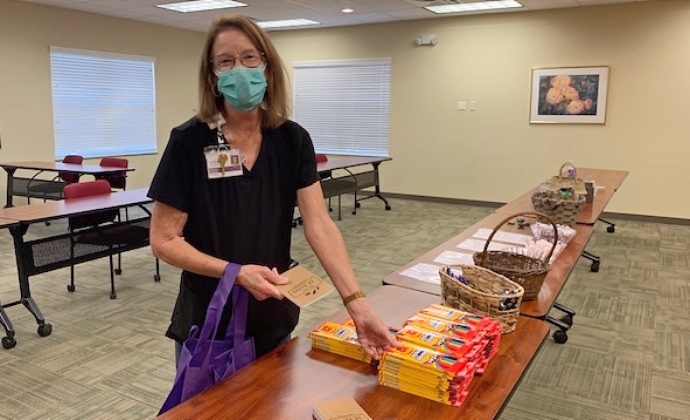 Across the US, healthcare professionals on the front lines—nurses, physicians, home health aides, and others—began reporting emotional exhaustion, physical exhaustion, stress, and burnout.
In Citrus County, Florida, two VITAS teammates saw it firsthand. Tuesday Riegen, VITAS performance improvement specialist, recalled a conversation she had with Kathy Hinton, VITAS representative, last summer. They saw many of their colleagues were having difficulty coping with the high level of COVID restrictions, required amounts of PPE, and feelings of isolation.
By the end of the conversation, it was evident their colleagues were experiencing burnout and fatigue brought on by the COVID-19 pandemic.
Tuesday, Kathy, and other teammates came together to support their fellow coworkers and lift spirits. It's one of the many ways VITAS demonstrates a commitment to its employees and fosters a caring company culture.
Taking Care of Each Other
"The Citrus 'Vibe' team was created in [the] summer [of] 2021," says Tuesday. "We organized the first event, The Compassion Workshop, to let patient-facing staff know we cared about their well-being as they continued to work in the field during the ongoing pandemic," she continued.
The entire staff was invited to participate.
"It was so important to organize this event and get emotional support tools into hands," says Tuesday. "In fact, we realized we were all experiencing compassion fatigue to some extent, so it was a good time to come together and show support for one another as best we could."
Read More: How VITAS Helps Employees Recognize and Prevent Burnout >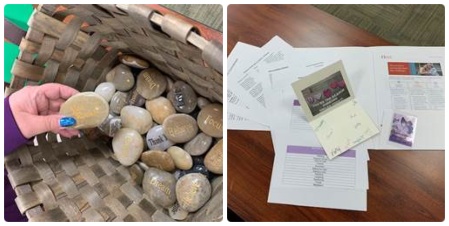 Unable to gather the team into a single room due to COVID-19 restrictions, staff members entered in groups of two and were given a folder of tools to help with stress and anxiety. They also received a "Thank You" card signed by the Citrus "Vibe" team.
Employees were encouraged to pick up tools they felt could help them or bring them some moments of happiness and peace. Items employees could choose from included: writing journals, colored pencils, VITAS pens, and lip balms, inspirational rocks, crystals, bibles, devotionals, and an angel keychain.
'There's Always Someone There for Me'
Kari McClean, a home care nurse, was enthusiastic about how the 'Vibe' team made her feel appreciated and supported.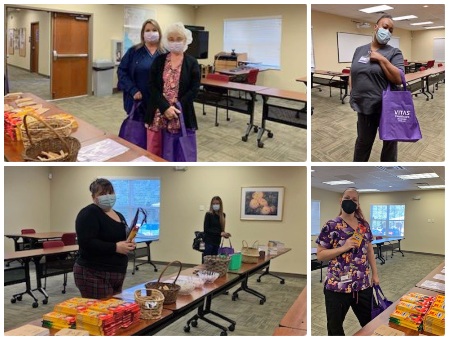 "I have never worked with such an amazing group of people that know the meaning of teamwork and display it on a daily basis," Kari says. "There's always someone there for me when I have a question or need help with something. It's an honor to be a part of all of this."
Chaplain Daniel Lyman was grateful for stress-relief tips included in the Compassion Workshop package. He says even though most hospice employees "know" how to cope with stress, it can be a part of self-care that's overlooked.
"Part of stress is getting too tangled up in stress to reach for the healthy things that de-stress us," Daniel says. "Having a list makes that easier.
Join a Team That Will Support you
Since the inaugural Compassion Workshop event, the Citrus 'Vibe' team has hosted many more, including an Ugly Sweater Christmas contest. The team also sponsored 10 children for the Citrus Family Resource Center 'Sponsor A Child for Christmas Project.'"
Tuesday says the team plans to remain active.
Are you ready to join a caring culture that supports your professional growth in a mission-driven, productive environment? Apply today at careers.vitas.com.