Working at VITAS, Home Medical Equipment
From Warehouse Technician to Manager: A Successful Home Medical Equipment Career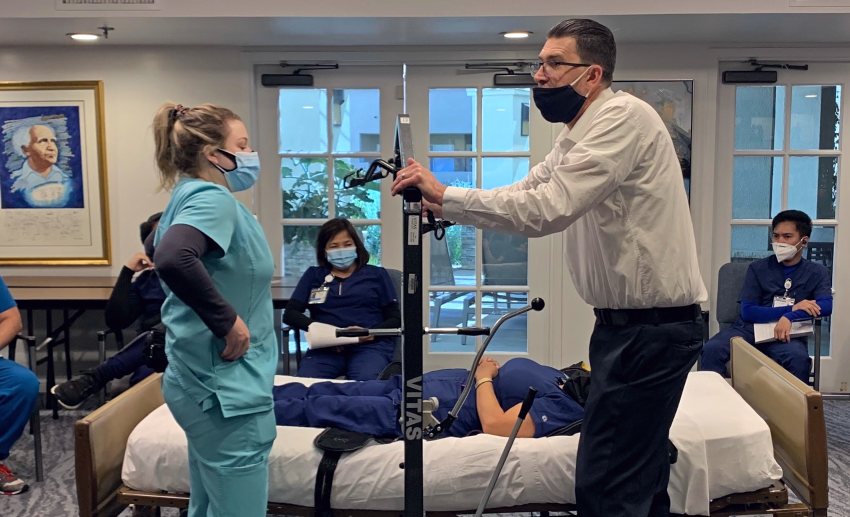 When Erik Higgins offers a training session on medical equipment for his VITAS colleagues or a partner care facility, his attentive students know to be prepared to be called on, asked to play the role of a patient, or demonstrate on him what he's just taught them to do.
He's the epitome of a healthcare employee who knows his specialty from the ground up — or in his case, from the warehouse floor of a home medical equipment (HME) facility to upper levels of HME management and training.
"I'm a perfect example of growth at this company," says Erik. He has been an employee at VITAS for more than 14 years, and his commitment, compassion, and can-do attitude have been recognized with several opportunities for career growth. Now, as an HME manager, Erik is well-positioned to teach, coach, and nurture his team's personal and professional growth so they, too, can advance their careers.
A Ground-Floor Start
Erik's interest in the HME field began in 1996, when he began working as a warehouse technician at a small medical equipment firm in California while attending college at night. He stayed on when the firm secured a contract to provide HME to VITAS. And this is how his wonderful career journey began at VITAS.
"I'm a perfect example of growth at this company."
"We quickly learned how professional VITAS was and how much they advocated for their patients," Erik recalls. "The work I did and coordinated with VITAS, delivering equipment, meeting patients and their families, ignited my passion for this medical specialty."
In 2007, when VITAS launched its own HME division in Southern California, he joined the team.
"I started with VITAS as a medical service technician, and with hard work and patient advocacy, I worked my way up the ranks to warehouse supervisor, operations manager, and now HME manager," says Erik.
What Do HME Employees Do?
The HME healthcare specialty maintains and delivers all of the medical equipment and supplies that hospice patients need to stay comfortable and safely cared for at home or in their preferred setting, such as a nursing home or assisted living community.
"The work I did and coordinated with VITAS … ignited my passion for this medical specialty."
HME employees also train VITAS colleagues and staff members at partner facilities how to use the equipment properly and safely. That includes hospital beds, wheelchairs, patient safety lifts, bedside commodes, oxygen tanks, feeding pumps, nebulizers, aids that help patients walk or care for themselves, and more.
"Whether I'm training staff members at one of our partner facilities or my VITAS colleagues, I want them to use the equipment and I want them to get hands-on experience," says Erik, now manager of the VITAS Santa Fe Springs HME division that services much of Southern California. "I'll call up volunteers to pretend to be a patient, for example, or I'll pretend to be the patient and ask them to manage the equipment."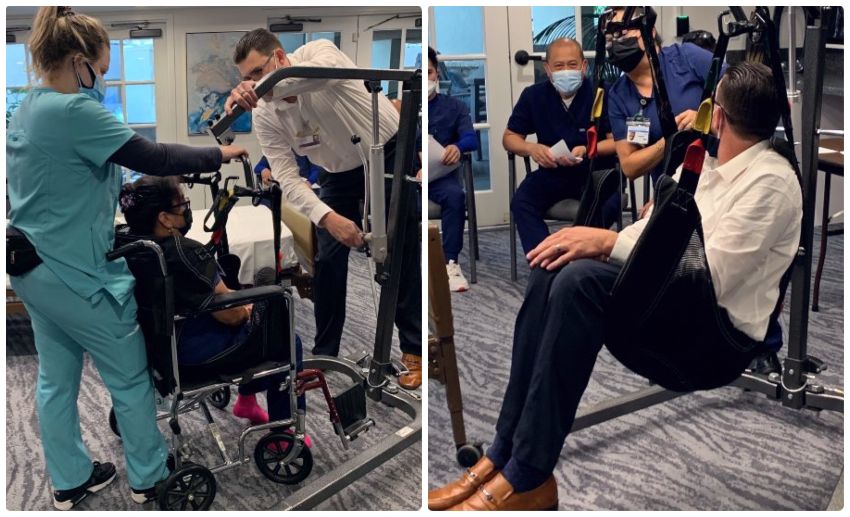 Facility administrators and directors of nursing often ask VITAS representatives for in-service programs or one-off sessions to meet specific training needs or certification requirements, and the representatives in turn contact their respective HME division. Larger HME fairs allow partners and healthcare professionals to browse and learn about all types of equipment and supplies.
Today, Erik's duties include both management and training, which he describes as an "ideal service" to boost VITAS' visibility and standing with partner facilities and communities.
"We're all VITAS...one team, one company," says Erik. "We're all striving for the same goal, to take care of our patients and their families. I can't see myself anywhere else."
Is your next career as an HME specialist? Explore HME openings and opportunities at VITAS.