VITAS Values, Working at VITAS
VITAS Team Grieves Patient Who'd Adopted Them as Her Family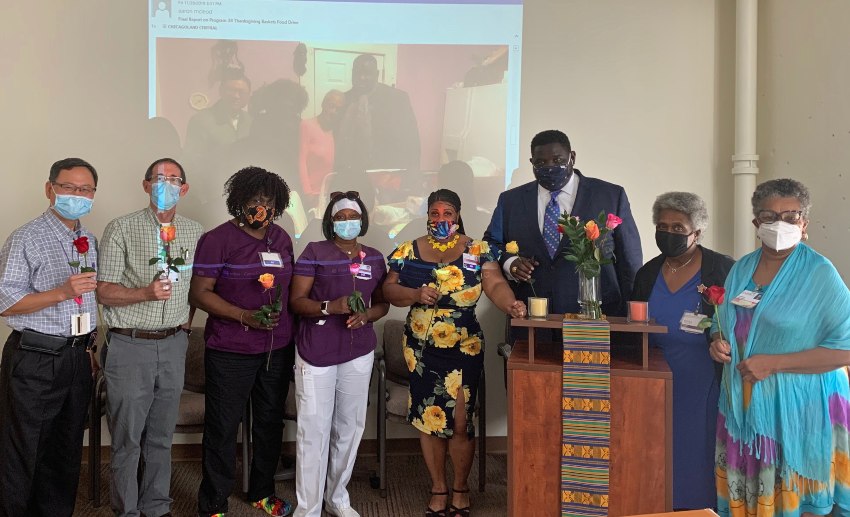 Masks on, eyes down, the hospice team turned toward Wanda Henry-Jenkins, bereavement services manager for VITAS, as she took a breath and recited a line.
"As we look back over our time, we smile, we laugh, we shed a tear and experience sorrow that you are gone," she read.
"We come together to remember shared times with you," the team responded in unison.
The conference room of the VITAS Central Chicago office was an unusual site for a memorial service, but just as their patient Kimiko had found a family in her hospice team, they would find space for healing—as a family—wherever they could.
'She Shared a Story with Everyone'
When Kimiko came onto hospice service with VITAS in August of 2019, she had no family to speak of, but neither did she want for friends: Kimiko was intelligent, affable, and thoroughly outgoing. She could charm anyone in the room.
Yet a troubled past, on-and-off struggles with drug addiction, and an unquenchable thirst for life kept her on the move. Because Kimiko rarely planted roots, she had no established support network. The VITAS team in Chicago knew their work was cut out for them, but they could not predict how much of an impact this patient would have on each of them.
"Whoever she met and connected with, that was family for her."

-Valerie Ralston, VITAS Home Care RN
"She was such a sweet and kind-spirited person," says Carisa Cole, RN, Central Chicago team manager. "She shared a story with everyone, and she was so open about her life and her battle with addiction. She was just trying to get her life together."
A former police officer, Kimiko fell on hard times after developing a drug addiction. She found herself moving from place to place, often living in group homes. After she was diagnosed with metastatic cancer, her doctor recommended hospice care.
By the time VITAS came into her life, Kimiko—still highly functioning and full of vigor—was living in a group home and "having problems," as Carisa puts it. The team found her another group home and seamlessly transitioned her to the new residence, with her VITAS care plan intact. Trouble arose once again, and they moved her to a nursing home, then again to an assisted living facility. On several occasions, Kimiko stayed in VITAS inpatient units to manage severe pain until she was well enough to return to routine hospice care.
A New Chapter, a New Family
The last facility brought out the best in Kimiko. She began eating more and appeared more energetic. In January 2020, she was in addiction recovery through the help of a methadone program. Thomas Frech, social worker, drove her to and from the clinic for her treatments, and before long, "her attitude toward life had entirely changed," Carisa says.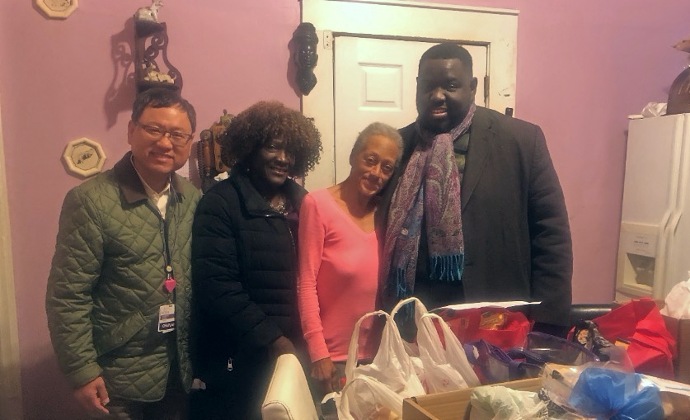 "Kimiko reached out to members of the team as if we were her family," she explains. "We bonded with her."
Kimiko even assigned a familial role to several team members: team nurse Valerie Ralston, RN, was "Mom," hospice aide Stephanie Burrage-Ward became "Auntie," Thomas earned his place as an "uncle," and Carisa took on a sisterly role.
"You couldn't help but get attached to her," Valerie says. "Whoever she met and connected with, that was family for her."
Like family, the hospice team was available for Kimiko at all hours. Stephanie usually visited twice a week to make sure her patient was keeping up with her medication and eating, but she also performed off-hours coffee-and-sugar runs at Kimiko's request. Whenever Kimiko called Valerie in the middle of the night, the team nurse would listen patiently to her patient's musings and concerns.
At the assisted living facility, she frequently ran errands for less-mobile residents. "She had such a sweet spirit. She would give you the clothing off her back if she could," says Valerie.
'All We Know Is She Is Gone'
In July, the assisted living facility where Kimiko was staying told the care team that she was being evicted.
The entire care team scrambled to make alternate living arrangements for their patient. Another assisted living facility showed promise, but obtaining the proper paperwork and approval would take at least a day or two. In the meantime, the team tried to convince Kimiko to stay at a Chicago rehabilitation center. She refused, saying she would stay with a friend instead.
"We couldn't force her," Carisa said. "I cried all day that day. We just didn't want her on the street."
Carisa, Valerie, and Thomas helped Kimiko pack her belongings and prepared her medication. They took her to the address where she would be staying. No one on the VITAS team saw Kimiko again.
"We really don't know the details, all we know is she is gone," Carisa says.
'We All Came Together as One–as a Family'
Lacking answers and deeply hurting, the team decided to hold a memorial service on August 13, 2020, for the patient who had passed through their lives in such a meaningful way.
As bereavement services manager, Wanda coordinated the event and ensured it was COVID-19-proof, mandating that masks be worn and that no more than 10 people enter the room at once.
Some members shared their grief, but mostly the team reflected on the many moments of happiness with Kimiko.
"It was beautiful," Carisa says. "We had music, we had singing; everybody was talking about the good times we had with her."
Chaplain Stephen Chang, Rev. Aaron McLeod, bereavement services manager, and Valerie spoke about their Thanksgiving with Kimiko in 2019, when they brought a feast's worth of groceries to their patient at her group home. The occasion was captured in a joyful photo displayed in the memorial program.
"Our patients and families come first, and when there's no family, VITAS steps in and becomes family."

-VITAS Team Manager Carisa Cole, RN
Stephanie recalled spending her first days on Kimiko's care team hunting down her elusive patient: "It took me a week to find her!" she says. "She would get to the house and immediately be off somewhere else. It was [her way of showing] she didn't want to die, she wanted to live and keep moving."
"We didn't just lose a patient, we lost a niece, a daughter," Stephanie says. "At the memorial, we all came together as one—as a family."
Nurse Valerie says she hadn't planned on saying much at the event, but in the moment, she was moved to recall a simple part of her relationship with Kimiko that meant so much in hindsight: "That hug every time I got ready to leave her," she says. "She wasn't going to let me leave without it, and she would always say 'I love you.'"
After their personal reflections, General Manager Dawn Rainer offered some words of encouragement to those gathered, and Aaron closed with a poem. The service proved that they grieved—and cared—together.
"Our patients and families come first, and when there's no family, VITAS steps in and becomes family," Carisa says. "That means taking care of each other, too."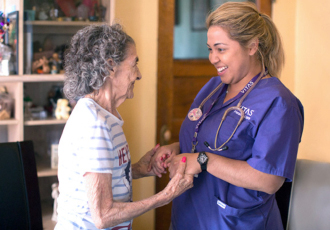 Choose a Career with VITAS
We offer a variety of full-time, part-time and per-diem employment opportunities. Employees earn competitive salaries and have the flexibility to choose a benefits package suitable to their own needs and lifestyle.
See Current Opportunities