Working at VITAS
VITAS Music Therapists Perform 'Heart of Hospice' in New Music Video
While commercially-focused musicians vie for ticket sales or radio play, their counterparts in healthcare are passionate about promoting wellness or–in the case of those who work in hospice–peace and comfort for their patients near the end of life.
For music therapists, a successful performance ends not with a roaring arena but with a patient's pain-free smile, a caregiver's thanks, or a family member's sigh of relief.
Sometimes, music therapists have a chance to make an impact on a larger scale. In May 2020, the National Hospice and Palliative Care Organization (NHPCO) released a hospice-themed compilation album, "The World Around the Bed: Songs of Hope and Healing," to raise funds for personal protective equipment for hospice providers.
'A Tribute to Hospice Patients and Families'
Tom Dalton, a music therapist for VITAS in Broward County, Florida, wrote one very special song on that album with help from Tricia Walker, a songwriter whose work with Alison Krauss earned a Grammy award. Now, "Heart of Hospice" has an accompanying music video that highlights the talents of our music therapy team in South Florida.
"My only hope is that this video brings some joy and comfort to all the people doing this amazing work."
"I had written 'Heart of Hospice' previously as a tribute to hospice patients and families," Tom explains. "Then I learned that the NHPCO was sponsoring a hospice album, and that really interested me."
Tom reached out to John Mulder, MD, a hospice physician and songwriter who was helping to develop the album. Through Dr. Mulder, Tom was put in contact with Tricia, who eagerly volunteered to put some polish on the tune ("Who wouldn't want Tricia Walker to cowrite with you, right?" he muses.).
With the finishing touches on the lyrics, a band of Nashville instrumentalists was hired to record the music. Tricia sang lead while Dr. Mulder took harmony on the album version.
VITAS Music Therapists Take Center Stage
The version of "Heart of Hospice" heard in the new video, however, features vocal performances from 12 Broward County music therapists, including Tom himself, as well as those of Tricia and Dr. Mulder. Recorded at the performers' homes using smartphones–a COVID-19 precaution–the additional vocal parts were composed and arranged by David Rossow, a choral director and educator at Florida Atlantic University.
"My only hope is that this video brings some joy and comfort to all the people doing this amazing work," Tom says. "It allows other people to see what hospice is all about and spreads the word about hospice music therapy at VITAS."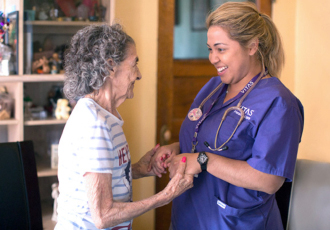 Choose a Career with VITAS
We offer a variety of full-time, part-time and per-diem employment opportunities. Employees earn competitive salaries and have the flexibility to choose a benefits package suitable to their own needs and lifestyle.
See Current Opportunities