Nurses, Working at VITAS
National Nurses Week 2020: An Ideal Time to Thank Nurses Everywhere
National Nurses Week (May 6-12) takes on special significance in 2020, given the nation's ongoing challenges with the COVID-19 pandemic. Many nurses and healthcare workers have been laboring in seemingly unimaginable circumstances to care for each and every patient.
VITAS Healthcare is making a special effort this year to celebrate and honor all nurses—especially our compassionate hospice and palliative care nurses—for their never-ending dedication and commitment to patients, families, communities, and our nation.
"All nurses are driven by a passion to help and care because it's the right thing to do, even in the face of uncertainty or unknown risks," says Karen Peterson, VITAS vice president and chief nursing officer. "Hospice nurses, in particular, delve deeper into the lives of their patients and families, helping them on their end-of-life journey with empathy, education, and compassion."
Throughout the US, our hospice programs will find special ways to honor and recognize our RNs, LPNs, and admissions nurses for extending the continuum of care to the very end of life in memorable and caring ways.
Nurses Lead the Way During Crises
For many veteran nurses at VITAS, the COVID-19 pandemic recalls the HIV/AIDS crisis of the late 1980s and early 1990s, when healthcare workers faced a disease that had no known cause and no known cure/treatment for years. Yet our hospice nurses and care teams met with HIV-positive patients in their homes, on the streets, in homeless shelters, and in our inpatient units, ensuring that each one had a hand to hold and a caring nurse companion on their final journey.
Peterson, a 27-year VITAS nurse who recalls the days of HIV/AIDs, captured our company's sentiments quite poignantly:
"The COVID-19 pandemic reminds us with overwhelming clarity just how essential nurses are to the health and well-being of every single patient and an entire nation," Peterson says. "The reality is that the caring and dedicated nurses you see daily on the coronavirus front lines represent nurses everywhere who care just as fervently and professionally every single day in every care setting and specialty, including hospice and palliative care."
Make time this week to show your thanks. Let the nurses in your life know that their caring hearts are noticed and that their tireless contributions are greatly appreciated.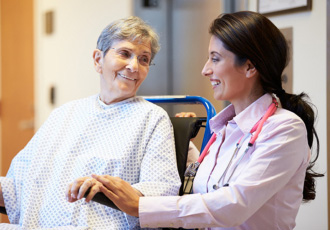 40+ Years of Leadership
We've been a pioneer in the hospice movement since 1978 and a leader in end-of-life-care.
Learn More About Us