Nurses
Gainesville's Graffiti Wall Shows Our Gratitude for Nurses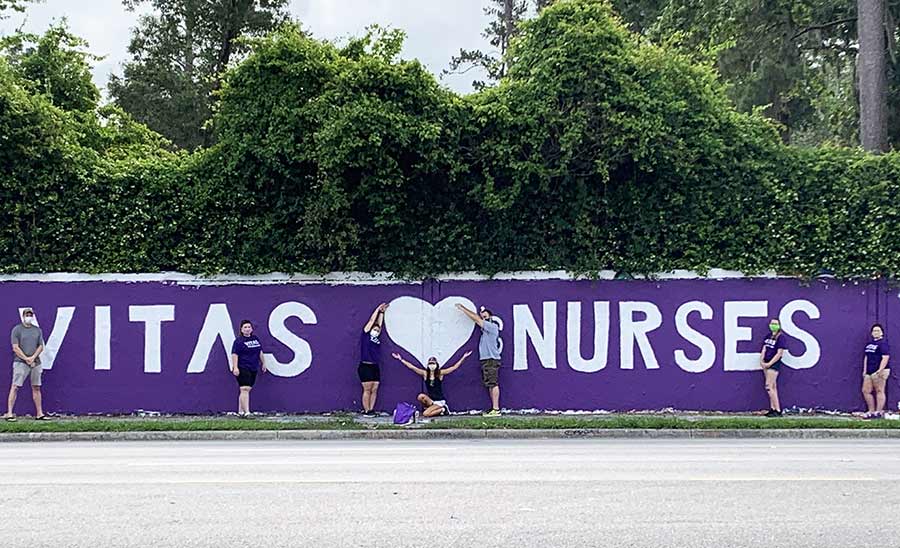 During the morning commute on Wednesday, May 6, four VITAS Healthcare employees and three volunteers turned purple and white paint into a very visible sign of support for Gainesville's nurses at the city's iconic 34th Street Graffiti Wall.
With drivers honking and waving in support, a section of the wall transformed over three hours into a giant purple sign of gratitude reading "VITAS ❤️ NURSES – THANK YOU!"
VITAS, a hospice provider in Gainesville since 2018, chose the creativity and immediacy of community art to create a colorful, public "thank you" for local nurses who are providing care on the front lines during the COVID-19 pandemic.
"A week earlier, we were collaborating on Zoom as a marketing team, trying to figure out how to let our local healthcare partners and nurses know how much we appreciate them," says Crystal Robinson, director of market development for VITAS Nature Coast. "To protect ourselves, the public, and the healthcare staff, we've been very mindful of honoring social distancing measures and no-visitation policies at our local hospitals, nursing homes, and doctors' offices."
Serving as an ever-colorful, open-palette community bulletin board for residents and businesses in this college town, the wall is located near major Gainesville hospitals—North Florida Regional Medical Center, University of Florida (UF) Shands Hospital, and the Malcom Randall VA Medical Center.
"We were there at 8 a.m., and people were honking as they drove by," Robinson says. "It was an awesome experience. The whole point was for us to show our thanks by putting a little sweat equity into it.
"It's our way of thanking all these nurses and healthcare workers in the local hospitals who are putting their own health at risk to take care of their patients. We want to make them see that we really appreciate what they're doing. And we learned that grand gestures don't have to be expensive. They can be time invested in appreciation."
The VITAS graffiti team included four staff members, a staff member's husband, and Robinson's daughter and her friend, both 14.
"We want our community nurses to know that we care," Robinson says. "If there's anything we can do for them, whether it's hospice-related or not, they can just ask. Our staff members come from such varied backgrounds and specialties that we can help, and if we're not the right fit, we'll put them in touch with someone who is."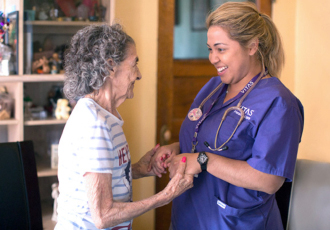 Choose a Career with VITAS
We offer a variety of full-time, part-time and per-diem employment opportunities. Employees earn competitive salaries and have the flexibility to choose a benefits package suitable to their own needs and lifestyle.
See Current Opportunities