VITAS Values
VITAS Nurse Donates Her Kidney to Coworker's Husband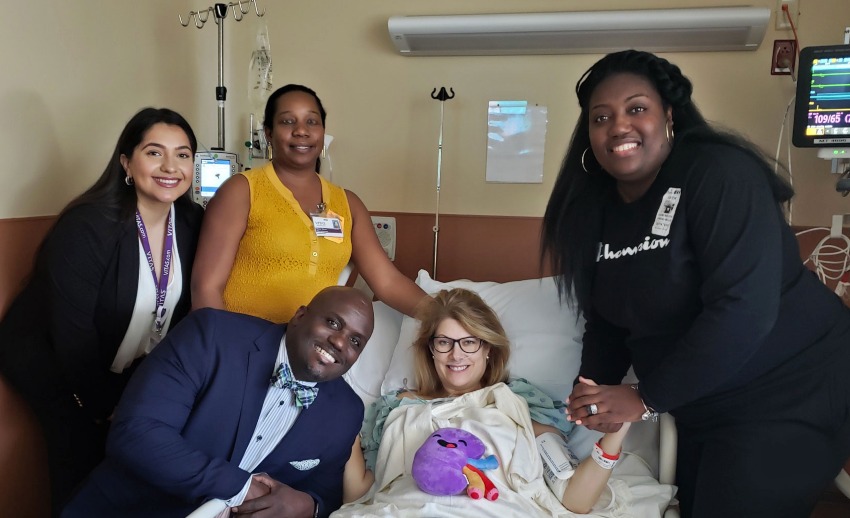 Every other day or so, VITAS nurse Claudine Raymond, LPN, calls or texts her admissions colleague Amy Guerette, RN, to let her know how her right kidney is performing.
Amy's kidney is doing what kidneys do perfectly well, except that it's in the body of Claudine's husband, Junior. Amy donated her kidney to him. It's a story of what happens when two VITAS employees live out one of the company's core VITAS Values–"We take care of each other"–in perhaps the most extraordinary way.
"We really did take care of each other," says Claudine, a VITAS nurse since 2010 and an admissions liaison since 2013. "We truly did."
A Heart-to-Heart Talk; Matching Blood Types
It began with a late-fall heart-to-heart talk in 2019 between the two newly introduced coworkers at Memorial Hospital in Hollywood, Florida, where both women work as VITAS admissions nurses.
"We really did take care of each other. We truly did."

VITAS Admissions Liaison Claudine Raymond, LPN
"One afternoon while chatting in the hospital cafeteria, Claudine opened up about how her husband, Junior, had been ill with chronic kidney disease that had quickly deteriorated to severe kidney failure, with less than 10% kidney function," recalls Amy, who joined VITAS in 2017.
"Soon after, Junior underwent two surgeries to create a fistula in his arm, and he eventually began three- to four-hour kidney dialysis sessions three times a week. I don't think Claudine opened up to a lot of people, but she told me how it had all been wearing them down, and how Junior had just been told he needed a kidney transplant at age 39."
Without evening thinking about it, Amy asked about Junior's blood type: O positive.
"I told her that I'm O positive, too, and I asked what I had to do find out if I could be a donor."
'He Could Have my Kidney'
Claudine remembers it this way: "Before I knew it, Amy said to me, 'He could have my kidney.' and I was so shocked, especially when I processed it later. But from that point on, she was full-on committed.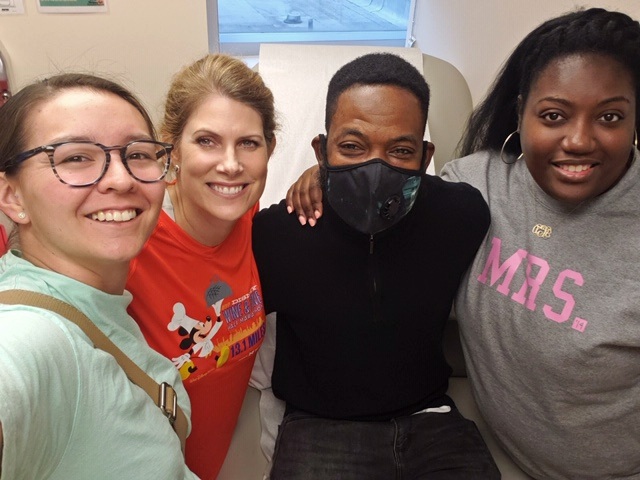 "Junior has a lot of siblings and a really tight-knit supportive family. All the siblings were gung-ho about donating their kidney to their older brother, but one by one, they all got tested and none was a match."
A few weeks later around Thanksgiving, when Amy's donor test results indicated she was a perfect organ match, Junior's health was failing during treatment for kidney-related complications at Memorial Hospital. Amy stopped in his hospital room for a visit. Claudine was there. So were Junior's brother, Gelson, and Claudine's cousin, Stephen.
"I walked into his room and said, 'Well, I have some news,' and Claudine looked at me really funny," Amy remembers. "I said to Junior, "Do you want an old lady's kidney? Because we're a match.' We all laughed and then we cried. It was really sweet."
Transplant Surgery, and a Return to Health
On January 13th at the very same hospital, Amy donated her kidney, Junior's transplant surgery was successful and the donated organ began functioning properly as soon as it connected to the blood vessels in Junior's body.
"Junior came out of the surgery groggy in lots of pain, and Amy came out good and awake, and the next day he was walking down the hall in the hospital, looking like a completely different, healthier person," says Claudine. "There were so many doctors and so many nurses who wanted to know the story behind this transplant surgery. It was a crazy story, and everyone said to us, 'We can't believe she did this for a complete stranger.'"
Sometimes, Claudine can't believe it either.
'A Priceless Gift'
"Amy is such a selfless angel and a permanent part of our family now," she says. "This second chance at life for Junior is truly a priceless gift, and we thank Amy from the bottom of our hearts. We will never be able to pay her back for her generosity, but she now has an instant family and a bunch of nieces and nephews ready to love on her. There's no other like Amy."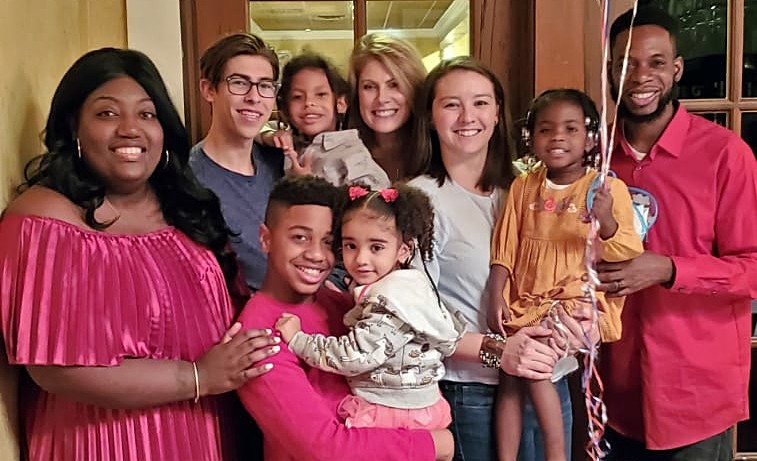 Amy says the decision to donate was made without a moment's hesitation.
"I knew what a wonderful and deserving family they are," she says. "VITAS patients and families are drawn to Claudine. She just has that way about her. She and Junior have three children and have so much love to give them.
"And yet it's weird, because I'm not all that brave. I'm sort of a cautious person," she says about herself. "It's surprising even to me that I didn't have that 'Oh, my gosh, what am I doing?' reaction. But I kept thinking about Junior and everything he'd been through. By comparison, donating a kidney seemed like nothing to me, and I was lucky to have the support I needed to make it happen."
'Thankful…for Some Beautiful Souls'
Both families are now ready for what's next. Amy, who has a 16-year-old son, plans to marry her fiancée, Megan, in March. Claudine and Junior are slowly returning to stability and health, able to care for their three children, ages 2, 4 and 13. They've received support from a GoFundMe fundraiser to cover some of the costs related to Junior's transplant, such as his deductibles and time away from work.
"Working in hospice is no easy task," Claudine wrote in an email to her colleagues when she told them about the upcoming transplant surgery. "Every day, we are faced with the sad news of someone's illness, and we try our best to help them by providing services to assist them, all the while navigating our own issues. Some days are better than others, and I don't think we often realize how easily the roles can be reversed. I'm thankful that I've come into contact with some beautiful souls here."