Working at VITAS
VITAS Field Administration Employees: Behind-the-Scenes Champions of Compassionate Hospice Care
VITAS administrative employees make it possible for our care teams to devote hands-on attention to patients and families. They work in our headquarters and from every VITAS office across the country, contributing to our patients' care.
Referred to as "field" employees, our administrative staff members range from information technology to human resources to performance improvement specialists. They tend to be team players and multi-taskers, dedicated to the VITAS mission to bring high-quality end-of-life care to every person who needs it.
VITAS Teammates Describe Our Field Administration Employees
Each year, outstanding employees are awarded as VITAS BEST winners, for their efforts "Building Excellence, Satisfaction and Teamwork."
The following field administration employees led their regions. This is how their teammates described them:
"Danny makes sure our phones and computers are working properly so that we can provide speedy care to our patients. He reminds us to protect our accounts and to properly document any issues with VITAS equipment. He receives accolades daily. When he is not at our office, we text or call him to let him know we are grateful to have our equipment up and running. Danny is friendly, approachable, funny and caring."
"Clarisa is warm and compassionate with every patient, family and referral source who calls our office. Regardless of her workload, she makes the time to ensure their needs are met. Clarisa is kind and professional with her peers. She does not need to be asked to help a team member; she is the first to offer. When we opened nominations for the BEST Awards, I was flooded with responses from clinical staff, VITAS representatives and office staff saying Clarisa is a true example of the qualities this award is meant to recognize."
Joanne Barney, field executive secretary
Brevard County, FL
"Joanne is a rock star. She jumps in and helps with anything that is needed. She is always willing to go the extra mile. She keeps track of all the senior management issues. We never worry; everything is taken care of behind the scenes—because Joanne does it all!"
Rodolfo Mallari, field human resources assistant
Philadelphia
"Rudi is reliable, organized, well prepared and accepts new challenges without hesitation. He has been instrumental in the voluminous, detailed, ongoing project to put all VITAS HR standards in place. He flexes his schedule to meet the needs of the program, including working weekends. He works closely with our recruiter to move applicants quickly though onboarding and into orientation. He participates in offsite job fairs and is an excellent resource to all applicants and staff."
Kimla Stewart, performance improvement specialist
Collier County, FL
"Kimla is asked to wear many hats for us, and she wears them all well. From initial orientation to leading our lunch-and-learns, Kimla's goal is to improve the quality of care our patients receive and the documentation of that care. There is no task she is afraid to take on. She is our representative to the Collier County Emergency Operations Center and used her contacts to direct an emergency drill that included three senior facilities, our durable medical equipment company, a transport group and the local fire and police departments. And as a trained ballroom dancer, Kimla impressed her colleagues at last year's holiday party with a tango that should land her a spot on 'Dancing with the Stars'!"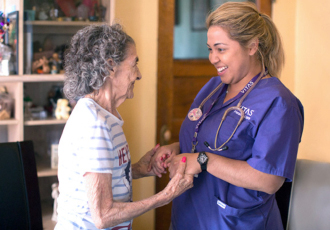 Choose a Career with VITAS
We offer a variety of full-time, part-time and per-diem employment opportunities. Employees earn competitive salaries and have the flexibility to choose a benefits package suitable to their own needs and lifestyle.
See Current Opportunities