Nurses, Working at VITAS
The VITAS Admissions Team: The Faces of Compassionate Hospice Care
At VITAS, hospice care begins with the admissions team. An admissions nurse is often the first VITAS person to interact with a patient and family, usually meeting with them in their home, hospital or facility to explain what hospice is and how VITAS can help them specifically.
It's a critical time for patients and families, as they decide which care option will be best to meet their needs and respect their wishes.
Admissions team members evaluate patients, get a medical history, talk to members of the patient's current care team and educate family members.
If the patient is hospice-eligible and the family agrees, the admissions team handles paperwork and alerts the members of the patient's new VITAS care team. If patients are not yet eligible, admissions nurses ensure that VITAS will follow up at a later date as patients and families cope with advanced illness.
Learn more about being a VITAS nurse.
VITAS Teammates Describe Our Admissions Team
Each year, outstanding employees are awarded as VITAS BEST winners, for their efforts "Building Excellence, Satisfaction and Teamwork."
These employees led their regions, and how their teammates describe them:
Juliet Apolinario, admissions nurse
Orange County, CA
"Juliet is the model admissions nurse: She has assisted in the development of processes and been a mentor/preceptor for new nurses. She is an educator and enjoys seeing people grow and learn. She remains calm when faced with challenging situations or family dynamics. She understands patient and family anxiety and knows how to provide comfort."
"Jean is always offering to go on symptom calls, visit a continuous care patient-—anything to help the team! She has assisted with filing, stocking supplies and maintaining charts. She has an excellent work ethic: She will not leave a patient if no one can relieve her. I have received many letters from families regarding Jean's compassion for her job. I love working with Jean!"
"Shantoria is the first person patients and families meet. When physician offices and hospital case managers ask her to speak to potential patients and families, Shantoria never leaves without an order to admit. She has volunteered to assist with opening a new program, train other nurses and visit patients when needed."
"Her involvement in Kendall Regional Hospital, where she is assigned, is invaluable. She offers to work late, if necessary, in order to see potential patients, and takes calls as admissions manager on weekends. Recently she has been mentoring new hires and serving as our clinical educator. Yeneysy continually proves her capability to handle challenging family situations, provide detailed documentation and maintain an excellent rapport with VITAS representatives, and assisted living and hospital personnel."
Jessica Morak, patient scheduler
Philadelphia
"Reliable is an insufficient word. Jess's attention to detail is unsurpassed. She does not leave the office until the job is done, often staying well into the evening. She handles each referral with urgency so that patients and families receive the best care as soon as humanly possible. She juggles calls, texts, emails, IMs, Skypes and office visitors simultaneously, all while making everyone she interacts with feel as though theirs is her only concern. When the admissions team is overwhelmed, Jess entertains her coworkers with her fantastic sense of humor!"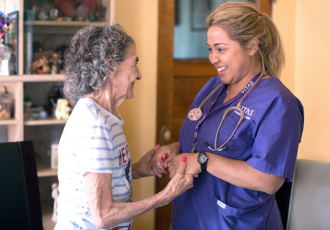 Choose a Career with VITAS
We offer a variety of full-time, part-time and per-diem employment opportunities. Employees earn competitive salaries and have the flexibility to choose a benefits package suitable to their own needs and lifestyle.
See Current Opportunities