Nurses, Working at VITAS
Why We Work in Hospice: Nancy Auster, RN, an Advocate for Her Patients
Just out of the Air Force in 1987 and working as a nurse on a specialized, high-treatment immunology unit at a Miami hospital, Nancy Auster couldn't help but notice the unique kind of medical care that was being provided by a local hospice company.
"On the hospice floor, I was hearing people laughing and just being comfortable—something that didn't happen on the immunology floor," Nancy recalls. "The mood on the hospice floor was much more comforting, and it really was the impetus for my professional switch. Hospice care made way more sense for how dying should happen. I had heard about VITAS, had fantastic training and became a hospice nurse."
Caring for Patients During the HIV/AIDS Crisis
In nearly 30 years at VITAS, Nancy has been on the front lines of many of healthcare's and hospice's most difficult challenges, including the care of patients with HIV/AIDS.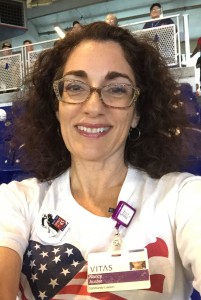 Her first job at VITAS in 1991 was as an admissions nurse on an AIDS-only care team in South Florida, where she visited HIV-positive patients in their homes, hospitals, nursing homes, clinics, even jails and prisons, to admit them to hospice care.
That initiative and Nancy are featured in our 40th-anniversary video on how we cared for AIDS/HIV patients in the early years of the epidemic when little was known about the disease, including how it was contracted and spread.
"I'm very proud that VITAS was such a major advocate for LGBTQ issues and patients. We went out of our way to understand that culture," Nancy says with pride.
"We made sure we had LGBTQ staff on board, and we were involved with a lot of AIDS-related organizations—AIDS Health Crisis Network, People with AIDS Coalition, Ryan White Foundation, South Florida AIDS Network and ACT UP."
'No Other Hospice Was Involved Like We Were'
Dr. Michael Wolhfeiler, then-medical director for VITAS, "set the stage and drafted the standards for end-stage AIDS care for the National Hospice Organization (which later became the National Hospice and Palliative Care Organization, or NHPCO)," she says.
"One activism event involved going into downtown (Miami), lying on the ground and having someone outline your body with chalk," she remembers. "This demonstrated the numbers of helpless patients because our government wasn't reacting to the AIDS crisis fast enough. No other hospice was involved like we were."
Nancy's career also has spanned other important roles within VITAS, including serving as director of education for three years.
Caring for Military Veterans at the End of Life
Because of her military background, Nancy took on a new position in 2010 as an admissions nurse who was dedicated to the intake, assessment and specialized care for veterans, part of an NHCPO initiative called We Honor Veterans. She currently is a nurse navigator for Miami-Dade County in South Florida.
"There will always be a handful of veteran patients who are responding poorly, and when we go into their rooms or stand at their bedside to do the veterans' bedside salute, we say those very special words and phrases that only a veteran will appreciate… 'Sir, on behalf of a grateful nation…'," she says.
"And then we sing 'God Bless America.' All of a sudden, you'll see this very unresponsive veteran begin to mouth or sing some of the words of the song very faintly. And then I get a call the next day from the chaplain that they passed away. I'm so glad we're able to provide that moment to each veteran."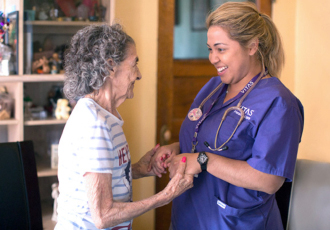 Choose a Career with VITAS
We offer a variety of full-time, part-time and per-diem employment opportunities. Employees earn competitive salaries and have the flexibility to choose a benefits package suitable to their own needs and lifestyle.
See Current Opportunities