Sales, Working at VITAS
VITAS Sales VP Paves Paths to Success
Erika Gaudio's eight-year rise from VITAS sales representative to vice president of sales has been fueled by a single-minded determination to make sure that hospice-appropriate patients across the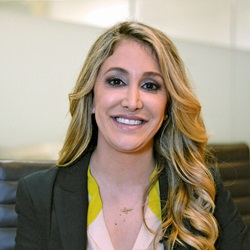 US get the best possible care.
To master that challenge, she has focused her energy on shaping and training VITAS sales professionals to feel confident and take pride in their ability to explain, educate and advocate for compassionate, cost-effective end-of-life care for terminally ill patients, their families and the healthcare professionals who care for them.
Entry-Level to Sales VP: Erika Gaudio
Coming up through the sales ranks reinforced for Erika the importance of providing her 400 representatives and 60 managers with opportunities for growth through sales-specific training, mobile technology and up-to-the-minute resources so they can:
Explain what hospice is and how it benefits patients and families near the end of life
Educate physicians, nursing homes, assisted living facilities, hospitals, physicians' groups, accountable care organizations and other healthcare professionals about end-of-life prognoses and options. Disease-specific case studies, supported by up-to-date healthcare literature, are used as educational sales tools to help healthcare professionals better understand how to manage symptoms and support quality of life at the end of life for patients with complex or life-limiting illnesses.
Advocate for her sales representatives, managers and career professionals by providing growth opportunities and clear paths to success at VITAS, the nation's leading provider of end-of-life care.
Search for VITAS sales rep jobs
Supporting career longevity and company growth
Key to her success has been the roll-out of new tools for the sales team, including VITAS University, a mobile platform that puts information in sales reps' hands, whether they are in their cars, in meetings or in their territories. The app hosts videos, tests, live meetings and learning modules that reinforce VITAS' comprehensive offerings and maximize reps' time with healthcare professionals and referral sources.
"The Evolution" revolutionizes training
In 2017, she also overhauled and instituted The Evolution, a comprehensive, five-phase sales training program. The Evolution encourages career longevity through professional growth, subject-matter mastery and immediate-feedback simulations that support high-level conversations with healthcare professionals about hospice and palliative care solutions and options.
From 2016–2017, the sales team's initiatives have contributed to the company's continued financial success and growing patient census.
"VITAS is an exciting place to be for those who enjoy a challenging and rewarding career," Erika says. "Enhancements in healthcare force us to be competitive and to change the climate internally so that we can customize hospice care to meet the needs of our accounts, ultimately benefiting their hospice-appropriate patients. By retaining our top talent, revitalizing our sales professionals and providing them with the best tools and technology, we continue to grow and care for more patients than ever before."
Are you interested in a sales position with VITAS? Learn more.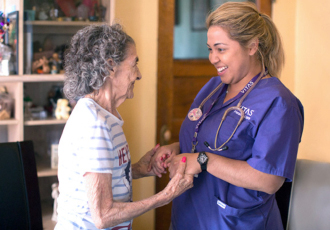 Choose a Career with VITAS
We offer a variety of full-time, part-time and per-diem employment opportunities. Employees earn competitive salaries and have the flexibility to choose a benefits package suitable to their own needs and lifestyle.
See Current Opportunities