Nurses, Working at VITAS
VITAS Takes the Time to Train Its Hospice Nurses

Whether you are an experienced hospice nurse or brand new to hospice, at VITAS you can count on an initial three weeks of training before you are considered an independent VITAS hospice nurse. At that point, you will be ready to visit patients and families on your own, plan your daily schedule, and work as a vital member of your hospice team—always with the support of your manager and mentor. Following your initial orientation, training and support continue on a regular basis.
General onboarding, day one
Day one starts with the usual completion of HR requirements, some VITAS-specific compliance competencies and getting to know your new workplace. You will also meet some members of your team.
Self-assessment
To understand how you see your skill level and help us customize your orientation, every new nurse completes a self assessment. For each of the nursing skills commonly used with hospice patients, you rate yourself as accomplished and able to teach the skill, able to demonstrate acceptable proficiency with the skill, or not able to perform the skill independently and need further development.
Shadowing is key
As a nurse, you understand the nursing role. However, the hospice interdisciplinary team is unique in its collaboration on assessment and evaluation findings to develop an individualized plan of care for each patient. Each new nurse shadows the non-nurse members of the interdisciplinary team. You also read and discuss their roles to ensure you understand the valuable resources each team member represents to patients and families as well as to the rest of the interdisciplinary team.
Joint patient and family visits
Each new nurse is assigned a mentor. You spend a good portion of the remainder of your orientation making joint visits with your nurse mentor. There are five (5) basic competency areas covered:
Assessment/Evaluation
Care Planning
Interdisciplinary Collaboration, including Team Meeting
Palliative Pain and Symptom Management
Quality Assessment Performance Improvement
You will read associated VITAS Standards (Procedures) and view videos preparing you for your new role. You shadow a nurse who will demonstrate implementation of our VITAS Standards. Once you have seen a patient visit in action, you will be able to perform the visit with your mentor, allowing you to gain the experience and support you need to apply your skills in the VITAS model.
Continuing education
At VITAS, we recognize that education never stops. After you complete your initial orientation, your mentor and manager are available for ongoing support. Team nurses attend interdisciplinary team meetings once a week, where each team member reviews the patient and family care provided as the team collaborates on the plan for the next two weeks. Each team meeting is an opportunity for all members to give and receive education. Some of the education is formal; some is contained within the review of each patient.
"When I was a nurse team manager," says Karen Peterson, VITAS senior vice president and chief nursing officer, "I'd learn so much at team meetings. Not only would I gain nursing knowledge, I learned a lot about social work. I found myself saying, 'What would the social worker do?' This helped me in understanding resources available to me and to our patients."
In addition, VITAS provides educational opportunities throughout the year, in classrooms and online. Many of these opportunities include offering continuing education credits that may be needed to renew your nurse license.
With a new career as a VITAS hospice nurse, your education as a hospice professional begins.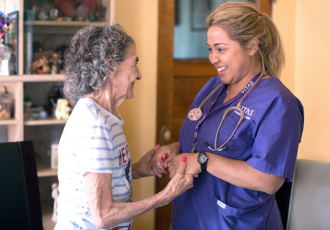 Choose a Career with VITAS
We offer a variety of full-time, part-time and per-diem employment opportunities. Employees earn competitive salaries and have the flexibility to choose a benefits package suitable to their own needs and lifestyle.
See Current Opportunities