Sales
A Day in the Life of a VITAS Sales Rep
It's 9 a.m. on a rainy Thursday morning when VITAS Senior Representative Deborah "Debbie" Cerrito walks into University Hospital and Medical Center in Tamarac, Florida. All smiles and friendly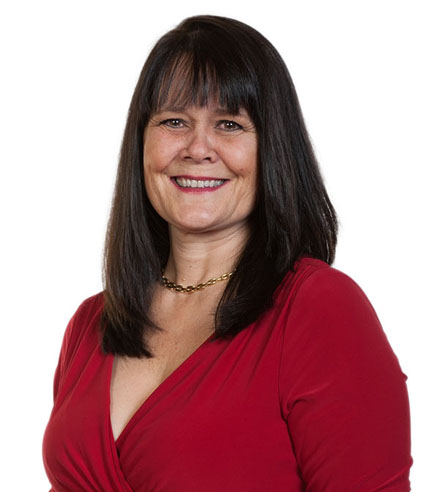 warmth, Debbie, who has worked with VITAS for almost nine years, is ready for a workday that is never routine.
As a hospice sales representative, it is her job to educate clinical staff on the benefits of hospice care. Debbie partners with doctors, case managers, and nurses on addressing complex symptoms of their most critically ill patients and explains why they should choose VITAS Healthcare in an ever-expanding and competitive healthcare market.
"As neat and tidy as that sounds, there are moving parts to my work that go beyond job descriptions," says Debbie. "I think of myself as a peacemaker, a go-between who addresses misconceptions about hospice, remedies service failures and soothes ruffled feathers."
"Where's the candy?"
Debbie, who has recently been assigned a new sales territory, is on a mission. She's in the process of familiarizing herself with the community, the hospital and its staff. "Making connections is at the heart of hospice sales jobs," she says.
As she heads to the fourth floor of the hospital, where VITAS has an inpatient hospice unit, Debbie interacts with the doctors and nurses she meets. Her reputation precedes her, because many ask her, "Where's the candy?"
Her response? To pull out a VITAS bag that is filled with an assortment of treats. "I always carry my candy bag," says Debbie with a laugh. "It's a great way to engage with people and break the ice. I mean, who doesn't love candy?"
It's more than candy that allows Debbie to make connections within her growing network at the hospital and her new territory. Her easygoing manner and soft voice are great assets in an often-frantic environment. Debbie is passionate about hospice sales and prepares for her day with precision. When it comes to making sure that patients and their families get the best service possible, Debbie takes her role seriously.
Amazing toolbox of options
On most days, Debbie starts work in her home office around 7 a.m., using her VITAS iPad to sort through paperwork and plan her day. Once her schedule is set, she heads to the hospital, where she makes the rounds to meet doctors and nurses, updates them about patients, tackles problems and offers solutions.
"To be successful, I need to meet with at least 12 contacts every day within the clinical field. So it can be doctors, nurses or the staff at a medical office," says Debbie. "I make appointments based on need and referral patterns."
Today, Debbie bumps into a hospital staff member who is struggling with her own aging parents and their illnesses. After listening to her concerns, Debbie suggests getting an evaluation to determine if the elderly couple is hospice-appropriate. After the 15-minute conversation ends, Debbie says, "This is why I love my work. Being embedded in a hospital system allows me to help people with the amazing services VITAS offers."
She should know. VITAS is the third hospice company that Debbie has worked for. Says Debbie:
"Our patient care is the best. We have more resources, the ability to work with out-of-the-box situations and supportive upper management. That is what makes me a compelling hospice sales rep: I have an amazing toolbox of options."
Always making connections
After meeting with hospital staff and sorting out patient issues with VITAS staff, Debbie heads to a quiet corner to enter notes into her iPad, respond to emails and text messages, and make phone calls.
"A lot of my work is done on the phone, doing follow-up and setting appointments," she says. "I try to get as much face time as possible, but sometimes it's tough, given the busy schedules of clinicians."
As she is finishing up in her corner, a nursing student walks into the room. Immediately, Debbie engages with her and gets the woman's contact information. "We always need nurses, you know!" she says.
Car = mobile office
Then Debbie's ready for the road. Her car is her mobile office, filled with VITAS collateral materials, VITAS-themed souvenirs and a stash of food. She has a couple of appointments before breaking for lunch. "But there are days when I don't stop for lunch. For those days, I keep energy bars and snacks in my car," she explains.
Her first stop is a doctor's office, where Debbie wants to connect with the staff. "The idea is not to just get an immediate referral. I want to become their go-to person when it comes to the hospice needs of their patients," says Debbie.
While she waits to see the doctor, Debbie continues with her paperwork. "It's the most tedious part of my work," she says. After 15 minutes, the office manager walks out only to tell her that the doctor was unavailable. Debbie is asked to return after lunch.
Dealing with disappointment: A balancing act
As she heads to another doctor's office and then gets a quick lunch, Debbie talks about encountering rejection as a hospice sales rep. While most successful reps develop a thick skin when it comes to rejection, she admits, "There are times when it hurts."
A sales professional for nearly 24 years, Debbie learned a coping tactic from a mentor who told her that on days when there was "vehement rejection," she should go to a space of love and support.
"On most days, I shrug it off. On days when I get dejected, I go to our Fort Lauderdale office, where I find support and care from my colleagues," says Debbie.
Selling VITAS successfully: What does it take?
Besides being able to handle rejection, hospice sales reps also need a certain kind of personality, imbued with approachability and prescience.
"I am not a pushy, aggressive person. For me, a hospice sales job is about filling an education gap," says Debbie. "So I gauge the person I am engaging with, and then, depending on the mood, I probe a little or back off."
Her tactics work well because Debbie received VITAS's coveted Leadership Council Award in 2012 and had the highest percentage of hospice patients being cared for at home in her former territory. "I consider this a victory because most patients want to be receive care at home, surrounded by familiar faces and routines, rather than in an emergency situation in a hospital," says Debbie. "This is why early referrals are important."
Getting people to listen and learn
For Debbie, the toughest part of hospice sales is getting medical professionals to understand the importance of earlier referrals, which allow patients and families to get the support they need for months, rather than in the final days before the patient starts to actively die.
"There is so much we can do for the patients and families if the patient comes on our service in a timely manner," says Debbie. "I tell doctors, 'When you see your patient for their annual check-up, think about whether they will make it to the next one. If not, it might be time to request a hospice consult.'"
One of the most effective ways for Debbie to get the ear of a potential referral source is by hosting a breakfast or luncheon presentation. "Everyone loves food," says Debbie. "So I set up these events where I can speak to everyone from the office manager to the doctors."
This kind of interaction, which is different from meeting harried doctors on hospital floors, requires Debbie to shift gears quickly.
"This is an important part of the job: to be able to swivel from making a presentation to answering billing questions to dispelling a doctor's misconception about readmission under hospice," says Debbie. "You need to be quick on your feet and ready with a solution."
The second half of the day
After lunch, Debbie heads back to the hospital, where she meets VITAS Admissions Liaison Dawn-Marie Holness. They confer about patients and then head to the hospital floor to meet staff members. Out comes the candy bag, and as hospital staff gather around, Debbie introduces herself and VITAS.
"I am VITAS's 'face' here, and it's important that I make a mark, especially since the competition between hospice sales reps in this territory is high. I have to be moving and connecting constantly," Debbie explains.
After meeting one of the hospital doctors, Debbie is ready to hit the road again. "This was a good day," she says as she hurries to her car. "I missed meeting that doctor the last two days. Now, he knows who I am and it'll be easier to talk to him about VITAS."
Next on Debbie's shrinking to-do list is the doctor who was unavailable earlier. Collecting some paperwork that he requested, Debbie enters the office and is escorted right to the physician.
He scans the paperwork and questions her about a billing matter before suggesting that Debbie go to the adjacent office to meet his wife, another physician. Though the second doctor is not available for an immediate meeting, Debbie leaves her business card and some additional VITAS sales material.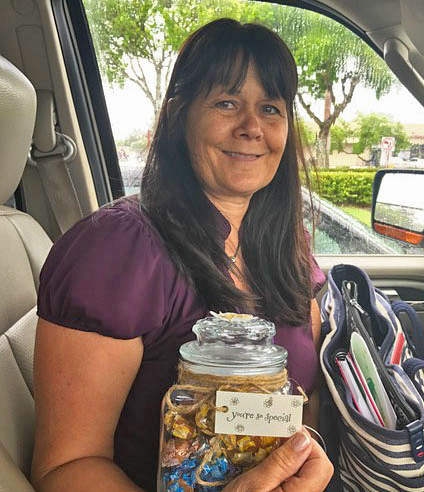 Then she heads to the last doctor's office on her list, where she is to meet the office manager. Once there, she introduces herself to the staff and leaves behind VITAS' hurricane preparedness guide, "a collateral material that shows how much VITAS cares for patients and families," Debbie explains.
Next is a quick stop at the Fort Lauderdale office, where she picks up some more collateral material. While there, she drops off a home-made candy jar filled with a colleague's favorite sweets. "My co-worker is feeling a little overwhelmed," Debbie says. "This is my way of fulfilling one of the VITAS values: We take care of each other."
Ensuring a "good death"
Debbie, who holds a degree from Florida Atlantic University in Boca Raton, Florida, is often asked why she works in hospice sales and how she deals with death.
"It's not an easy job," she answers. "But I try every day to bring a measure of peace and comfort into the lives of people who are going through immense hardship. When the diagnosis points to imminent death, I want to be part of a process that will ensure a gentle, pain-free death, 'a good death.' For me, that is a rewarding career, a way for me to give back."
"I always tell people that hospice sales reps need self-motivation. You have to be a people person, someone who has few qualms talking to strangers. At the same time, you are on your own a lot, without constant supervision. But if you slack off, you will get weeded out quickly," she says.
As she winds down for the day, Debbie has some notes to finish, a few calls to return and then she'll get ready for tomorrow. "At the end of my work day, I am happy to be where I am. That is my definition of a great job," she says. "I am lucky to have a hospice sales job that allows me to make a difference in the lives of so many people."