Testimonials, Grief and Bereavement, Memory Bears
Bearing the Weight of Alzheimer's: One Sister's Journey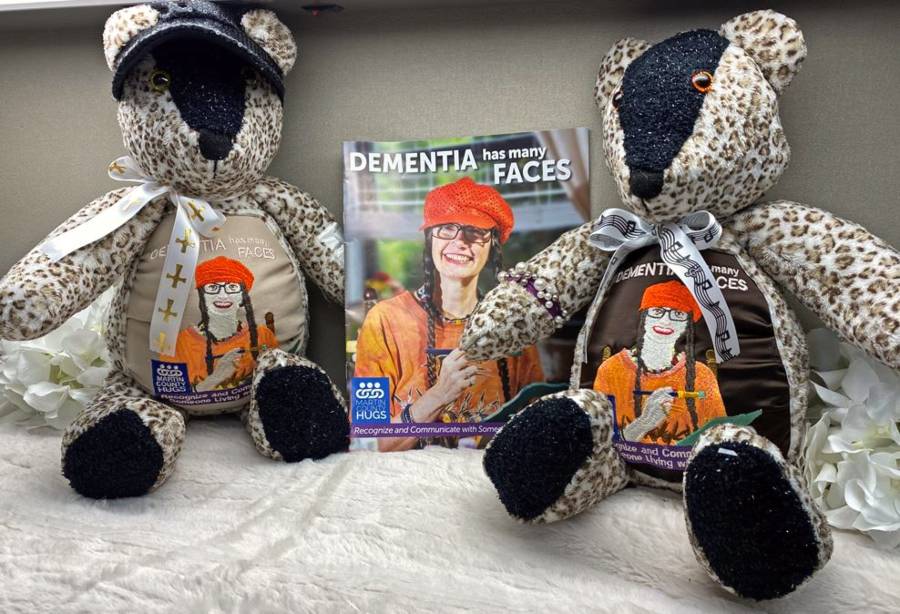 A glance at the July cover of the Martin County HUGS DEMENTIA magazine shows a beaming artist with a paintbrush. Readers can't see beyond the image to the life journey of the woman peering back at them.
She is Sharon Cook Jankowski, a teacher and photographer, a sister and mother. Sharon shared her artistic talents with high school students, developing close ties with them, some of which lasted a lifetime. She also was a light to many who came to know her.
Before embarking on a nine-year odyssey through Alzheimer's disease, which brought her into hospice and the comfort of the VITAS Healthcare team, Sharon devoted herself to those around her.
"Sharon's greatest love, besides raising her daughter Moriah, was serving God at her church," says Sharon's sister, Gail Winsor. As a volunteer, Sharon used her talents to teach new believers, participate in worship and dance, and help feed and clothe the homeless, stretching far beyond her own community.
"Her life was always about helping others," said Gail.
When Alzheimer's Appears
At the age of 55, Sharon began experiencing symptoms of Alzheimer's disease. She gradually lost the ability to engage in the activities that made her life so vibrant. After three years, she moved in with her sister Gail in Florida.
I had to make a tough decision. I called VITAS hospice.
Eventually, Sharon replaced her previously joyful pursuits with a new one: attending the Alzheimer's Community Care in Stuart, Fla. "She truly believed she was going to work to help the others there," Gail says, reflecting Sharon's continuing desire to support others.
It was during this time that the magazine editors asked Sharon to be their feature story. They could see Sharon lighting up the day care center and wanted to spotlight her.
The issue was released more than a year after Sharon's interview and photo session, due to the lag time in print publication. By then, she could not recognize her own face on the cover.
Facing a Rapid Decline
Sharon's light grew dimmer. "Delusions and hallucinations made her feel like a prisoner in her own body," said Gail. "I had to make a tough decision. I called VITAS hospice."
The VITAS interdisciplinary team in Florida's Treasure Coast moved Sharon to an inpatient facility to regulate her medications. The goal was to shift Sharon back home with the team's assistance and appropriate equipment.
"Nine days in, I learned Sharon would not be coming home," said Gail. "My heart was broken."
Compassionate Care as the End Nears
Team members offered support to Gail while comforting and caring for Sharon.
"These loving, caring people got me through the last thirteen days of my sister's life. The hospice angels allowed my sister to pass with dignity," says Gail. "She was so well cared for. I never could have done it at home. My emotional needs were cared for, too. They truly cared about both of us."
Sharon's journey with Alzheimer's ended on August 8, 2021.
"Sharon went home to be with the Lord," says Gail. "Thanks to VITAS, I was with her as she left her earthly being. One of the nurses who was not working that day ran over when she heard. That is true caring."
Bearing the Grief
Though Sharon passed, the VITAS Treasure Coast team continued to reach out to Gail.
"The most amazing [gesture] was when I got a phone call offering to make bears out of Sharon's clothing," says Gail. "I met with Daily Martinez, volunteer services manager. The love, respect, and attention to detail she showed me was so comforting. I knew I had given the right person the clothing I treasured from my beloved sister Sharon."
My emotional needs were cared for, too. They truly cared about both of us.
Daily felt honored to be part of Gail's experience. Without ever knowing she would be involved in her story, Daily read the feature article on Sharon and shared it with family members.
"I will forever treasure the love shared between these two sisters," says Daily. "I am so grateful that Gail and I were placed in each other's path for the important purpose of keeping a loved one's memory alive. The Memory Bears are a beautiful reflection of the joy Sharon brought to the world. Her smile and beauty will be remembered."
Gail received two bears—one for her and one for Sharon's daughter, Moriah.
"I can't explain the feeling I got when those bears arrived," says Gail. "Mine lays on Sharon's bed. It is so comforting to feel her there with me. I am also so thankful to Carrie Dantzler, the VITAS Memory Bear seamstress, whose beautiful creation is helping us with the healing process."