Veterans
VITAS Team in Cincinnati Donates Winter Care Packages to Homeless Veterans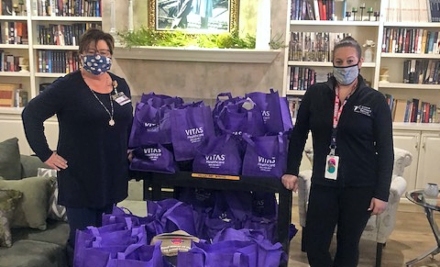 The frigid Midwest winter is a little warmer for some Ohio veterans experiencing homelessness, thanks to care packages from the VITAS team in Cincinnati.
Admission Liaison Carole Quackenbush, a long-time VITAS advocate for veterans, coordinated efforts with VITAS staff, the Cincinnati Department of Veterans Affairs (VA), and the Military Order of Purple Heart Auxiliary to assemble 100 care packages for veterans in need.
"VITAS has a proud history of supporting veterans in the communities we serve, but the pandemic has forced us to think outside the box to aid these brave men and women," Carole says. "By partnering with a fellow veteran-focused community organization, we're able to meet the needs of veterans in VA facilities as well as those within the local homeless population."
'Anything Can Help'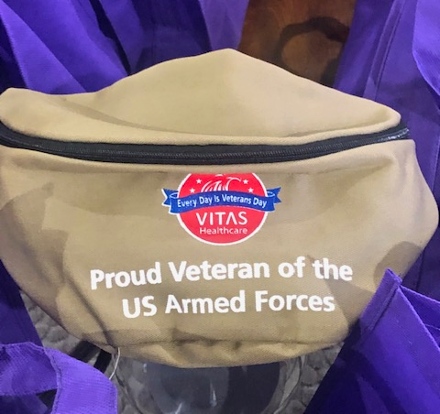 The Cincinnati VITAS team donated over $500 to the care package project. The Military Order of the Purple Heart Auxiliary—an organization for family members of Purple Heart recipients—donated $200, and the United Service Organizations Auxiliary provided 100 hand-knitted caps.
Packaged in purple VITAS-branded canvas bags, the care packages containing long-sleeved shirts, socks, fanny packs, knitted caps, and face masks will support veterans facing homelessness during the winter months.
During the COVID-19 pandemic, access to VA facilities has been severely limited. Carole leveraged her membership with the Military Order of the Purple Heart Auxiliary to gain access to the VA's Fisher House, where she worked with staff to assemble the care packages. The Fisher House provides residential suites for military and veteran families free of charge while their loved ones are in the hospital.
"It's really a wonderful cause," Carole says. "An extra shirt or hat may seem minor, but when you have so little, anything can help."
Veteran-Specific Initiatives Abound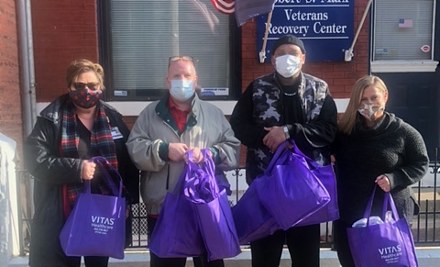 The donation coincides with another initiative that Carole coordinated with the Joseph House, a recovery center and transitional housing provider for Cincinnati veterans affected by addiction and homelessness. Supported by the local VITAS team, Carole assembled and dropped off 80 care packages for Joseph House residents.
In the coming weeks, Carole says her VITAS office will run its annual sock collection drive for inpatient veterans in partnership with the Greater Cincinnati Chapter of Tuskegee Airmen. She's also working with local schools to encourage students to write cards and notes to surviving members of the famed group of World War II-era Black servicemembers—an effort she says is "a little more complicated now that students are learning from home."
"Caring for veterans the way that we do can be challenging, but it's always worthwhile," Carole says. "Our goal is to let them know that they're not forgotten."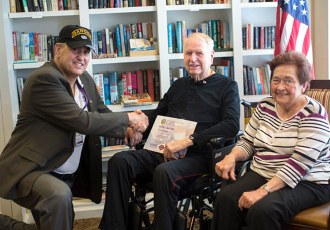 Specialized Care for Veterans
VITAS ensures that all veterans receive compassionate and appropriate end-of-life care.
Download Our Resource Guide