End of Life Wishes
VITAS Celebrates Palm Beach Patient and Veteran's 105th Birthday
Jerry Cohen lives alone in Century Village in Boca Raton and his family members live out of town. So when he turned 105 years old on January 24, members of his VITAS care team and our Palm Beach hospice office made sure he experienced a day to remember.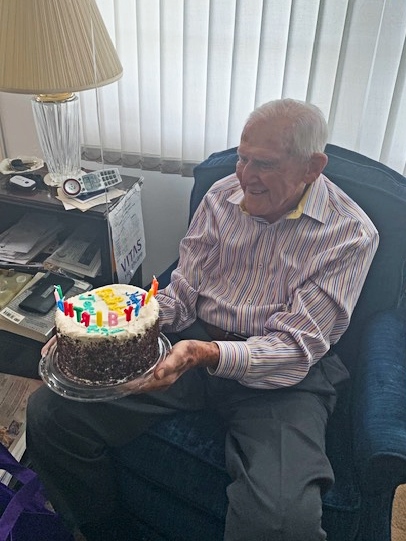 Bearing three balloons—helium-filled numerals 1, 0 and 5—VITAS Team Manager Sheila Weaden, a VITAS social worker and Jerry's primary nurse threw him a birthday celebration befitting a centenarian-plus.
Surrounded by staff members of his Century Village retirement community, our VITAS team presented him with a warm jacket ("because he's always cold," according to Sheila), a cake and boundless well wishes.
When asked about his secret to longevity, Jerry answered—without hesitation and with a smile: "Every two or three days…a glass of red wine, that's what keeps me going."
Those who care for Jerry know he loves to talk. He recalls his childhood days in Brooklyn and his life in New York City. He recounts details of his WWII deployment with the U.S. Army to Italy, where he witnessed the death of Italian dictator Benito Mussolini.
Until the age of 88, Jerry played golf four days a week.
The passage of years hasn't interfered with Jerry's sense of humor.
"He has a girlfriend who lives in the same community, and he describes her as a 'younger lady' because she's 86," according to Sheila. "Good for him. Everybody needs someone. It feels good for us to be able to celebrate a milestone event with one of our favorite patients."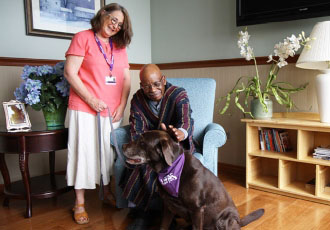 Volunteer with VITAS
Because hospice patients have unique end-of-life needs, VITAS seeks volunteers from all backgrounds, experiences and cultures.
Apply To Volunteer Today