Music Therapy
VCC Helps Parkinson's Patient Rediscover the Joy of Music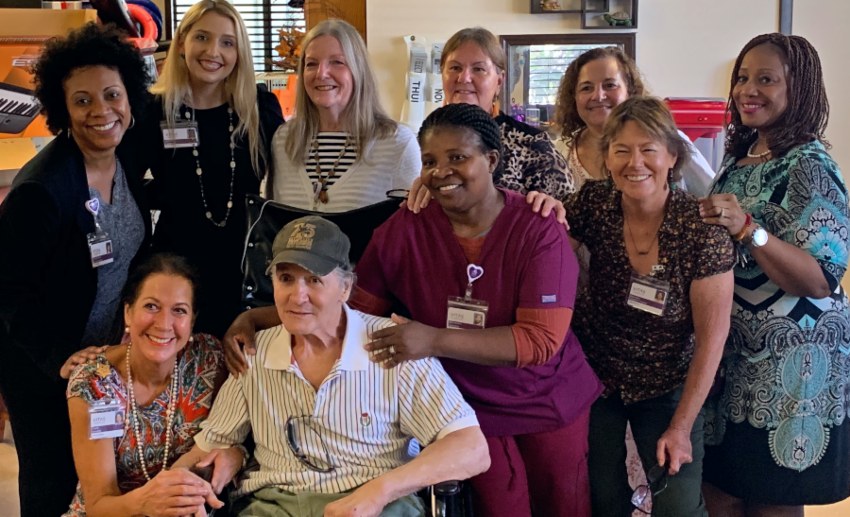 Music therapy helped VITAS patient David Laessig, at center, to be drawn out of his shell.
The look on David Laessig's face said it all when members of his VITAS care team in Palm Beach, Florida, surprised him with an electronic keyboard.
Gingerly at first, and then with more and more confidence, Laessig's fingers found familiar, singular notes that eventually folded into harmonious chords and evoked a broad, satisfied smile.
Members of his VITAS hospice team, executives of Hamlin Place of Boynton Beach Rehabilitation Center, and fellow residents watched as the once-withdrawn patient with Parkinson's disease rediscovered his love of music and joy in the familiarity of piano keys.
More than one onlooker wiped away silent, happy tears.
David's performance unfolded on Wednesday, October 30, after weeks of planning.
'My Way' Touches a Chord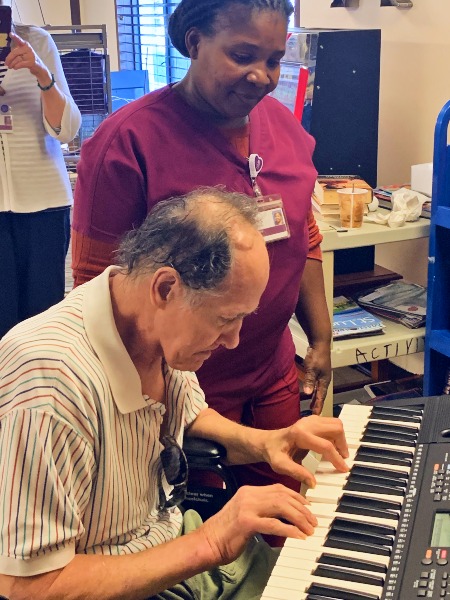 David's nurse, Maureen Dawson-Vuona, RN, and music therapy intern Monica Bonasso discovered earlier this fall that their patient had been a pianist since age 5.
He had spent much of his life playing classical and pop piano.
Bonasso recalled that during one of her early music therapy sessions, David–previously disoriented and bedbound–burst into tears when she began playing Frank Sinatra's song, "My Way."
During follow-up sessions, he asked permission to play her keyboard and–even with limited mobility in his hands–they began writing personalized lyrics to Barry Manilow songs together.
She was encouraged that the music was drawing David out of his shell.
Team Manager Shoshanna Chambers, RN, General Manager Diana Smith and Volunteer Services Manager Gayle Stevens approached VITAS Community Connection (VCC), a 501(c)(3) charitable organization that provides support to hospice patients and families with special needs.
They asked VCC for help with a keyboard David could use on his own time.
'The Room Was Filled With Love'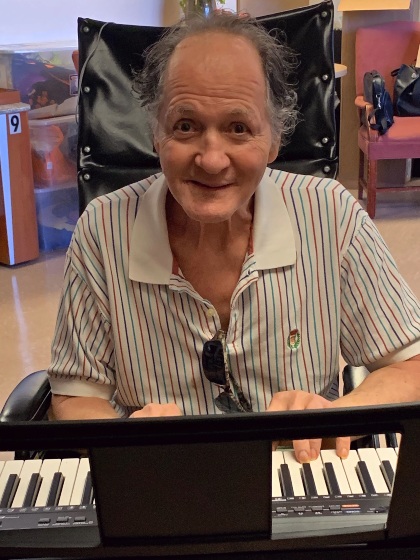 "It was a special moment for all of us…the reason we do what we do at VITAS," said Stevens. "To me, it was like that moment when all the heavens come together and the sun breaks through the clouds. The room was filled with LOVE. David was all smiles. It was awesome teamwork!"
Representative Jennifer Faulkner, who also joined the team for the surprise, said "it was so beautiful to hear him play. Many eyes in the room were tearing up.
"Moments like these are the ones we will remember for a lifetime."
Bonasso was especially pleased to see her patient come out of his shell and find enjoyment again, especially since he has no family support.
"When musicians play their instrument, there is a release of endorphins and adrenaline, creating a sense of well-being and satisfaction that they don't really get from other types of activities.
"Patients who have a musical history really benefit from the experience of self-expression, and it helps their health," she said. "This music is one of the only things he has. He's just all smiles to have that keyboard. It's great."