End of Life Wishes
A Victory Lap for a NASCAR Superfan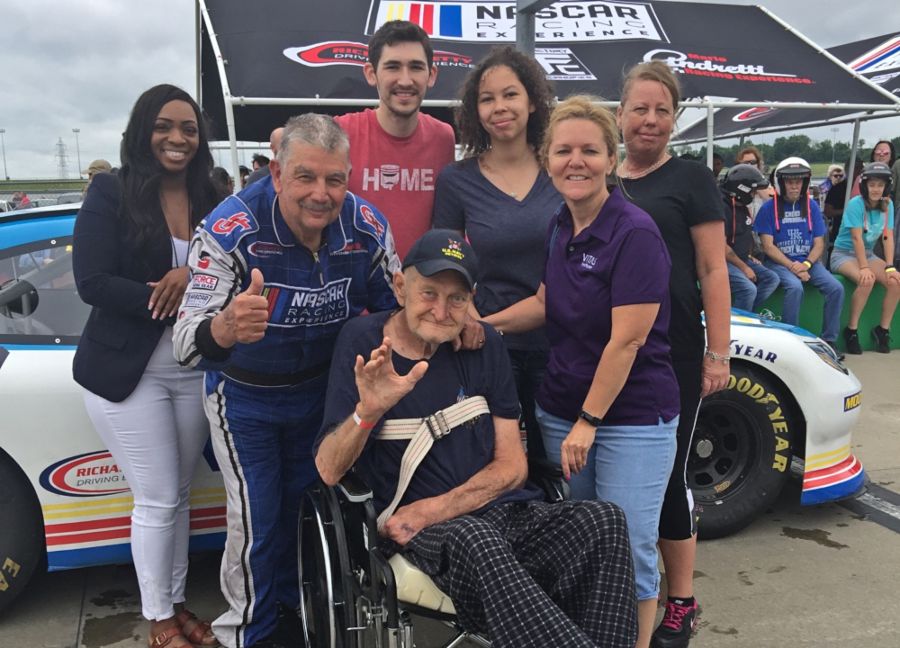 Ronald Boenitsch worked 20 years working as a race car mechanic in Cincinnati, but he'd never before experienced the track from behind the windshield.
Ronald, a VITAS hospice patient and NASCAR superfan, now found himself thundering across the finish line of the Kentucky Speedway at 170 mph, thanks to some help from VITAS Representative Lynette Besl.
Taking that ride was one of his dreams.
"Ron thought it was awesome," Lynette said. "He had a big smile—it was the biggest I'd seen him smile."
If not for Lynette's persistence—and a little cooperation from the weather—the ride might not have happened.
A Mechanic's Racing Perspective
Like many VITAS patients, Ronald's hospice journey started with a conversation. He suffered from end-stage kidney failure, and while discussing goals of care, Admissions Liaison Lynda Anello suggested hospice as an alternative to Ronald's ongoing dialysis treatment.
Learn More: A Personalized Care Plan for Patients with Kidney Failure
He was receptive, and the discussion turned toward his interests and wishes.
"I knew Ronald's daughter took off work for the day, and that meant a lot to her, so I wanted to make something happen."
Ronald had spent 23 years in the Navy before turning to his work as a mechanic at Edgewater Raceway in Cincinnati. Now retired, his passion for racing hadn't waned.
Lynette decided to find a way to let him finally experience the racetrack from the driver's perspective.
However, she would have to act fast. Lynette knew that without dialysis, Ronald wouldn't be able to endure a high-speed ride much longer.
With help from a social worker at Ronald's nursing home, Lynette reached out to his family and coordinated a ride-along at the Kentucky Speedway.
But on the morning of the event, rain fell steadily across Sparta, Kentucky, slickening the Speedway's pavement. At about 9:15 a.m., Lynette got the bad news that the race couldn't go on in those conditions.
She called the track and received one glimmer of hope:
"The gift shop was still open," Lynette said. "I knew Ronald's daughter took off work for the day, and that meant a lot to her, so I wanted to make something happen."
Lynette figured, if nothing else, Ronald could get a picture and take home some NASCAR merchandise. The impromptu crew—Ronald, social worker, nurse, children and grandchildren—piled in the car and sped off to Sparta, not expecting a few minor miracles to manifest.
The Rain Stops, and the Smiles Start
When the group arrived at the Speedway, Lynette explained their situation to Pam, a race coordinator.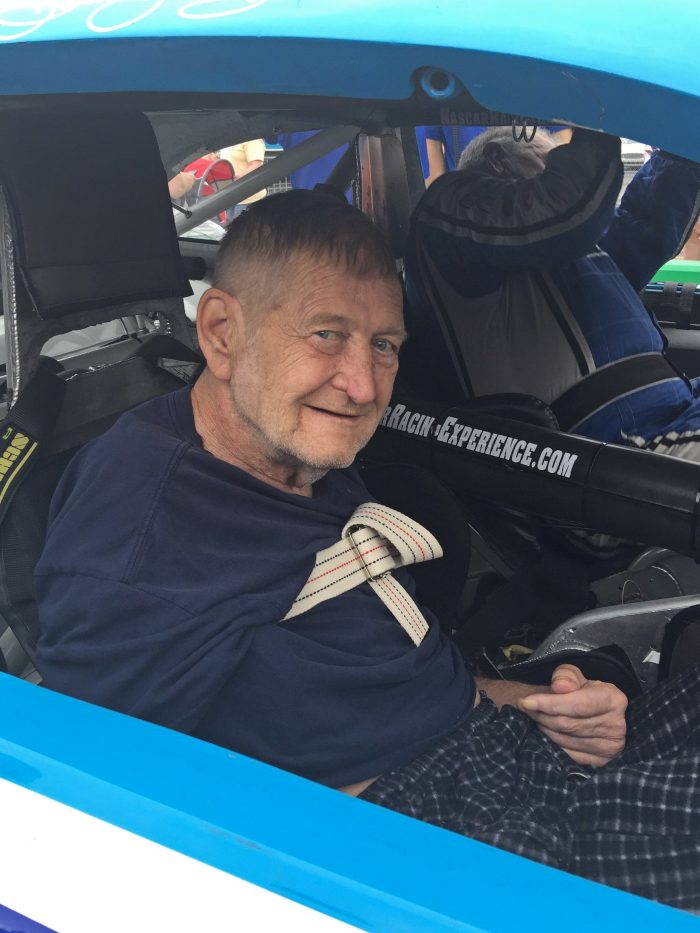 "Had I not told her Ron's story, we might have just turned around and left," Lynette said. But Pam waved them through to security. "They escorted us to the track, where we saw all of the hundreds of people there waiting to ride.
"Then, they took us to the front of the line, and it happened. It was kind of surreal," she said.
Ronald got in the car for a picture, and suddenly, the rain stopped.
As if the green flag had just been waved, driver Ray Coleman and Ronald thundered across the starting line, pushing 170 mph as they took three laps around the track that Ronald had once only seen from the bleachers.
When the ride ended, the crowd of hopeful racers cheered loudly.
While Ronald's health will continue to decline, Lynette credits his special day for a notable, even if only temporary, improvement in his condition. But small blessings like these go a long way for him and his family.
For the time being, Ronald's mind is still on the track. According to Lynette, he's telling anyone who will listen that he's an official NASCAR driver.
Find out if hospice care could help your loved one.