Veterans
A Traditional Veteran Salute Near the End of Life
Above: Members of Broward Team 142 gather at the bedside of Army Veteran Danny Kessler for a bedside salute.

In a moment of quiet respect, a VITAS Healthcare hospice care team in Davie, Florida, gathered at the bedside of US Army veteran Danny Kessler in early January for an emotional bedside salute honoring his 20 years of military service.
Air Force veteran and VITAS Volunteer Manager Veronica Palomino performed the ceremony, a combination of traditional veteran salutes; poems; songs; and presentation of a patriotic Memory Bear, a handmade lap blanket and a VITAS certificate honoring Danny Kessler's service. Danny, who is 54 and bedridden, spent much of his military service assigned to the White House.
The team looked on
Danny and Veronica exchanged salutes as his hospice team and caregivers looked on. After more than two years in a military hospital in Texas, Danny had come to Broward County, Florida, just a month earlier to receive hospice care in the home of Julia Brown and his "lifelong adoptive family."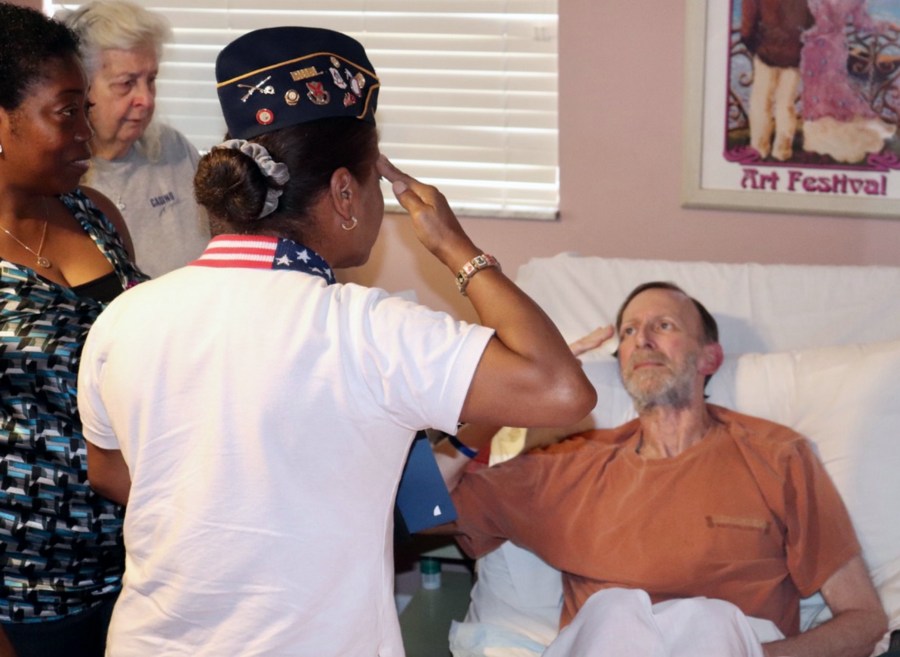 VITAS Chaplain Moshe "Tom" Heyn requested the bedside salute; Danny's hospice team members arranged their schedules to take part in thanking him for his service. "I knew he was a veteran with distinguished service, a true American hero," says Tom.
Julia Brown summed up her feelings. "His care has been excellent. It was touching to see that VITAS honors veterans in such a dignified way. It was just tremendous to see him respected by so many of his caregivers."
"Danny's a very humble person," notes his VITAS physician, Szilvia Udvari-Nagy, MD. "He's got a lot of dignity as he makes this journey to the end of life."
"Danny is a very sweet guy, despite having anxiety and pain, which we are treating to bring him comfort," says his nurse, Ngozi Momoh, RN.
The patient expressed his gratitude to his team for the salute. "It meant a great deal to me to be honored by the team members, who are wonderfully attentive and understanding," he says. "They mean nothing but comfort for me."