Volunteers
Chicago Volunteer Larry Rybak 2018 NHPCO Volunteer Award Winner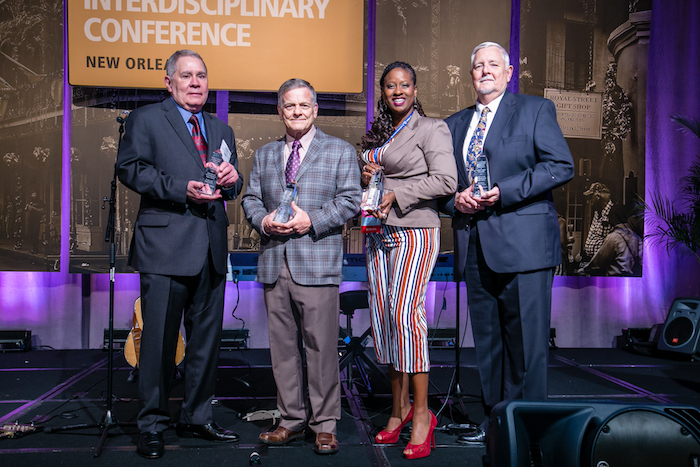 2018 Honorees: (L to R) Laurence Rybak, Jim "J.P." Morgan, Nikki Ellis accepting for Blake Weissman, and Scott Eschbach
When he received the news, Larry Rybak was floored. "I was speechless," says the 75-year-old volunteer for VITAS in Chicago-Lombard. "I had to sit down."
On November 6, Larry was presented the 2018 "Volunteers are the Foundation of Hospice - Patient and Family Service Award" from the National Hospice and Palliative Care Organization (NHPCO) at its annual convention in New Orleans.
The award might have been a shock to him, but it was no surprise to his VITAS colleagues or the many Chicago-area patients and families he's cared for, entertained, listened to and sat with in their final days and hours for the past 14 years.
Larry's numbers tell one story: 20,000 hours of volunteer service since December 2004, monthly bereavement group facilitation since 2005, up to 15 patient visits a week and the sole Lombard volunteer who is fully integrated into the care team.
But his personal interactions with patients and families are the real reason he was chosen from among 200 other nominees for this national award. Like the time he took a disabled patient on a fishing trip, or escorting patients on wildflower excursions, riverboat gambling jaunts, museum visits and trips to the zoo—all examples of his never-ending willingness to do whatever his VITAS hospice patients need.
One patient wanted to return to her childhood neighborhood, and as Larry drove her down familiar streets, she turned to him with tears in her eyes and said, "That's the curb I sat on when I was going to run away from home." She died peacefully a few weeks later.
Volunteer Advice: Listen, Without Judgment
Larry became a VITAS volunteer shortly after he and his brother sold their manufacturing business. Prior to that he had worked in a family business and managed an ocular prosthetic company in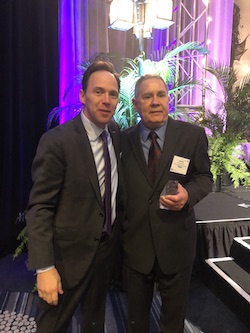 Chicago.
"I was 61, sitting at home wondering what to do with the rest of my life," he recalls. His daughter, an oncology nurse, encouraged him to become a hospice volunteer with VITAS. "So I did, and within six months I knew I had discovered my new career."
Larry says his hospice volunteering is guided by the "L" word: listening.
"The most important thing is listening to what people have to say without being judgmental," he says. "It's not easy to do, but there are always two or three sides to every story."
Not only is he a favorite with VITAS patients and families, he plays an essential role on the VITAS team, says Karen Smith, volunteer manager for VITAS in Chicago-Lombard. He spends every Tuesday in the office, setting up and participating in each team meeting. In the field, he makes a special effort to stay at the bedside with dying patients when their families or loved ones are not able to attend.
"Everyone relies on Larry, not only for the work he does during the team meetings but to take care of their patients, because they know he's experienced and reliable," she says. "Other teams look to him, too, to take the complicated cases that a new volunteer or someone with less experience is not able to handle."
Some Patients Make an Impact
Larry urges volunteers to leave their VITAS experiences in the field. "If you take it home, you'll burn out," he explains. "And you can't teach being a hospice volunteer … you either do it, or you don't."
He acknowledges that some patients leave impressions that never fade. Like his Yahtzee companion.
Over nearly two years, their raucously fun Yahtzee games became a weekly Monday afternoon event at the patient's nursing home. Residents would gather in the activity room, and so would the home's employees and managers.
"We would roll the dice and argue and have a great time," Larry says. "We played 300-plus games, right up until the week before she died. I went to her wake, and there in her coffin was a Yahtzee game. Well, then the tears came …."
Congratulations to VITAS volunteer extraordinaire and award-winning NHPCO 2018 volunteer Larry Rybak. You are a shining example of our VITAS Values. Everyone at VITAS salutes you for your service to patients, families and VITAS colleagues, for your dedication to making a difference and for your humanity.