End of Life Wishes, Testimonials
A Touching Hospice Wedding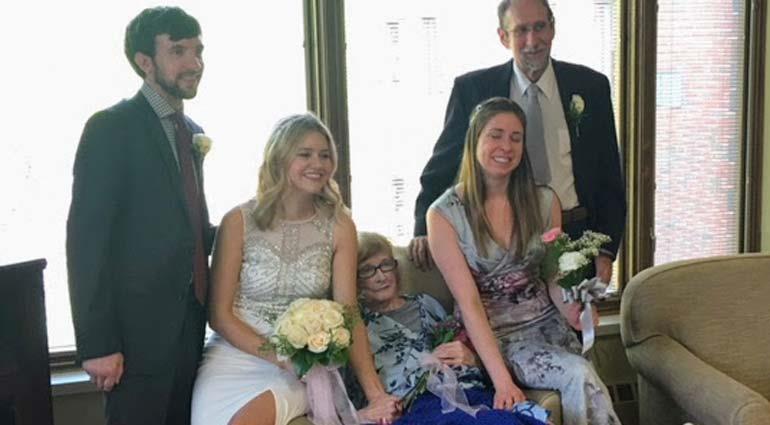 Patient Participates in Daughter's Wedding at Milwaukee Inpatient Hospice Unit
Molly Nadolski's wedding was so close, but time was running out. All Molly wanted was for her mother to see her walk down the aisle and marry the man of her dreams. Theresa Nadolski wanted to live long enough to see her daughter's wedding day, which was still three months away.
On May 21, Theresa's health took a turn for the worse and she was admitted to the VITAS Inpatient Hospice Unit at Lutheran Home in Wauwatosa, WI. Suddenly, time was of the essence.
VITAS Volunteer Services Manager Christine Nelson seized the opportunity to honor a daughter's and mother's wishes. She scheduled a same-day meeting with the Nadolski family to discuss a ceremony with flowers and decorations – inside the inpatient unit. Molly deferred to her mom for the wedding cake flavor: raspberry mousse.
'Making This Memory Was Very Important'
"There was a lot of excitement in the discussion," Christine recalls. "It was clear at that moment that this was a close family, and that making this memory was very important."
For the next 24 hours, members of the VITAS Milwaukee team added "wedding planner" to their responsibilities so that Theresa, their spirited hospice patient, could experience her daughter's wedding right there in the IPU's homey family room.
A local bakery provided "a most gorgeous wedding cake." Through VITAS Community Connection, flowers and other accoutrements were purchased. Chaplain John Hughes stepped in as a last-minute officiant, arranging the vows and readings for the ceremony. Family members shopped for Theresa's mother-of-the-bride dress and an IPU nurse brought candles and wedding decorations from her recent wedding. The family brought in celebratory champagne.
And on Thursday, May 24, at 5:30 p.m., Molly entered the room escorted by her father, Mark, and accompanied by Rosemary, her sister and maid of honor. Minutes later, Molly and Ryan said, "I do," with Theresa smiling from her recliner, dressed in mother-of-the-bride blue and wearing the sparkly flip-flops her daughters has purchased the night before. Mark sat next to Rosemary, holding her hand in his.
Two days later, Theresa died peacefully.
The End of a Life Marks the Beginning of a Marriage
"We are honored to share our experience with others because you all made it so wonderful for our mom during her final days," the Nadolski family wrote to the VITAS team in appreciation. "This was so important to her, and it was all pulled together in 24 hours …. Quite incredible. We thank you all again for everything."
Christine has nothing but praise for the VITAS team members who worked so hard to create a special moment for a patient and family—and to uphold two key VITAS values: "Patients and families come first" and "We take care of each other."
"We were all blessed to witness this full-blown wedding—minus the signing of a marriage certificate—and to see how this event touched each member of the family," Christine says with pride. "The entire experience just warmed all of our hearts, because we were able to honor both the daughter's and the mother's wishes. There's so much negative news these days, and this is just the kind of feel-good story that needs to be shared."