Veterans
40 Ohio area Veterans Enjoy Flightless DC War Memorial Experience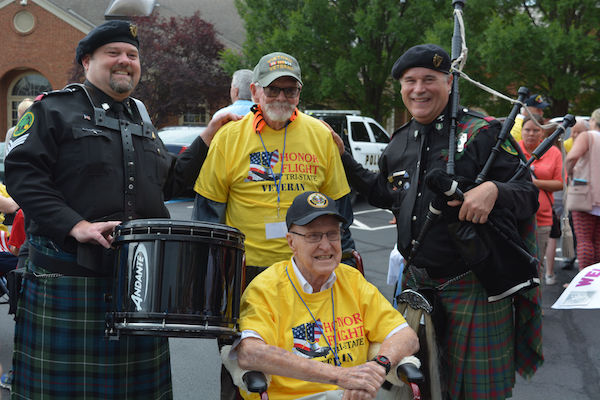 Cincinnati Emerald Society Police & Fire Pipes & Drums with veteran attendees
Cincinnati — Without ever leaving the ground, about 40 Cincinnati-area veterans experienced the pageantry, memories and closure of a visit to iconic Washington, D.C., war memorials that honor their military service. On July 21, they attended a "flightless" veterans event at Berkeley Square that recreated an all-day Honor Flight Network® trip to Washington, D.C. It was a collaborative effort by VITAS Healthcare, Honor Flight Tristate, and Berkeley Square, a retirement community in Hamilton, Ohio.
"Some veterans, either for age-related limitations, health-related problems or personal choice, aren't able to tolerate the 18-hour same-day trip by air from Cincinnati to Washington, D.C., so we decided to bring the Honor Flight experience to the veterans to give them a proper thank-you," says Carole Quackenbush, VITAS veteran liaison in the Tristate area.
A Two-Hour "Thank-You"
Carole has attended about 30 all-day Honor Flight excursions to the nation's capital. On one of those trips, a videographer captured the day's events for viewing by vets who are unable or unwilling to travel.
At Berkeley Square, "ground-crew ambassadors" met 40 veterans and their guardian escorts as they entered the center's community room, decorated to resemble an airplane. There, the vets enjoyed a welcome ceremony, bagpipes and color guard presentation. In chairs arranged to resemble airline seating, they were treated to refreshments and snacks served from a beverage cart by volunteers.
Then they watched the Honor Flight film, which condenses into 50 minutes all the highlights of an actual D.C. trip. After that, their favorite activity: mail call.
A Highlight for Vets: Mail Call
"Veterans from the '40s, '50s and even into the Vietnam era didn't have the convenience of email or Skype or digital communication, and they always tell us how important it was to get letters from home," Carole says. "They remember grabbing those letters and putting them to their noses to see if they could capture a whiff of their girlfriend's perfume or aromas from home."
At the Berkeley event, veterans received a mail-call bag containing cards, notes and letters written by their family members and by school children and volunteers prior to the event.
As vets were escorted outside after the movie, a crowd of family members, friends, volunteers and supporters enthusiastically "welcomed" them home, with hugs, signs, banners, salutes and handshakes.
The Berkeley Square attendees include about 10 WWII veterans, two of whom were women: a 95-year-old Coast Guard veteran and a nurse cadet. The remaining vets served in Korea or Vietnam.
"It's always an amazing experience," Carole says. "Members of that generation can be extremely humble, and they'll say things like, 'Well, I didn't really do all that much.' But I always tell them, 'Oh, yes you did. The minute you signed that dotted line, you took a big risk, and by serving, you did more than just about anyone else.'
"Especially for vets from Korea and Vietnam who were never thanked or honored the way they should have been… this is our way of showing our gratitude."
VITAS Healthcare, the nation's leading provider of end-of-life care, honors the men and women who served America by ensuring they receive compassionate and appropriate end-of-life care. VITAS teams recognize the unique experiences of veterans as the end of life approaches and work closely with We Honor Veterans, a pioneering program of the National Hospice and Palliative Care Organization and the Department of Veteran Affairs.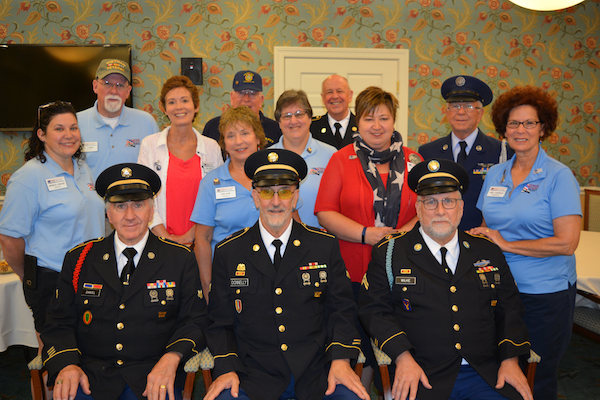 VITAS and Honor Flight Tristate staff and volunteers