Grief and Bereavement
VITAS Helps Children Deal with the Loss of a Loved One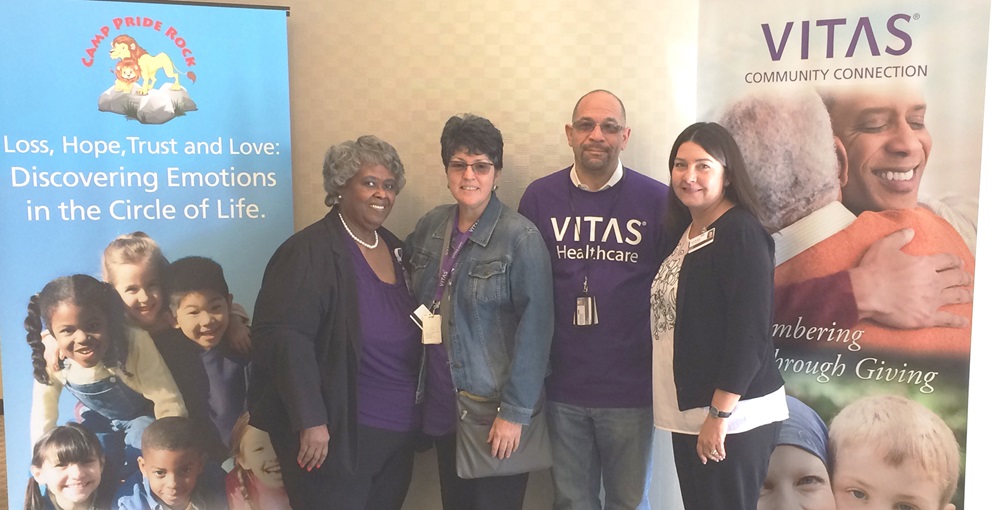 Supporting bereaved children at VITAS' Camp Rock Pride in Chicago. From left, VITAS of Chicagoland Central Bereavement Manager Wanda Jenkins, VITAS of Chicagoland Central Chaplain Magdalena Garcia, VITAS of Chicagoland Central Chaplain Karl Wilson and VITAS of Chicagoland Central program General Manager Lisa Reil.
Age-Appropriate Strategies for Coping
The death of a loved one brings everyone grief, fear and pain. But when it happens to a child, it can have a long-term impact. That is why it is important to provide as much support and love to a grieving child as possible. Among the many bereavement services that VITAS provides its patients and families, camps for grieving children are an important resource. They provide a safe space where children can start their healing and talk about their fears and pain without pressure.
According to Wanda Jenkins, bereavement manager for VITAS' Chicagoland Central location, "The presence of an understanding, caring adult can make all the difference in helping children and teenagers cope with loss. We want to help volunteers in our community be that source of support by equipping them with age-appropriate strategies and techniques to assist grieving individuals and families."
Lessons from 'The Lion King'
Another VITAS location in Chicago recently offered a one-day grief camp for children 5–17 years old who had experienced the death of someone important to them, and their parents or guardians.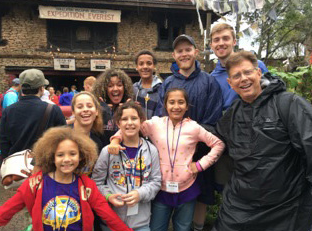 Called Camp Pride Rock, this unique support source was based on the Disney movie "The Lion King." Grieving children joined Simba, the lion cub, as he learned to face death and cope with the loss of his father, Mufasa. The objective was to offer children a fun time while allowing them to meet and interact with other children who have undergone a similar loss.
At the same time, parents and guardians get an opportunity to understand how grief can affect children and the importance of promoting healthy alternatives to cope with the loss. Since a child's understanding of death varies with age, cognitive skills, personality, religious and cultural beliefs, input from media, and what they are taught about death and grief, it is important for the adults in their lives to know how to offer age-appropriate coping strategies. Bereavement specialists and trained volunteers at these camps also recommend resources for additional bereavement support.
Activities for Healing
VITAS locations in Broward and Palm Beach counties, Florida, organize an annual Music-Thon, a 12-hour music extravaganza that raises funds to support Camp VITAS, a bereavement camp for children. This year, the camp was held in Disneyworld's Fort Wilderness campsite in Orlando on January 6, 2017, followed by a day at Disney's Animal Kingdom. Thirty-two children and 23 accompanying staff members attended the weekend bereavement camp.
"They had an incredible time," said Thomas Dalton, a music therapist with VITAS and the camp organizer. "The campers engaged in hiking, swimming, fishing and sports activities at Fort Wilderness and enjoyed a full day of rides and attractions at Animal Kingdom." They also took part in a campfire complete with s'mores, and watched a Disney movie.
Camp VITAS' bereavement process utilized When Someone Dies: A Child-Caregiver Activity Book, published by the National Alliance for Grieving Children, along with a teen grief activity booklet put together by Tom. Campers were carefully paired with a "buddy" of their own age, which encouraged them to share their thoughts and feelings throughout the weekend. Additionally, the trained volunteers offered them a safe, empathetic space to deal with their loss.
The concept of a bereavement camp works for children and teens. The lessons they learn can help them cope with pain, disappointment and hardship for the rest of their lives. In that respect, there should be bereavement camps for grown-ups as well.