Veterans
VITAS Honors Battle of the Bulge Veteran with Military Salute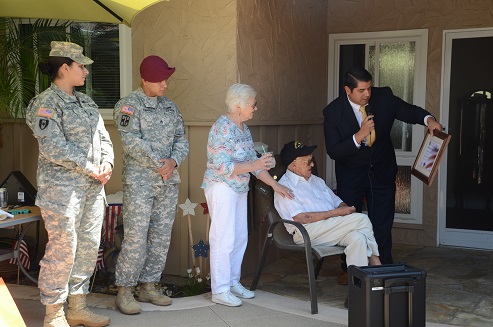 VITAS Representative Mario Lopez presents Veteran Paul Moore with a certificate of appreciation for his service.
Honoring Paul Moore
Last weekend, VITAS Healthcare paid tribute to its veteran patient, Private First Class Paul Moore, 97, with a military salute at his home in Fountain Valley. Moore was joined by more than 40 family members spanning five generations, representatives of VITAS Healthcare, and several military personnel in uniform during the heartwarming ceremony.
Moore, who fought in the Battle of the Bulge, one of the largest and bloodiest battles fought by the United States in War World II, received many honors for his service. They include a Sharp Shooter medal, a Purple Heart medal, the European, African, Middle Eastern (EAME) Theater ribbon with three bronze stars for being in three major campaigns, Combat Infantry Badge and a Good Conduct Medal.
The emotional military salute started with a prayer by VITAS Chaplain Narcissis Tucker and continued with historical story telling from Moore's son. It concluded with a pinning and folding of the flag ceremony, in which Moore was presented with a certificate of appreciation.
Serving Veterans
"Heroes like Moore made many sacrifices to protect our country and can require different end-of-life needs and support," said VITAS Home Care Team Manager Wanda Masias, who attended the ceremony. "At VITAS we understand the importance of offering specialized care to our veterans and we ensure they receive the respect, comfort, compassion and tributes they deserve. We treat every day like it is Veterans Day."
As the nation's leading hospice provider since 1978, VITAS understands that prior military service can have a profound impact on veterans as they approach the end of life, and the company has developed award-winning programs to provide them with the care and support they need. VITAS' specially trained staff members and volunteers work daily to honor veterans' preferences for care at the end of life and ensure they receive the respect, comfort and compassion and tributes they deserve.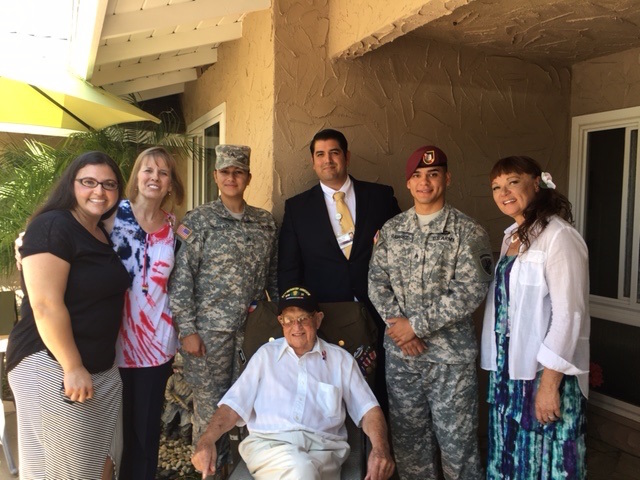 (Pictured from left to right): VITAS Home Health Aide Michelle Eckerd, VITAS Home Care Team Manager Wanda Masias, SGT Susana Murillo, VITAS Representative Mario Lopez, SGT Henry Ramirez and VITAS Chaplain Narcissis Tucker along with military personnel and veteran patient Paul Moore.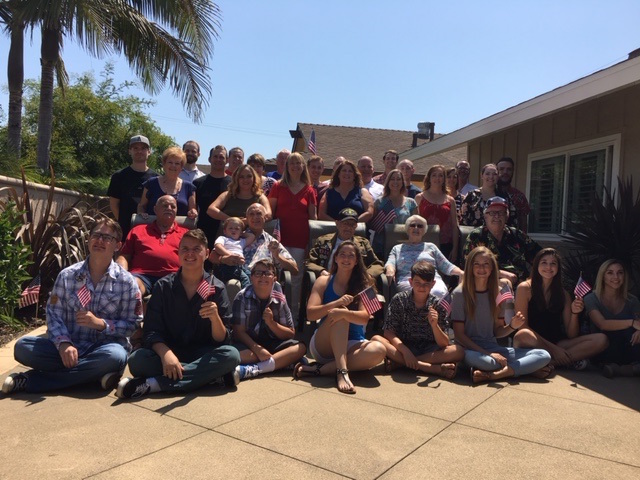 Five generations of Paul Moore's family celebrated his life and honored him for his service to his country on Sunday, August 28.