Veterans
Wall of Honor Celebrating Veterans Bravery and Sacrifice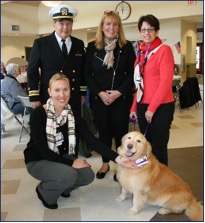 VITAS Veterans Liaison Jim Denicola—a Navy veteran—is a Wall of Honor expert. He has been a part of more than 15 Connecticut-based Wall of Honor dedications in the last four years.
So when the opportunity arose for VITAS to be part of a dedication at the Monroe Senior Center in Fairfield, Connecticut, Jim and VITAS Representative Cathleen Ragone, came together to make it happen.
"The veterans are thrilled by the recognition," says Jim. "It is a simple yet deeply meaningful way to show our support for our veterans and their sacrifices."
Commemorating Our Veterans
The Veterans' Wall of Honor consists of a flat screen digital picture frame that displays alternating veteran images, with their names, branches and dates of service. The photos are continuously on display and new photos of veterans are added as received. It also has a folded American flag and a plaque from VITAS recognizing the Senior Center's work with veterans.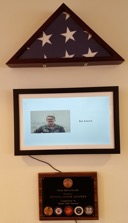 Displayed in a prominent location in the main room of the Senior Center, the Wall of Honor shows photos of the veterans in uniform and in the present time.
The event—attended by veterans, some surviving spouses and their families—began with posting the colors by the Monroe Police Department Color Guard.
At the dedication, VITAS presented each of the veterans and the surviving spouses with a special commemorative pin representing their branch of service.
Also present at the ceremony were VITAS Volunteer Manager Christine Urpin and VITAS Volunteer Sally Jacko with Paw Pal Charlotte, a friendly seven-year-old Golden Retriever, who visits veteran patients.
The event ended with the ceremonial folding of the flag and the retiring of the Color Guard.
VITAS of Connecticut is very active in the local veteran communities. Cathleen educates veterans about hospice and end-of-life care at the Senior Center while Jim holds 12 regularly-scheduled "Veterans' Villages" at the different facilities VITAS serves, where they talk about various issues affecting their lives.