Veterans
Hospice Patient Donates WWII Combat Sword to the Military Museum of Fort Worth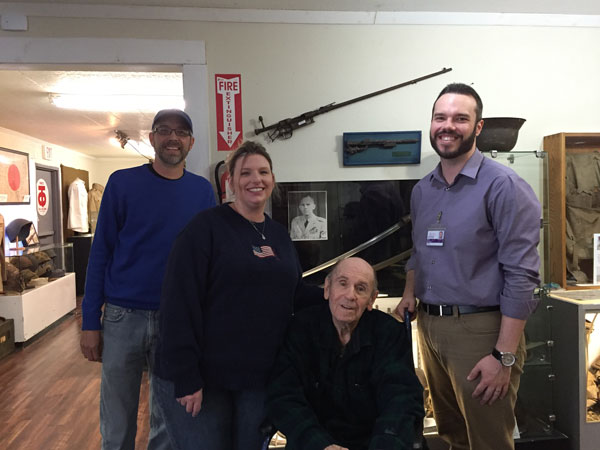 From left to right: Military Museum of Fort Worth Director Tyler Alberts, Patient Caregiver Melissa Walker, VITAS Patient Colonel William Stapleton (Ret.), VITAS Chaplain Matt O'Brien on Thursday, February 4, 2016, standing in front of the colonel's Japanese sword kept from his time stationed in Nabzab, New Guinea while serving in the US Air Force.
Honoring Our Patient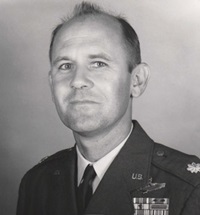 VITAS Healthcare recently honored our deserving patient, Colonel William Stapleton (Ret.) of the US Air Force, by facilitating the donation of his WWII combat sword to the Military Museum of Fort Worth.
While stationed in Nadzab, New Guinea, Colonel Stapleton and his troops were often attacked by Japanese soldiers. In an effort to remember and honor the fallen soldiers, both American and Japanese, the colonel protected and treasured a Japanese sword kept from an intruder for more than seven decades.
During heartfelt conversations with VITAS Chaplain Matt O'Brien, MDiv, MSW, Colonel Stapleton expressed concern about the care of the sword in his absence. "Colonel Stapleton's donation and story are a powerful testament to the selfless dedication of all soldiers who are asked to put their lives on the line," said Chaplain O'Brien. "This donation is a meaningful example of the emotional and spiritual realities of life and death."
Presenting His Story
Wanting Colonel Stapleton to be at peace at the end of life, Chaplain O'Brien—whose role as a hospice chaplain goes beyond conducting bedside prayers—contacted Tyler Alberts, museum director at the Military Museum of Fort Worth. Alberts, who was appreciative of the colonel's donation, displayed the sword in a shadow box in the local heroes section of the museum. "Without individuals like Colonel Stapleton, we as a museum can't tell or preserve the stories and history of these conflicts or the people involved in them," he said. "It has been a privilege helping to safeguard the sword and present a part of his story."
Accompanied by the VITAS team and his caregiver, Colonel Stapleton visited the museum to see how a piece of his legacy and the legacy of his fellow soldiers is being preserved. "I never would have had the vision to do this if it weren't for VITAS Chaplain Matt O'Brien," said Colonel Stapleton. "He's been a guiding light in helping me figure out what I could do to continue to honor and preserve the sword. This has really been a wonderful experience, and I can't thank him and VITAS enough for everything they do."
Comfort at the End of Life
A hospice chaplain is part of an interdisciplinary team, which is comprised of physicians, nurses, home health aides, social workers, bereavement specialist and trained volunteers. VITAS' specially trained staff members and volunteers work daily to honor veterans' preferences for care at the end of life and ensure they receive the respect, comfort and compassion and tributes they deserve.
As the nation's leading hospice provider since 1978, VITAS understands that prior military service can have a profound impact on veterans as they approach the end of life, and the company has developed award-winning programs to provide them with the care and support they need. With an office conveniently located in Fort Worth, including an inpatient unit at Baylor All Saints Medical Center, VITAS is equipped to handle even the most challenging patient situations. For more information call 817- 870-7070.