Testimonials
Hospice is More Than Medicine
Too often a patient begins hospice services in the last days of life, too sick to receive the many services comfort care can offer. This family did it differently, and is benefitting from far more than medicine at the end of life.
Catherine Pauline Sremich was born September 12, 1923. She grew up on a farm in Logstown, in western Pennsylvania, and has lived in the Pittsburgh area all her life. After her father died, the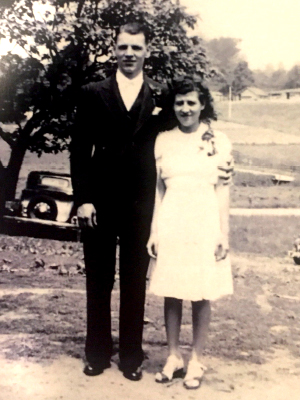 family survived the Depression living on a 1,000-acre farm with cows, chickens, pigs and a team of horses.
That's where she met Stanley Warzynski. He showed up and asked permission to hunt on the land one day. But he kept returning, doing odd jobs on the farm whenever he had a day off from the steel plant—and getting to know Catherine. They started dating, often going to the movies (often accompanied by Catherine's mother and brother).
"I was 16 and he was in his 20s," Catherine remembers. "I liked him because he was handy—whatever needed to be done, he could do it. And he looked like Frank Sinatra." A year later they were married in Sacred Heart Church, followed by a big party on the farm. The bride's mom and sister did all the cooking.
Stan built the couple a house in Center Township, where they raised four children. Catherine listened to cowboys, like Slim Whitman, on the radio. She drove a big old Dodge and had to wrangle its gears when she went up Kings Creek hill or down to neighboring Weirton, across the line into West Virginia. She took pride in her apple cobbler, her nut rolls and her poppy seed rolls. She and Stan celebrated 50 years of marriage before she stopped counting.
Today she is 93 and a widow. She has seven grandchildren and a whole passel of great grands. Decades ago, her first grandchild gave her the name "Punkin," and it stuck. Now, everyone knows her as Punkin.
Hospice's Two Biggest Fans
But a lifetime of Punkin's friends, family and neighbors are dead. She suffers from heart disease and diabetes. A year ago she left her longtime home in Center to move in with her daughter, Rose, in Monaca, about five miles away. Six months ago, one of her granddaughters, Erika, suggested hospice.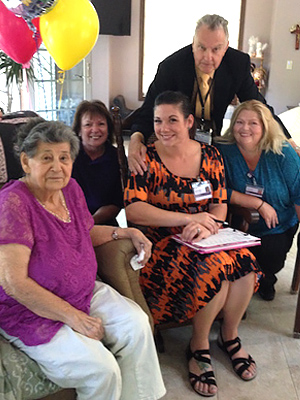 Erika's mother, Rose, is a registered nurse. Nevertheless, she was put off by the suggestion of hospice. "I was not ready," she says now. "Even as a nurse, hospice has a negative connotation." Punkin had never even heard of hospice. Six months later, they are hospice's two biggest fans.
"I've found that hospice is actually very positive," Rose says now. "I remember patients only being around a couple of days to take advantage of hospice services. We have the advantage of a longer period of time. We started with what I call the 'getting-acquainted time.'"
Rose goes to work every day, leaving Punkin on her own. Rose's husband, her brothers and their families all check in, but Rose knows one or another member of the hospice team will also come by, to check Punkin's vital signs and to visit. "They spend time with my mom, and she looks forward to it," Rose says.
The Hospice Team: A Ray of Sunshine
Punkin concurs. "I don't know which one I like the best," she says of her hospice team. "I feel like sunshine comes in the house when they come in!"
It was one of those sunny visits when someone on the hospice team realized Punkin was about to turn 93. So on September 12th they arrived en masse, surprising Punkin with cake and balloons. Punkin is still talking about it.
Sunny visitor #2 is Rose. One day Punkin was reminiscing with Rose (her hospice aide, not her daughter) about the Logstown Dairy she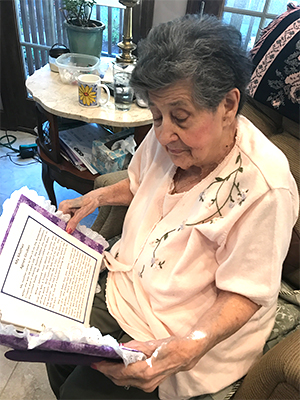 remembers from her youth. On her day off, Rose saw a milk jug marked Logstown Dairy at a local shop, bought it and brought it to Punkin.
Sunny visitor #3, Marcia, is Punkin's hospice volunteer. Over several days she and Punkin and the family sat together looking at old pictures. Punkin recalled long-ago moments and told stories, which Marcia wrote down. Then Marcia returned with a compilation of the stories Punkin had recalled in a book titled Catherine's Memory Book. It now has a place of honor in the home.
Punkin can't believe someone went to the trouble of creating a book of memories for her. "How long I'm going to be here," she says, "Lord only knows. But after I'm gone, they'll know what they didn't ask me, because it's all in that book."
"The best part of that book," says daughter Rose, "was watching my mother's face as she read it."
Granddaughter Erika sees it another way. "My mom and her brothers will always have the memory of spending the day with their mother, talking about Punkin's history and revisiting their memories as a family, each filling in the dots on things they remembered. I think that's priceless!"
That's how Punkin and her loved ones are learning what hospice is. Punkin is comfortable and assured. She feels listened to and respected. She looks forward to the sunshine that walks into her life on a regular basis.
She has her good days and her bad days; she knows she's a hospice patient, that she has a doctor's prognosis of six months or less. But right now she's enjoying this "getting-acquainted time." Punkin is just one more hospice patient who's enjoying life.