Testimonials
Helping a Husband Survive His Wife's Huntington's Disease
"This is what she looked like," says Terry Warren, his hand shaking as he holds up a photo of a young, pretty blonde with a big smile. "And this is what Huntington's disease did to her," he adds, showing another photo, this time of a feeble woman weighing just 40 pounds, barely discernible among the bed covers.
A Cruel Disease
Huntington's disease is a fatal, inherited disease in which nerve cells in the brain break down over time. According to the Huntington's Disease Society of America, there are approximately 30,000 Americans experiencing the debilitating symptoms of this disease and more than 200,000 people are at risk for inheriting it. Affecting mostly those between the ages of 30 to 50, the symptoms include changes in personality and mood, impaired judgment, unsteady and involuntary movements, difficulty swallowing, slurred speech and substantial weight loss. Eventually the patient succumbs to heart failure, pneumonia or complications from the disease. (source)
"Huntington's disease is a nightmare. They call it the world's cruelest disease and I believe it," says Terry. For 11 years, Terry watched as Huntington's robbed his wife, Jenny, of all her abilities. For Terry, "When you have somebody, in my case my wife, who has HD, you have to feed her, bathe her, you have to do all this stuff because it progresses; your wife becomes your child."
Exhausted and unable to care for her recurring seizures, Terry finally made the decision to admit Jenny into a nursing home. "Right after we put her in the nursing home, they suggested hospice."
Choosing VITAS
Terry, of Rock Falls, Illinois, chose VITAS for Jenny. "I could tell that people were taking care of her, combing her hair, braiding it, talking to her, reading to her, singing to her. She was being taken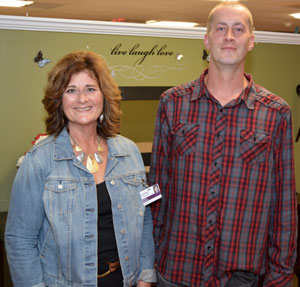 care of really good," he says.
With the help of Debbie Stockton, the VITAS social worker on Jenny's hospice team, the family was able to qualify for Medicaid and tap into other resources that could help Terry, Jenny and their two young sons financially. VITAS Community Connection, the charitable arm of VITAS that provides assistance to needy hospice families through private donations was able to pay the Warrens' rent and utility bills and renew Terry's car registration during a particularly difficult time.
"I knew he was going to be missing a lot of work and not getting paid and I didn't want the burden of the bills piling up to impair his ability to be with his wife in her last days," says Debbie. "And, I wanted to help alleviate some of the burden that I knew was gonna be coming with the funeral expenses."
"Debbie from hospice," acknowledges Terry. "She helped in a lot of ways, from sitting there and talking to me and she suggested different areas of help I wasn't even thinking of. The good thing about it is, I've got a friend with Debbie. VITAS was right here, and that's something that speaks volumes."
For more information on Huntington's disease visit the Huntington's Disease Society of America website at hdsa.org.