Veterans
Rosa Sanders Moore, a WWII Veteran
Veterans Day 2015: VITAS Honors Women in the Military
For Rosa Sanders Moore, 93, her service in the Women's Army Corps during World War II helped set the stage for the rest of her life.
"It really shaped my life and got me going well," she says, seated at her kitchen table in her home in Cincinnati in October of 2015. "It strengthened my belief in what I wanted to do."
Rosa's Time in the Service
Rosa served 13 months as a supply clerk at Douglas Air Force Base in Douglas, Arizona, issuing parts for airplanes. She lived in a barracks with women from all over the United States.
"I like to travel and it got me away from my home habitat," she says.
Rosa grew up in Alabama, then lived in Chicago before making the decision to join the Women's Army Corps.
"I felt like it was a job and somebody had to do it, and it was my turn to do my part," she says. "I never had any negative feelings about it. Whatever I had to do, I did, and I did my very best."
Rosa's husband was in the military too, and served in Arizona. When Rosa became pregnant with their first child, she was honorably discharged. At the time, women were not permitted to serve while pregnant.
Family, Education and Career
Long before joining the military, Rosa had a plan.
"I had my mind set that one day I was going to Tuskegee [University], and I was going to Tuskegee come hell or high water," she says.
And she did. After leaving Arizona, she took advantage of the GI bill to get an education from Tuskegee University. She would later earn a degree in teaching from the University of Cincinnati.
Rosa taught for 35 years in Cincinnati and was eventually recognized nationally as one of a handful of outstanding Catholic schoolteachers.
Recognition as a Veteran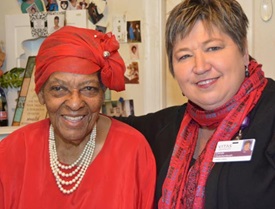 In September 2015, Rosa crossed paths with VITAS veteran liaison Carole Quackenbush, who was helping plan the first-ever all-women Veteran's Honor Flight to visit the war memorials in Washington, DC.
"VITAS has been a wonderful supporter of the Honor Flight. I've been on almost 20 flights, and typically we have about five or six female veterans on the flight," says Carole. "One day someone on the Honor Flight Board said, 'I wish we could have a whole flight of women.'"
Carole worked with the VA and Honor Flight to find female veterans, and also got to ride along, which is where she met Rosa. "She had never been to DC, and for her to see the WWII memorial was just an incredible event."
Rosa agrees. "That was the highlight of my life! It was really something. You think, where did all these women come from? Where have they been? We didn't know they were around."
Many women who spent time in the service in World War II weren't actually recognized as veterans until many years later.
"It was a validation for them to see that they were appreciated," Carole says.