Grief and Bereavement
Hearts and the Arts: Guiding Children Through Grief and Loss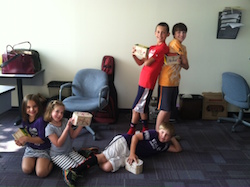 "Don't stop the music, it brings hope and strength to our spirit!"
These song lyrics were written by a 12-year-old boy whose brother had died earlier. The young lyricist was a participant in "Hearts for the Arts," a four-week VITAS children's bereavement support group in its sixth year in Chicago.
Processing Grief through Self-Expression
Under the guidance of VITAS Music Therapists Ana Madden and Bryn McCabe-Weiland, the young participants in "Hearts for the Arts" learned about processing grief and expressing one's emotions though live music, including singing, playing instruments and songwriting, and other art forms, such as movement and dance, drawing and arts and crafts.
VITAS Social Workers Catherine Dello and Diana Jimenez provide support and lead a concurrent bereavement support group for parents. One of the program's objectives is to help the children realize they are not alone in their grief. Participants are encouraged to talk and share their feelings about their loved ones' deaths. They bring in photographs of the deceased and create a memory box in his or her honor.
In one session, VITAS Medical Director Diane Rappaport, MD, talks to the children about the medical aspects of death and dying and answers their questions. And another, the children are introduced to "stress stations," where they learn healthy ways to deal with stress, such as walking, expressing their feelings through art or—and this was a popular one—shredding old phone books.
Comfort During Extreme Emotions
On the final day, the children receive a CD of a song they wrote and performed together. The 12-year-old who had contributed the above lyric had been hesitant to attend the final session. After crying that morning over his brother's death, he entered the classroom very quiet, head down. But by the end of the day he was laughing, jumping and celebrating having won two games during the day's activities—typical of the sometimes-mercurial emotions children experience after a death.
"Hearts for the Arts" is one of many VITAS bereavement and grief resources available to Chicagoland families who need support after the death of a loved one. For VITAS, patients and families come first.