Social Workers
Social Worker Enjoys Support, Appreciation at VITAS
Nikita Morency thrives on authentic, genuine interactions and being able to help people. As a hospice social worker at VITAS, she has found all of those things.
"I love being able to take care of people and being there for them during a really difficult time," she says. "That's ultimately why I'm here and why I'm a social worker."
Nikita, who came to VITAS five years ago, feels fortunate to be at an organization that shares her passion for caring—and where she and her work are valued.
"I am well-respected here," Nikita says. "My teammates know I have the ability to be compassionate, honest, and direct about what services are available for our families."
The Role of Hospice Social Worker
VITAS social workers provide compassionate support for both patients and their loved ones, helping them navigate the emotional and logistical aspects of hospice.
Those logistical aspects include educating patients on advance directives, connecting them with additional emotional and financial support, liaising with funeral homes, and more.
"The role of a social worker is vital to the process of hospice," Nikita says. "We're able to facilitate difficult conversations and communicate with the doctors and nurses. Families often rely on my expertise to know what questions to ask various agencies to fine-tune their needs."
The VITAS culture is very family-oriented, very caring, very understanding.
It's a role that requires being able to empathize with patients and caregivers, all of whom are going through something very difficult.
"The caregiver is a huge part of the process," Nikita says. "I ask them how they're doing. I often have to remind them to take care of themselves, too."
For Nikita, working with patients in hospice is a big responsibility. "You have the opportunity to be present while someone makes their own decisions on what their dying process is going to look like. I get to help them through their journey."
Social Workers Educate and Empathize
Misconceptions around hospice can sometimes make Nikita's work challenging. In many cases, patients and caregivers initially resist talking to her.
"A lot of people are scared about the word 'hospice,'" Nikita says. "I help explain that hospice is about giving yourself more power to make decisions for yourself. I really enjoy empowering people."
One patient, a young mother named Kim who had breast cancer, was resistant to talking with Nikita. But ultimately, she reached out, looking for connection.
"Half the time we just listened to music or colored," Nikita recalls. "I wasn't coming in telling her what to do. Sometimes you just need someone with you while you're going through a really tough time."
When Kim passed a few weeks later, Nikita went to her services. And she still talks to the family. "You get bereavement support up to 13 months, so we still check in and I see how things are going. That transition piece is important."
Why Social Workers Thrive at VITAS
At VITAS, our social workers are appreciated. Our open-door policy enables managers to foster meaningful relationships with teammates.
"My managers are very approachable, very friendly," Nikita says. "I am able to talk to them about anything that I need, and I respect them. When they say they're going to do something, they do it."
That translates into a culture in which people stay. "There is longevity and consistency here—people who have been here more than 10 years," Nikita says.
Nikita also appreciates the emotional support she receives from her teammates. Hospice is by nature exceptionally rewarding but also emotionally draining.
"Even though I'm a therapist, I need someone to talk to, too," Nikita says. "The VITAS culture is very family-oriented, very caring, very understanding. I'm able to connect with my managers and my teammates here, talk to them, and say, 'Hey, I'm having a bad day.'"
"My colleagues are very genuine. I don't ever feel less than. They accept me for who I am. That's really important to me."
For Nikita, the work is incredibly gratifying. "I love knowing that at the end of the day, a person was better after working with me, knowing that if I gave them resources, if I helped them with going through grief processing, or if I gave them another way to look at difficult times, that I was able to be a part of their journey."
View all current openings for social workers.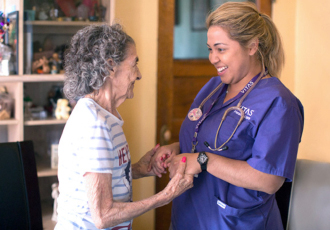 Choose a Career with VITAS
We offer a variety of full-time, part-time and per-diem employment opportunities. Employees earn competitive salaries and have the flexibility to choose a benefits package suitable to their own needs and lifestyle.
See Current Opportunities