Hospice Aides
She Supports Patients, and VITAS Supports Her
Sandra Williams keeps her patients close to her heart. Every story she shares is peppered with personal detail: their favorite foods, stories from their lives, and the extra steps she takes to make their difficult days easier. Each treasured memory is a testament to the affection she feels for those in her care.
"Have you ever just done anything that you love?" she says. "I love taking care of these patients."
Sandra, now a hospice aide for VITAS in Orlando, Florida, didn't start her career in hospice care—or healthcare at all. She earned a master's degree in criminal justice and began her career as a corrections officer, then managed a daycare out of her home. She found her spark at an unexpected moment: watching VITAS nurses care for her brother at the end of his life. Their compassion made an enduring impression.
"I said, 'One day, I'm going to work for these people. I knew this in my heart that someday I would work here."
Starting the Day with Flowers and Hugs
Sandra took a two-week course to become a certified nursing assistant and has now worked at VITAS for six years. Although there was a time when Sandra thought she should have pursued a degree in nursing instead of criminal justice, she knows her path led her where she belongs.
"My two daughters are nurses, and they don't do what I do," she explains. "They take care of people in a different way. But for me, it's about communication with the patients and the caregivers, especially letting the patients know that you love them, that you care, holding their hand and giving them hope."
Sandra wakes before the sun but is always eager to start her day, bringing flowers and a hug into each home she visits.
"I'm ready to go," she says. "I love coming to work here because I can't wait to see my patients. I love it like nothing else in life."
Supportive Management Empowers Advocacy
Sandra is a true believer in the VITAS mission to improve the well-being of patients at the end of life. As a self-appointed ambassador for the company, she often shares the good news of what VITAS can do for its patients with her neighbors. Her advocacy is backed by her manager, who supports her in all facets of the job.
Get your CNA and come to VITAS. ... You have a huge opportunity.
"I've never seen a manager as good as this," she says. "She never says she's too busy. If you go to her office, she's going to get to the issue at hand. She is everything that you would want in a manager."
Sandra's manager began her VITAS career as a field nurse herself, and that first-hand experience makes a difference when it comes to understanding on-the-job challenges.
"She's going to go to bat for you no matter what," says Sandra. "Good, bad, or indifferent, she's going to stand by your side."
Open Communication Creates Team Spirit
The fellow nurses on Sandra's team also have each other's backs. She credits the open communication she has with her team for creating the ideal work environment. They are always quick to pick up each other's shifts when necessary, and they are eager and willing to help each other out.
The communication extends beyond Sandra's team in Orlando, beyond the state, all the way up through the corporate level, where VITAS keeps its employees constantly in the know.
"VITAS does an excellent job of communicating," she says. "We're always getting text messages and emails from upper management, and our general managers always follow up. VITAS is a great place to work."
Room for Growth, Endless Opportunities
Sandra has no plans to leave VITAS. She knows she's found her place at the bedside. When advising others, she encourages seeking out the possibilities and growth opportunities VITAS offers.
"You can start here as a CNA," she says. "You can end up here as a general manager or higher. But for the younger people, I tell them to get your CNA and come to VITAS. There's so much room for you to improve your lives. You have a huge opportunity."
View all current CNA job openings.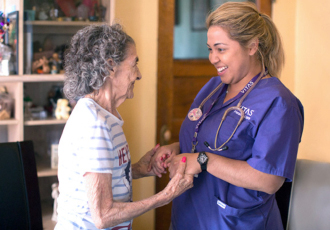 Choose a Career with VITAS
We offer a variety of full-time, part-time and per-diem employment opportunities. Employees earn competitive salaries and have the flexibility to choose a benefits package suitable to their own needs and lifestyle.
See Current Opportunities