Hospice Aides
Nursing Assistant Week 2020: Celebrate the Caring Core of Our Communities
National Nursing Assistant Week (June 18-25) is a period to thank and celebrate the caring professionals who help patients navigate activities of daily living that can no longer be managed alone. At VITAS, certified nursing assistants (CNAs) serve on our interdisciplinary teams as hospice aides, providing some of the most intimate care to patients and their families near the end of life.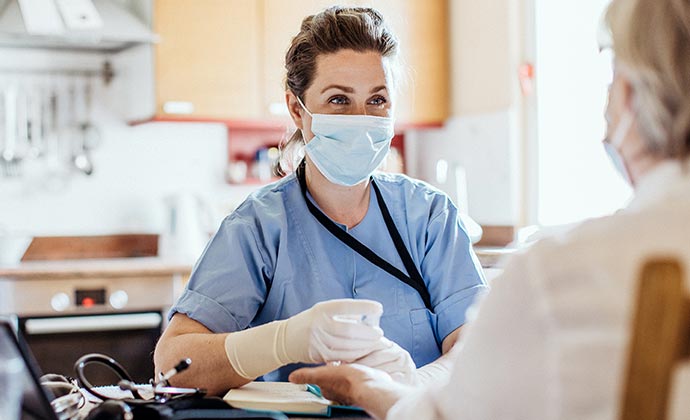 This year, the efforts of hospice aides and other CNAs are particularly significant: The COVID-19 pandemic creates new challenges and stresses for all healthcare professionals, especially those who provide one-on-one care in now-restricted nursing homes and long-term care communities.
VITAS hospice aides continue to perform their critical work in patients' homes, assisted living facilities, inpatient units, or wherever they require care.
This week, we honor all CNAs' dedication and commitment to the people who need them most.
Caring Hearts Create Caring Communities
Along with home health aides (HHAs), CNAs work with VITAS patients in the role of hospice aide, a core member of the interdisciplinary hospice team that includes a physician, nurse, social worker, chaplain, bereavement specialist, and volunteer. Hospice aides are responsible for the personal care that helps patients remain comfortable while retaining their dignity.
A hospice aide's duties typically include a combination of light housekeeping and personal hygiene care:
Shopping
Bathing
Dressing
Feeding
Toileting
Hair care
Oral care
Light cleaning
Listening
Friendly conversation
When they're not collaborating with their teams on a patient's care plan, VITAS hospice aides enjoy a flexible, independent work style. They deliver bedside care and make routine visits to patients wherever they call home.
The best hospice aides are self-motivated and compassionate, willing to put patients first in pursuit of improved quality of life near the end of life.
"Every day, I get to say that someone is having a better day because of the care I have provided them."
Hospice aides' work can be challenging. Often exceedingly intimate, it can be messy, emotional, and tiring. But for individuals who are driven to lend their ability to someone who is lacking their own, the work of a hospice aide is incredibly rewarding.
Read More: A Day in the Life of a Hospice Aide >
Many hospice aides find meaning in making a difference in the lives of others. They elevate the entire community by supporting vulnerable patients who may feel isolated in their illness.
In the words of one VITAS hospice aide, "I provide so much more than just medical attention or housekeeping. I provide compassion and kindness. Every day, I get to say that someone is having a better day because of the care I have provided them. What could be better than that?"
Requirements for Hospice Aide Jobs
Hospice aides must have flexible schedules, as they visit patients on their terms, when they need to be seen. Additionally, VITAS hospice aides must:
Have 1 year of direct patient care experience in acute or sub-acute care
Have a 75-hour Home Health Aide Certificate and good documentation/record-keeping skills
Be able to travel to jobs
Be comfortable dealing with and discussing dying, grief, and end-of-life issues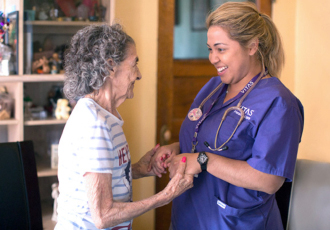 Choose a Career with VITAS
We offer a variety of full-time, part-time and per-diem employment opportunities. Employees earn competitive salaries and have the flexibility to choose a benefits package suitable to their own needs and lifestyle.
See Current Opportunities