Working at VITAS, VITAS Values
VITAS Employees Pack Personalized Care Packages for US Troops in Afghanistan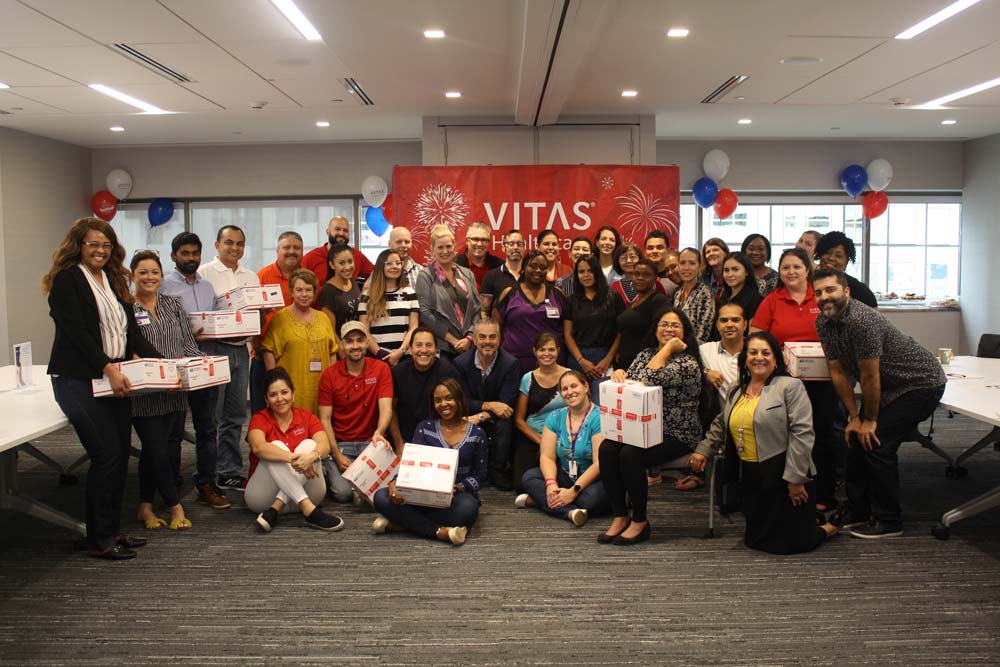 On an otherwise busy Friday at VITAS corporate offices in downtown Miami, more than 50 employees left their cubicles and headed to a large conference room where tables were laden with goodies to create care packages for the military.
For the next hour, they packed the boxes with necessities, personalized them and labeled them to head halfway across the world to complete strangers: deployed US soldiers in Afghanistan.
This first-time initiative to send care packages to active-duty US soldiers was coordinated by Lorena T. Ortiz, national events manager for VITAS. She hoped this inaugural volunteer event would attract interest and deepen camaraderie among employees, some of whom are veterans and some of whom have family members who are veterans or on active duty.
VITAS programs throughout the county participate in We Honor Veterans, a National Hospice and Palliative Care Organization program that ensures veterans and their families receive services and support to meet their unique needs for end-of-life care.
'We take care of each other'…and our veterans
"In the blink of an eye, a large group of employees began lining up at the door at 2 p.m., and everybody was eager to help," says Ortiz. "To see the excitement and energy of the employees who supported this initiative was overwhelming."
The initiative extends a core VITAS company value —"We take care of each other"—to a military unit in Afghanistan. It began through a VITAS connection to the Miami-based Act2Now organization, which provides support for veterans. Act2Now put Ortiz in touch with an active-duty solider who provided information about what soldiers need and how to ship the boxes to Afghanistan correctly.
"We take care of each other, and we also take care of our veterans," says Ortiz.
Toiletries, plastic bags and 'a connection to home'
In pre-event text messages, Ortiz learned that deployed soldiers' most pressing needs are for travel-size toiletries (especially baby wipes), Ziploc bags and "a connection to home."
VITAS employees made it happen. They:
Assembled, sealed and labeled 50 boxes for shipment
Packed each box with disposable razors and other personal care items, Propel powder packets, stress balls, toys, goodies and snacks
Personalized each box with notes, cards and impromptu Polaroid photos
Signed their names inside of the boxes so the soldiers will know who assembled them
In one of the pre-event text-message exchanges between the VITAS and the deployed unit, the solider told Ortiz "we are all so grateful for all that you have done."
Ortiz says gratitude for soldiers' service to the country was evident in the excitement and enthusiasm among the VITAS employees who participated.
"We put cards in every single box. It was impressive, because people took time to write personalized messages to let the soldiers know who was doing this for them," she says.
On November 1, Ortiz received an email from her contact in Afghanistan: "Thank you so much for the care packages! They've started coming in, and the soldiers are ecstatic. The contents are things they could actually use. There are a few in here now eating goldfish crackers while wrapped in their green blankets. You are appreciated. You'll see it for yourself when the thank-you letters start trickling in. They just want to show their appreciation for you and the team."