Physicians
Married VITAS Physicians Earn AAHPM Fellowships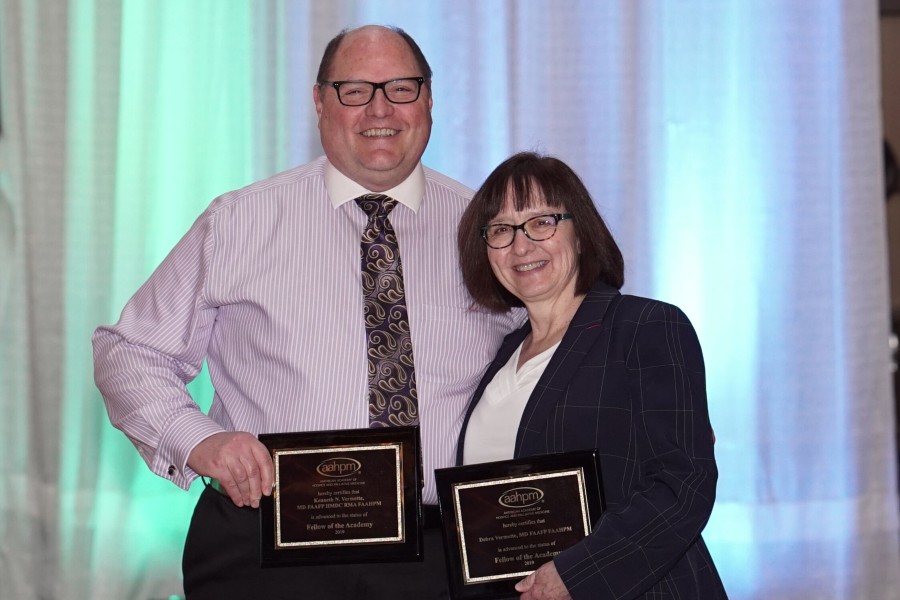 VITAS physicians Debra and Kenneth Vermette, married since 1980, recently earned fellowships from the American Academy of Hospice and Palliative Medicine (AAHPM).
Becoming a fellow of the AAHPM requires commitment and a minimum of five years of involvement with the AAHPM as well as activities related to hospice and palliative medicine—requisites that Debbie knew would be a lot of work. She and Ken were already doing the teaching, mentoring and diligence required of the FAAHPM.
"We all do things that matter," she says, referring to her fellow hospice physicians. "We just don't keep track of them. It's an honor to do the work—and to show that you've accomplished these stringent requirements."
"Other doctors can and should do it," agrees Ken.
The Vermettes live in Philadelphia, where Debbie is medical director for VITAS in Philadelphia and Ken is medical director for medical claims.
Two Decades, Two Doctors, Three Sons
Debbie and Ken met in 1977 at Texas Christian University in Fort Worth. He was a pre-med freshman; she was a sophomore English major who loved a challenge. She switched her studies to psychology. During her psych internship, she realized that any innovative idea she proposed needed a doctor's approval. That cinched it: Debra would be a doctor.
The Vermette family in 2016
After graduation and a wedding ceremony, the Vermettes attended the University of Texas Health Science Center at Dallas-Southwestern Medical School. They left with two medical degrees and two sons. Their residencies at UT's Houston Memorial Hermann Hospital System yielded two well-trained physicians and one more son.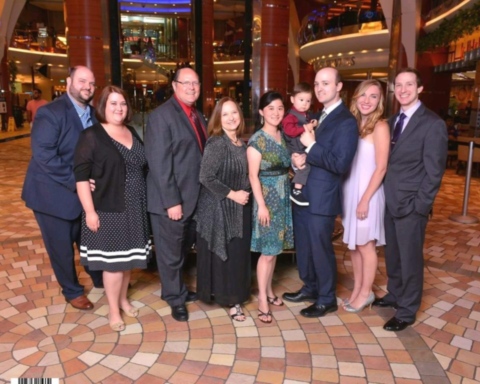 In the years following, they joined the Air Force as a family of five before opening their own practice in a small Oklahoma town. In 1998 they moved their practice back to Fort Worth. Debbie worked part-time with Ken and part-time in other practices. In 2004, she signed on as a per-diem physician with VITAS.
Trying VITAS
Debbie knew very quickly that hospice was the reason she'd become a doctor, and her passion was contagious.
"VITAS was the best hospice in Fort Worth," Ken recalls, "and I referred patients to them frequently. When I saw Debbie's job satisfaction, I wanted to try it myself."
In 2008, with several patients on VITAS, Ken accompanied Debbie on some home visits. "It was very rewarding," he says, "very different from seeing patients at my office." A year later, he became a VITAS inpatient physician.
Today, Ken continues to cover the inpatient unit one weekend a month, because "it's important to keep my hand in, seeing patients."
What's Next?
The Vermettes acknowledge that they are a unique couple, but life isn't always the "Debbie & Ken Show."
"We don't talk about work over dinner," Debbie laughs. "But we understand what we are each going through. Ken isn't annoyed when I'm on call and getting a lot of calls. He's been there."
What's next for this husband-and-wife team?
"Novels," Debbie says without missing a beat. "We're going to write books. After all, I started as an English major."
View immediate opportunities for physicians near you.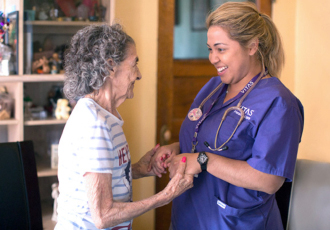 Choose a Career with VITAS
We offer a variety of full-time, part-time and per-diem employment opportunities. Employees earn competitive salaries and have the flexibility to choose a benefits package suitable to their own needs and lifestyle.
See Current Opportunities