Nurses, Working at VITAS
From LPN to Associate GM
Etian Vizoso, BSN, is associate general manager of the VITAS office in Miami-Dade County, Florida, one of the largest VITAS Healthcare locations in the nation. On an average day, 1,200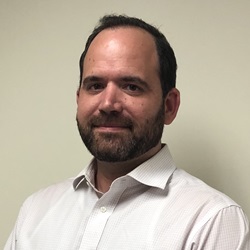 employees on 29 Miami-Dade hospice teams care for 2,000 end-of-life patients.
Seven unique positions have defined his stepping-stone career toward a leadership position.
In 2007, he was a "spanking new" licensed practical nurse (LPN) not sure he was cut out for nursing. He'd gone to school under the GI Bill and was drawn to a fast-paced environment—like an emergency department.
But Etian's first job offer came from VITAS. As a crisis care hospice LPN, he worked the 7 p.m. to 8 a.m. night shift in patients' homes, addressing the uncontrolled symptoms that often arise at the end of life.
"VITAS gave me an opportunity and I never looked back," he says today, still grateful for that first chance and those early hospice nursing experiences.
Making an impact at the end of life
"You're hoping the night will be quiet; it never is," he says, aware that the excitement he once sought has been replaced by more satisfying factors. "Hospice is so gratifying. You're with a family during what might be their worst possible experience, and they turn to you with a smile and thank you, and say, 'Hospice staff are angels.'
"Everyone remembers the death of a loved one," he says. "You have one opportunity to make what will be an everlasting memory."
While working the night shift, Etian again turned to the GI Bill and a bridge program to earn an associate RN degree. He'd finish work at 8 a.m., begin class at 9 or 10 a.m., get a few hours of sleep and return to his night shift at VITAS. When he became a VITAS LPN runner, he juggled his daytime class schedule around a new 4 p.m.–midnight work shift, providing on-call, bedside nursing care to hospice patients.
His next promotion: VITAS admissions RN, visiting patients and families who had just received a terminal diagnosis or who were seeking a hospice evaluation. It called on all his clinical and personal skills, and he loved it.
Believing in the VITAS services
"School can give you the clinical background, but the services? I lived the services," he says. "It's what I'd been doing at VITAS for two years! I never had a doubt about what I told patients and families, because it was what I believed."
After about a year as an admissions RN, Etian achieved yet another milestone and became a service recovery nurse, a branch of admissions. "Now I was going to the problems," he says. "It was all troubleshooting. But I've always been a people person, and I just put myself in their position. My job was to make accommodations to ensure our services were on track."
Being a service recovery nurse, he says, taught him the most. He credits VITAS leaders in Miami-Dade who took the time to answer his questions, provide guidance, and then trusted him to work independently.
"The leadership has been a major contributor to my success," he says. "I can't do this alone. Without the peers who support me, I wouldn't be successful."
Improving career and education
Etian moved from service recovery nurse to admissions manager to patient care administrator, overseeing the team managers and admissions managers. He returned to college, this time using VITAS' tuition reimbursement program to earn a bachelor of science degree in nursing. In 2018, just months before his ninth anniversary with the company, the once "spanking new" LPN was promoted to associate general manager.
It could happen to you, he says.
"We have employees who have been here 10, 20, 30 years. We really do 'take care of each other,'" he says, quoting one of the VITAS values. "I'm not the first LPN who's come up through the ranks, and I won't be the last.
"If you have the right work ethic and embrace the common goal, if you're not working just for a paycheck, the sky's the limit here at VITAS. I wanted to be a runner. Got it. An RN, admissions nurse, recovery nurse. Got it. Up and up and up," Etian says. "I haven't been turned down at VITAS. It's been a lot of hard work, and I've always felt that my efforts are recognized."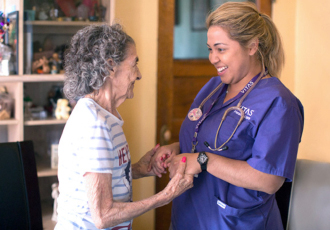 Choose a Career with VITAS
We offer a variety of full-time, part-time and per-diem employment opportunities. Employees earn competitive salaries and have the flexibility to choose a benefits package suitable to their own needs and lifestyle.
See Current Opportunities