Customer Service
World-Class Customer Service Makes a Real Difference
For a family, that first call to a hospice care provider can come at a difficult time.
Ian Abdon, vice president of VITAS® Healthcare's Care Connection Center (CCC), wants to make sure that the VITAS employees who answer that phone call "truly understand what it means to have a passion for customer service and for providing the best possible experience to every single patient and family reaching out to us for help."
Meet Ian Abdon, VP of VITAS Healthcare's Care Connection Center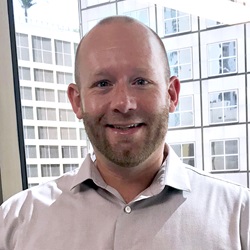 Abdon's early career in the customer service industry spanned hotels, casinos and hotel call centers in Atlantic City, Miami Beach and his native Southern Indiana. In 2014, he joined VITAS as an assistant vice president at the CCC. He was promoted to vice president a year later.
In his role as vice president, Abdon:
Supervises 450 employees at call centers in San Diego, Chicago and Miami
Manages a team that handles 100,000 new patient referrals a year and supports more than 17,000 hospice patients and their families/caregivers daily
Oversees the VITAS Telecare team, staffed by on-call clinicians who are available 24/7/365 to answer questions from patients and families and, if medically necessary, dispatch a clinician to the bedside
Supports operations and staffing for the after-hours team that provides 24/7 Continuous Care at the bedside
A Unique Call-Center Experience
That first phone call to the CCC, Abdon points out, represents a turning point when the focus of care shifts from curative treatments to symptom management, pain relief and quality of life at the end of life.
"I don't know that there's a job out there that could have more of an impact on human beings than supporting their loved ones through the end-of-life journey," explains Abdon.
"We want to ensure that we are providing a world-class experience unlike any other in healthcare and beyond, an experience that truly reflects and represents our VITAS values and mission."
Dedication and Positive Energy Fuel the CCC
Abdon wants call-center candidates to know that opportunities for a satisfying career and advancement abound for employees who:
Enjoy being a key member of a dedicated team
Are dependable, energetic and committed to excellent customer service
Find satisfaction helping patients and families address challenges, solve problems and find the information and answers they need
Are eager and able to learn new skills
Support VITAS's core values of teamwork, continuous self-improvement, making a difference, and putting patients and families first
"Our management team ensures that every member of our CCC team knows that they are valued, appreciated, supported and recognized for the hard work and dedication they put forth daily," Abdon explains. "When opportunities for development present themselves, we provide the necessary feedback and support to help them take their performance to the next level."
Are you interested in a career dedicated to customer service? Pursuing a career change that leverages your customer service experience? Seeking career opportunities with the nation's leading hospice provider? If so, contact VITAS today and explore open positions on our CCC team.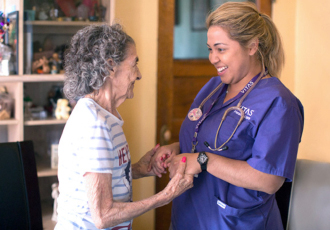 Choose a Career with VITAS
We offer a variety of full-time, part-time and per-diem employment opportunities. Employees earn competitive salaries and have the flexibility to choose a benefits package suitable to their own needs and lifestyle.
See Current Opportunities