Beware of Scammers and Fraudsters in Your Online Job Search

Now that most job-search-related activities are conducted on the Internet, job-seekers should be aware that criminals have been known to post fictitious jobs online in hopes of exploiting those who apply, usually for purposes of identity theft or financial fraud.
Richard La Bella, chief information security officer for VITAS® Healthcare, the nation's leading provider of end-of-life care, approaches the problem through a lens of threats and risks.
Candidates: Be ever vigilant
Some companies hire a cybersecurity firm to scour the Internet for fake job postings or illegitimate uses of a company's name, logo, brand, email template or website. It's one solution, if career sites or online job boards do not screen questionable content on their own, La Bella says.
"If you're a candidate, you have to validate and verify everything," he adds. "You've got to become more vigilant and vet every person you're doing business with." He shares some tips on how candidates can make sure the jobs they're applying for are legitimate.
Verify the company information
If a job is posted online or sent via email, do your own online search rather than just clicking through. Make sure the company's name, address and phone number match the information in the job post. Double-check the company URL: CompanyB.com might be the legitimate company website, while CompanyB1.com might be the link you receive in a fake job listing. Still not sure? Call the company to verify an online job. Be wary of recruiter emails from personal accounts or instant message services, not the company's email domain.
Never pay a fee or buy anything to get a job or an interview
Fraudulent job postings are often a ruse for identify theft. Never pay a processing fee or application fee to be considered for a position. Don't agree to buy training materials, software, certification, supplies or equipment. "Be especially wary if there's a sense of urgency, such as, 'You really have to pay this processing fee right now because I have another candidate in the wings, ready to take this job if you don't,' " La Bella advises. Another red flag is a request to send money electronically, via bank transfer, money gram or prepaid card.
Never provide personally identifiable information while interviewing
Only after you've verified the job as legitimate, accepted a position and are being onboarded for payroll and benefits should you provide a Social Security number, bank account number, routing number, driver's license or credit card.
Be wary of badly written job descriptions
Poor grammar, spelling, punctuation and sentence syntax are common in fraudulent job postings, especially those that originate from non-native language speakers or foreign countries. Look for missing words, wrongly capitalized letters or foreign versions of common words (e.g., labour instead of labor; specialise instead of specialize).
The old saying holds true: "If the job posting sounds too good to be true, it probably is," La Bella says.
Still not sure? Visit the Federal Trade Commission for information about job scams or file an FTC complaint if you feel you've been victimized.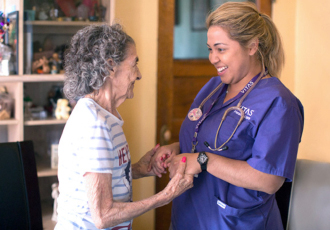 Choose a Career with VITAS
We offer a variety of full-time, part-time and per-diem employment opportunities. Employees earn competitive salaries and have the flexibility to choose a benefits package suitable to their own needs and lifestyle.
See Current Opportunities