Nurses
Palliative Care Nurses are Clinicians Communicators and Specialists in Comfort Care

Palliative care nursing is a specialty field for nurses and nurse practitioners who excel at helping seriously ill patients, their families and their healthcare team understand and address complex symptoms while staying focused on comfort care and quality of life—at any age and any stage of a disease.
A medical specialty since 2006, palliative care requires communication, clinical knowledge and care coordination skills so that nurses can alleviate pain and suffering for patients with challenging diagnoses or symptoms.
A candidate for palliative care, for example, might be a heart patient who also suffers from advanced lung disease, or a stroke victim who develops cancer. Nurses, nurse practitioners and physicians undergo palliative training/certification, enabling them to advocate for optimal care that alleviates suffering and matches patients' goals and preferences.
Palliative care nursing vs hospice nursing
Through a shared focus on comfort care and quality of life, hospice nursing and palliative care nursing often co-exist, with this key difference:
Palliative nursing often combines curative treatments with comfort care and quality-of-life support; some patients will stabilize, while others might become eligible for hospice care.
Hospice nursing does not include curative treatments; hospice is for patients who have been determined by a physician to have six months or less to live if the disease follows its natural course.
What it takes to be a palliative nurse
Wendy Kraszewski, national general manager of Palliative Medical Associates at VITAS, says palliative care nurses exhibit key skills, including the ability to:
Understand the challenges of complex diseases and diagnoses across multiple medical specialties
Focus patient care on comfort and quality of life
Visualize the "big picture" and consult/coordinate care for patients and their families on an interdisciplinary team that might include a patient's primary care physician, specialist(s), hospital physician, case manager, therapist, dietitian, caregiver, community resource representative and others
Communicate effectively and honestly about symptoms, diagnoses and prognoses for patients who have serious, complex illnesses or more than one diagnosis
Facilitate goals-of-care discussions that identify and honor a patient's medical, physical, emotional, spiritual and personal preferences
Educate patients and family members about disease processes, comfort care and supportive community resources
"We want to make sure we're targeting the right patients at the right time with palliative care," Kraszewski says. "Palliative care consultations involve a very focused, strategic approach that supports coordinated care."
Palliative care at VITAS
VITAS provides palliative care nursing services through two avenues:
VITAS Palliative Medical Associates
Contractual agreements and partnerships with other healthcare providers or community resources
VITAS palliative care complies with state-specific regulations and is offered to patients in Florida, Pennsylvania, Texas, Virginia, Illinois and California.
VITAS recruiters focus on identifying nurses, nurse practitioners, admissions assistants and physicians who are a good fit for our palliative care services.
If you're interested in learning about VITAS career opportunities for palliative care nursing, visit our careers page.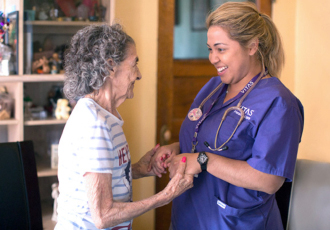 Choose a Career with VITAS
We offer a variety of full-time, part-time and per-diem employment opportunities. Employees earn competitive salaries and have the flexibility to choose a benefits package suitable to their own needs and lifestyle.
See Current Opportunities