Nurses
Should You Be a Hospice Nurse?

Hospice nursing is a special career. Hospice nurses must be uniquely skilled, confident, compassionate and able to plan and work independently. Patients often have just weeks or days to live. The hospice nurse plays an extremely important role in this limited time; the right person is ready and willing to take on that responsibility, often at a time of difficult family dynamics.
"[It's a] privilege to help people to live their lives as comfortably as possible in their remaining time, while allowing them to express what they want out of their life now."
—Hospice nurse, Winter Park, Florida
The Qualities of a Good Hospice Nurse
Extremely knowledgeable about end-of-life care
Patients and families receiving hospice services have needs that go beyond basic care. A hospice nurse must be able to assess symptoms and provide solutions quickly so there is no gap in meeting the goal of comfort care.
Works well independently and as part of a team
It's often up to the hospice nurse to identify which team member can satisfy each need. A good hospice nurse knows when—and when not—to call on another member of the care team. For example, a patient or caregiver may request a doctor when they need something that the hospice nurse can provide. Or they may have concerns that a social worker can best address. A good hospice nurse knows his or her resources.
Although they may be the only member of the interdisciplinary team patients will see on a given day, hospice nurses are not alone in planning care—weekly team meetings are scheduled to review the status of every patient, keeping the hospice care team on the same page.
Comfortable setting his/her own schedule
Home hospice nurses visit patients wherever they call home, and home may be a house or apartment, a nursing home or an assisted living facility. After mentorship training, hospice nurses enjoy the independence of setting their own daily schedules. Hospice nurses have flexible schedules, but those schedules can change throughout the day as patient needs change.
Passionate about making a difference
Hospice nurses have big hearts. They feel strongly that someone should be there for patients and families facing death, and they don't wait to see who else will do the job—they take it on themselves.
"I love hospice nursing. I feel this is one of the most rewarding aspects of nursing. You will remember the faces, remember the voices, and they will remember how you made them feel."
—Hospice nurse, Bradley, Illinois
Hospice nursing requires skill, confidence, and a willingness to roll with the punches. It can be hard to witness the death of a patient after you've grown close to them and their family. But if you want to make a profound difference in patients' lives, the benefits of hospice nursing are immeasurable.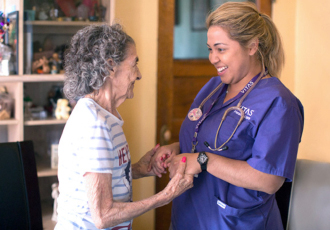 Choose a Career with VITAS
We offer a variety of full-time, part-time and per-diem employment opportunities. Employees earn competitive salaries and have the flexibility to choose a benefits package suitable to their own needs and lifestyle.
See Current Opportunities